May 16, 2019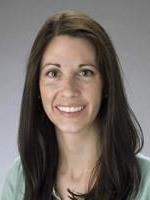 The University of Kansas Cancer Center's Clinical Health Psychology fellowship program, which focuses on onco-psychology, has earned national accreditation by the American Psychological Association (APA). It is one of only ten APA-accredited clinical health psychology fellowship programs in the U.S., and one of only two accredited programs with a sub-specialty emphasis in psychological care for cancer patients.
Meagan Dwyer, PhD, director of the Onco-Psychology program, and her colleagues developed the fellowship program to meet the APA's accreditation standards.
"This accreditation is significant as it represents the rigorous level of evidence-based clinical training, provides a higher level of oversight of the quality of the program, and ensures the program aligns with and meets the highest standards for training in psychology at the fellowship level," Dr. Dwyer said.
Dr. Dwyer added that the program was also given the maximum of 10 years accreditation status, which may indicate the APA's confidence in the quality of the program.
How Psychology Helps Cancer Patients
About half of cancer patients will experience clinical levels of depression or anxiety over the course of their treatment. Many struggle with distress, sleep changes, worries, lower mood and problems in coping. Psychological support can be a vital way to support patients and their families in maintaining quality of life and improve coping through this challenging process.
"While there are trends nationally to incorporate psychosocial care into oncology, KU Cancer Center offers the only robust onco-psychology and support services program in our area. Our team includes psychologists, dietitians, social workers, genetic counselors, nurse navigators, patient advocates and patient mentors and palliative care specialists," Dr. Dwyer said. "Our institution's support in developing an accredited psychology fellowship program shows dedication to the highest standards of care for the whole patient."
---
Related Content
Clinical Psychology Training Program
Learn more about the Clinical Health Psychology Fellowship program.
Emotional and Spiritual Support
In addition to coping with practical matters and physical needs, many people with cancer also must manage their emotional and spiritual well-being.