June 04, 2019
The University of Kansas Cancer Center-Lee's Summit is expanding its leading-edge cancer care with the arrival of a Varian TrueBeam linear accelerator.
Designed to treat moving cancerous tumors with advanced speed and accuracy, the accelerator is a fully integrated system for image-guided radiotherapy and radiosurgery.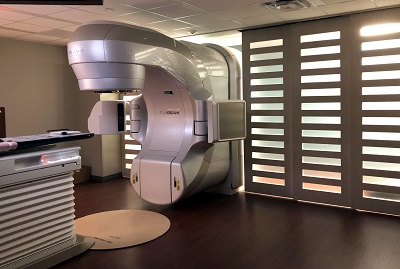 The cancer center's first Varian TrueBeam linear accelerator has been treating patients since 2012 at the Richard and Annette Bloch Radiation Oncology Pavilion at the main campus. A second unit was installed at KUCC-North last October.
"This innovative technology gives me the tools to treat a variety of cancers quickly and more comfortably for the patient," says Daniel Keleti, MD, radiation oncologist at KUCC-Lee's Summit.
The clinic plans to host an internal open house June 10, with the accelerator treating its first patients June 11.
The stereotactic services will be used primarily for patients with lung and brain cancers. Up to 40 patients a day can be treated with the state-of-the-art accelerator.
"The acquisition of a third Varian TrueBeam linear accelerator is proof the health system has the best technology, physicians and treatments for cancer patients," says Darrin Kistler, RT (R)(T), senior director, Radiation Services.
Located in eastern Jackson County, at 4881 NE Goodview Circle, the clinic was updated to accommodate the high-precision accelerator. The remodel involved a revamped vault, new lighting, cameras and all interior finishes in the room.
The device features:
Diagnostic quality radiographs (on-board imaging) and computed tomography images (cone beam CT) for precise delivery of radiation.
Daily imaging fused with planning radiographs to improve target alignment.
Advanced imaging for a higher confidence factor in target delineation.
Stereotactic radiation to allow high radiation doses to small targets over one to five days.
RapidArc (an advanced form of intensity modulated radiation therapy) to reduce treatment times and spare body tissue.
RPM Motion Management software, which helps track tumor motion in relation to patient breathing.
"With the RPM system, we can precisely deliver higher radiotherapy doses to tumors with less damage to surrounding healthy tissue," says Lori Lindstrom, MD, radiation oncologist at KUCC-Lee's Summit.
She says the technology will be especially useful treating patients with left-side breast cancer to protect the heart, and for patients with chest tumors, such as lymphoma.