June 27, 2023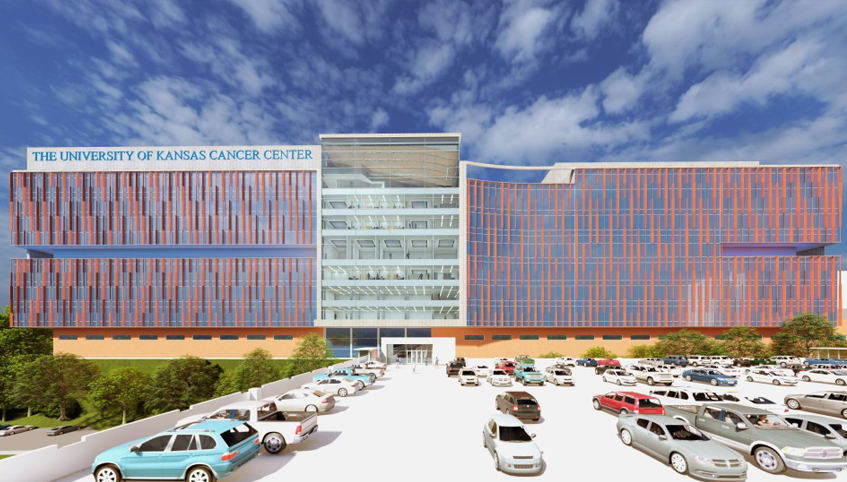 The Sunderland Foundation has given The University of Kansas Cancer Center a $100 million lead gift to build a new, state-of-the-art destination cancer center, the University of Kansas and The University of Kansas Health System gratefully announced today. This transformative gift is both the largest gift ever given by the Sunderland Foundation and the largest ever received by the University of Kansas and The University of Kansas Health System.

"We believe The University of Kansas Cancer Center is poised to change cancer research and care for generations," said Charlie Sunderland, trustee of the Sunderland Foundation and former chair of The University of Kansas Hospital Authority Board's Quality Committee. "Giving people the opportunity to receive such a high level of quality cancer treatment close to home is a gift like no other. I'm grateful for the foundation's role in making this possible."

The Sunderland Foundation gift is one of several significant investments in the new building. Earlier this year, it was announced U.S. Senator Jerry Moran (Kan.) – a member of the Senate Committee on Appropriations— secured $43 million in Congressionally-directed spending to plan and help build research aspects of the new facility.

"The University of Kansas Cancer Center is a nationally recognized leader in the fight to treat and cure cancer, and last year it was awarded NCI's comprehensive cancer center designation, opening up new avenues for federal investments and research," said U.S. Senator Jerry Moran (Kan.). "In addition to the comprehensive designation, the new state-of-the-art cancer center will expand The University of Kansas Cancer Center's capabilities to recruit the best doctors from around the world, research new cures and offer the most innovative treatments to its patients."

University of Kansas Chancellor Douglas A. Girod recognized the importance of such investments to the future of the cancer center.

"The funding provided by the Sunderland Foundation, combined with the appropriation secured by Senator Moran, will enable the KU Cancer Center to enhance its work in research and patient care while fulfilling its duty to provide public education and outreach programs, especially to diverse communities and high-risk populations," said Girod. "More broadly, by strengthening KU Cancer Center, this funding elevates the entire university and strengthens KU's position as a leading national research institution and proud member of the Association of American Universities. We deeply appreciate the Sunderland Foundation and Senator Moran's continued support of the KU Cancer Center and the university, and we look forward to partnering with them in the future on initiatives that benefit Kansas."

KU Cancer Center leadership has long had a vision to bring the entire cancer community—from physician-scientists to researchers to physicians and clinical staff—all under one roof. Doing so enables spontaneous and serendipitous collaborations, which often lead to fresh, new thinking needed to solve cancer's most complex puzzles, a belief closely held by Roy Jensen, MD, vice chancellor and director of the KU Cancer Center.

"Our vision is for The University of Kansas Cancer Center to be a beacon of hope and a global destination for both those with cancer and for scientists and clinicians seeking to cure cancer," said Dr. Jensen. "This building will be a hub that brings together leading-edge patient care and innovation as we seek to transform both cancer care and cancer research in our quest to cure cancer – together. Patients treated at NCI-designated cancer centers have a 25% greater chance of survival compared to other cancer centers because of the enhanced relationship between patient care and research. This building will advance our goals even further, serving as a catalyst for breakthroughs that will change cancer care on the national level."

Currently, The University of Kansas Cancer Center's labs and researchers are scattered across multiple campuses in the Kansas City metro area and Lawrence, Kan. There is a need to provide options to expand space for patient care and cancer research, as well as foster multidisciplinary collaborative research efforts. On the heels of the KU Cancer Center's NCI-comprehensive cancer center designation, a world-class research and clinical space putting patients at the center of science and clinical care will make it a global destination for the best cancer treatment.

"The University of Kansas Cancer Center is a transformative engine, which will not only reshape how cancer care is delivered but also impact our community as a destination for the very best cancer care available anywhere," said Tammy Peterman, MS, RN, FAAN, president, Kansas City Division, and health system executive vice president, chief operating officer and chief nursing officer. "We are doing things at the cancer center not done anywhere else in the country. With our nationally recognized specialists and world class care teams, we will deliver even more groundbreaking treatments and innovations."

The new facility will be located on the 39th and Rainbow campus. It will be built in phases, with the goal of breaking ground on the first phase by the earliest in the fall of 2024. The new building will bring expanded cancer care and research together in one place. Patients will have access to more innovative clinical trials and groundbreaking therapies developed on site. In addition, the whole patient experience – from nutrition and social work to pathology and imaging, and everything in between – will happen in one place. Researchers also will be able to collaborate in real time with physicians on personalized treatment options, making them more quickly available to patients.

"We do big things in Kansas City, due in large part to the generosity and vision of people like Charlie and Kent Sunderland, and the Sunderland Foundation," said Bob Page, president and CEO of The University of Kansas Health System. "The commitment of our community and elected officials like Senator Moran have placed The University of Kansas Health System and The University of Kansas Cancer Center at the center of Kansas City's transformation. This new building is more than a building; it is about taking a bold step to say 'we believe we can transform the way cancer research and care is provided in our region, across this country and around the globe.' We not only will save more lives, we will change more lives and our community for the better."
---

About the Sunderland Foundation
The Sunderland Foundation is a family foundation rooted in Kansas City with a history of supporting capital building projects. Its mission is to improve the quality of life in the communities it serves, with attention to those populations with the greatest need.

About The University of Kansas Cancer Center
The University of Kansas Cancer Center is transforming cancer research and clinical care by linking an innovative approach to drug discovery, delivery and development to a nationally accredited patient care program. Our consortium center includes cancer research and health care professionals associated with the University of Kansas Medical Center and The University of Kansas Health System; the University of Kansas, Lawrence; The Stowers Institute for Medical Research; Children's Mercy; and in partnership with members of the Masonic Cancer Alliance.

About The University of Kansas Health System
The University of Kansas Health System is the region's premier academic health system, providing a full range of care. It includes The University of Kansas Physicians, the region's largest multispecialty physician group. The health system is affiliated with the University of Kansas Schools of Medicine, Nursing and Health Professions and their leading-edge research projects. In the Kansas City metro area, the health system offers more than 140 hospital and clinic locations, including its flagship hospital in Kansas City, Kansas, a hospital at Indian Creek Campus in Overland Park hospitals in Olathe and Miami County, and two mental and behavioral health hospitals in the Kansas City area. The health system in Kansas City has received Magnet nursing designation four times in a row for the highest level of care and has ranked every year since 2007 on U.S. News & World Report's Best Hospitals lists. It provides the region's most experienced, nationally verified burn center and Level I Trauma Center, as well as a leading transplant program in liver, pancreas, kidney, heart, and blood and marrow. The cancer program is part of The University of Kansas Cancer Center, one of 54 National Cancer Institute-designated comprehensive cancer centers. In addition to Kansas City metro locations, the health system has locations in Great Bend, Topeka and elsewhere. It receives no state or local appropriations, instead relying on operating revenue, bonding authority, and philanthropy.
For more information, visit KansasHealthSystem.com.

About the University of Kansas
The University of Kansas is a major comprehensive research and teaching university that serves as a center for learning, scholarship and creative endeavor. KU is the only state university in Kansas to hold membership in the prestigious Association of American Universities, a select group of 71 public and private research universities that represent excellence in graduate and professional education and the highest achievements in research internationally. KU has more than 28,000 students across five campuses and 14 schools, including the state's only schools of medicine and pharmacy. The university has 48 graduate programs ranked in the Top 50 nationally by U.S. News & World Report. Through its KU Medical Center, the university provides medical outreach to all 105 counties in Kansas. Each year, the university conducts more than $280 million in externally sponsored research.