August 13, 2019
Walt "Cash" Register has birdied the beautiful, oceanfront 7th hole at Pebble Beach twice in his lifetime.
Years later, those experiences would give him strength when he needed it most. Mentally replaying memorable golf highlights kept Cash calm and warded off claustrophobia during radiation treatment for stage 4 cancer of the base of the tongue. The cancer had resulted from undiagnosed human papillomavirus.
Cash – husband to Jill, father to Connor and Sydney, and avid golfer and griller – began his fight for life in February 2015 at age 52.
"I'm the kind of person who is religious about routine healthcare," Cash says. "I get my physicals. I have my teeth cleaned twice a year. I don't fight it. I just go. When I found a bump on the right side of my neck, I went straight to my doctor's office."
His primary care physician thought Cash had an infection and prescribed antibiotics. But when the lump remained unchanged in size a week later, the physician referred Cash to an ear, nose and throat specialist. A needle inserted into the lump extracted clear fluid, considered a good sign. Cash had surgery to remove the lump along with 2 more discovered under his chin.
"We were still thinking this wasn't a big deal, an easy surgical fix," Cash recalls. "It was a Friday. But Saturday night, I got the call. It was absolutely shocking. I'm not a sick kind of guy. The worst I'd ever had was a sinus infection. I didn't know how to feel. I didn't know anything about what I had or what I was going to do about it, only that it was cancer."
The right team for head and neck cancer
While Cash took on the difficult task of informing his blended family of 13 siblings about his diagnosis, Jill went into action. She began to research the nation's best providers of cancer care. On her short list was The University of Kansas Cancer Center. Cash and Jill met with a radiation oncologist, hematologist/oncologist Benjamin Powers, MD, and otolaryngologist Lisa Shnayder, MD.
"I thought they were just phenomenal," Cash says. "Dr. Powers is a teddy bear. I was impressed by the expertise they brought to cancer care, but also felt comfortable that this was a personality fit."
Comfort level was as important as medical skill, Jill adds.
"Once we met with the doctors, Cash told me, 'I'm staying here,'" Jill says. "He knew he was in good hands, and it felt like the right decision."
Cash also cited the input of Dr. Shnayder as a deciding factor in his choice to get care at The University of Kansas Cancer Center. While another organization recommended a clinical trial in which Cash would receive additional surgery, Dr. Shnayder cautioned against it because of the cancer's proximity to Cash's voicebox.
"We would often recommend surgery for stage 1 or stage 2 cancers of the tonsils or tongue," Dr. Shnayder explains. "But in this case, the cancer was very, very close to the voicebox. While curing the cancer was clearly a topmost priority, we also wanted to look forward and consider the functional results of the treatment. To preserve speech and the ability to swallow, I did not think surgery was the best approach."
The Registers agreed.
"That really rang true for me, and I felt very confident in her advice," Cash says. "That was the determining factor, and I knew I was going to get excellent care without being away from my home and family."
In addition to the contributions of diverse specialists on staff, the teaching component of academic medicine would ensure Cash's case received scrutiny not only by his immediate care team, but by the many students and residents advancing their educations.
Patients don't always realize it, but 15 to 30 people may review a case, ensuring they benefit from second, third and fourth opinions behind the scenes. Ideas are shared and questions asked. The depth of the attention to detail and the review of information with a fine-toothed comb are without compare.
The care team's honesty and directness also resonated with Cash.
"They told me I was about to start the toughest sort of treatment anyone with cancer will go through," he says. "They would go over information with me again and again, and I appreciated them laying it all out so I understood what I was in for."
Aggressive head and neck cancer treatment
Cash began a difficult regimen of chemotherapy and radiation, receiving treatment at the Overland Park cancer center location.
"It seemed that every side effect I might get, I did get," he recalls, citing reduced hearing, ringing in the ears, numbness in the hands and feet, headaches and nausea. "I was absolutely as sick as a dog. The pain medications made my skin crawl. My wife was pushing protein, as I knew she was told to, but good food just tasted bad. It was a very frustrating time."
During the process, Cash – at 6 feet, 2 inches tall – lost more than 60 pounds, weighing in at just 152 pounds from his 214-pound starting point. While his care team had initially recommended a feeding tube, Cash, having heard about a risk of atrophy in the muscles that enable swallowing, declined it.
"I understood his decision at the time," Jill says. "The doctors had painted a picture for us, but we just didn't understand how much Cash was going to need that tube. The body needs nutrition, and Cash could not eat. Looking back, this is my one regret."
The next chapter
May 19, 2015, marked Cash's final radiation treatment. The arduous process had done its work. Scans revealed no evidence of cancer.
"Cash's positive outlook and attitude propelled him through those worst of times," Dr. Powers says. "He did not initially want to believe how challenging the road would be with chemotherapy and radiation combined, but the trusting relationship formed among patient, family and care team allowed him to be a survivor in every sense."
Cash is still under careful watch, but is eager to reach his upcoming 2-year milestone, when another CT scan will hopefully reveal no cause for concern.
"I really hope the medical field pours more research into this," Cash says. "The treatment was very rough. Through it all, the staff was absolutely phenomenal. When you walk in, they know who you are. They know your name. They put a smile on your face, even given the reason you're there. These simple things separate The University of Kansas Cancer Center from the rest. From the doctors on down, these people care. It was a first-class experience."
Dr. Shnayder also credits the organization's team approach for Cash's positive result.
"It takes a village to care for cancer," she says. "We offer a multidisciplinary team to address head and neck cancers. We help patients and families through the maze of surgical oncology, medical oncology and radiation oncology. There are numerous aspects to cancer care, and we offer many professionals specially disciplined to contribute."
The Registers appreciated that their extensive village included family, friends and neighbors as well as the medical team.
"I did not go to the grocery store or cook a meal for 3 months," Jill shares. "We had such incredible support, and it allowed me to focus on Cash and the effects of his illness on our kids. Our kids now know this is part of life. They're going to turn out stronger and better people because of this experience.
"You must lean on your support system to get through something like this," she stresses.
"Jill was and is my rock," Cash adds.
A new focus
Today, Cash focuses on the most important things in his life – his family and friends – and tries not to sweat the small stuff. One issue he has become passionate about is HPV vaccinations for children.
"We can prevent HPV and related cancers," Cash says. "Get the vaccine. Why wouldn't you? There is no downside."
Through the course of his diagnosis and treatment, Cash learned more about the virus he never knew he had.
"I would definitely call HPV an epidemic," explains Dr. Shnayder. "HPV exposure can occur decades before the virus's presence is known. More than 80% of the population will be exposed at some point in life. Most men and women will naturally get over the virus, but those who don't are at risk for oropharyngeal cancers. I am a tremendous proponent of the vaccination and suggest it for children as young as 11."
"It is really a joy seeing Cash and Jill take up the fight for vaccinating our youth," Dr. Powers adds. "I would not expect anything less from them."
Cash doesn't hesitate to share his position, based on personal experience.
"HPV can happen to anyone, and you are naïve if you think it can't," he warns. "I had a nasty, nasty disease, and we can prevent it. We can protect our kids from it. Why aren't we? We need to talk about it and make it happen."
To help promote awareness, the Register family takes part in the American Cancer Society's Relay for Life fundraising events. Cash has been moved by support, love and high-fives for cancer survivors.
"It's surreal to have lived like I'm invincible, and now there's a number on me," Cash shares. "There are odds. But I'm still here. And I want to live the life that I've got."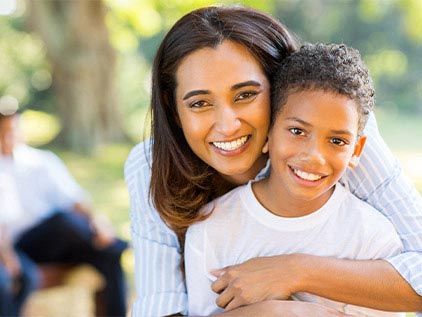 Protecting your kids
HPV can lead to several types of cancer. Vaccinating children now against HPV helps protect them from possible infection later.
Learn more