September 30, 2019
Cheryl Wonnell is the proud parent of 2 adult children – daughter, Micki, a nurse practitioner, and son, Robert, a judge – but they aren't the only ones who think of her as "Mom." Since 1993, Cheryl has been the unofficial team mother for the University of Kansas baseball program in her hometown of Lawrence, Kansas.
Season after season, this enthusiastic sports fan has cheered the players on, provided motherly advice and even offered a weekly chapel service for the Jayhawk baseball team. But when Cheryl was diagnosed with leukemia in 2014 at age 67, it was her turn to receive compassion and support.
Stem cell transplant offers chance for a cure
As soon as Cheryl learned she had acute myeloid leukemia (AML), she turned to the experts at The University of Kansas Cancer Center. Blood and marrow transplant specialist Leyla Shune, MD, started Cheryl on chemotherapy immediately.
"Dr. Shune held my hand the whole time we talked," remembers Cheryl. "We really connected."
In Cheryl's case, the only chance for a cure was a blood and marrow transplant (BMT).
"AML is a very aggressive cancer," explains BMT specialist Anurag Singh, MD, another member of Cheryl's care team. "Among patients of Cheryl's age, only 20% are expected to be long-term survivors."
Many physicians are unaware that a stem cell transplant can be safe and effective in older leukemia patients.
"With advancement in transplant technique, there is really no age limit," Dr. Singh adds.
The first step was to get Cheryl's leukemia into remission. Then it was time to search for a stem cell donor. Typically, siblings offer the best chance for a match, but as an only child, Cheryl would need an unrelated donor.
Minnesota match
Months before Cheryl's diagnosis and more than 400 miles away, a young man made a noble decision that would prove lifesaving. Jon Volp was a 21-year-old college student at the University of Minnesota and a member of the school's wrestling team.
Every year, the wrestlers held a carnival for kids with terminal illnesses. At that event, Jon walked up to a booth sponsored by a marrow donor registry organization called Be The Match®. He volunteered for a simple cheek swab, and his DNA was added to a database of 20 million potential donors.
Less than a year later, Jon received a phone call telling him he was a match for a patient with leukemia – Cheryl.
Stem cell donation day
One of the misconceptions about stem cell donation is that donors require surgery to extract marrow from the bone. In fact, the procedure is far less invasive for about 85% of donors.
On the big day, Jon visited a blood donation center just a mile from his home. He had an IV in each arm – one to take blood out, and one to put blood back in. He watched a couple of movies, did some schoolwork and got a ride home from his dad.
Jon says he was a little sore afterward, but all in all, he thought it was pretty easy.
"I'd love for more young people to get on the registry," Jon says. "There are a lot of people out there like Cheryl who can use the help."
A new immune system
That same night, Jon's peripheral blood stem cells were flown from Minnesota to Kansas. Cheryl was waiting in the hospital room her daughter had decorated with photos of Cheryl's family and favorite sports teams.
As she awaited Jon's lifesaving donation, Cheryl passed the time reading cards.
"I got some awfully nice notes when I was in the hospital, a lot of support from the baseball kids, parents and our coach, as well as my church family and friends," she says.
As she prepared for her stem cell transplant, Cheryl recalls thinking, "Why would a 21-year-old kid want to save my life?"
She hoped that someday she would get to meet this very special stranger.
Meeting her stem cell donor
Today, Cheryl is doing well. But her journey has not been without challenges. According to Dr. Singh, in a transplant, the donor cells go inside the patient to fight the cancer, but they may also fight the normal cells. This is called graft-versus-host disease.
One treatment for this complication is a procedure called photopheresis, which Cheryl receives periodically.
"We collect some of Cheryl's cells, which are now donor cells," Dr. Singh explains. "We treat them with a chemical and expose them to ultraviolet radiation to deactivate them, and then we put them back into her body. We can control the cells that will fight the cancer without affecting her other cells."
During a photopheresis treatment in early 2018, Cheryl's wish came true. Her stem cell donor made the trip from Minneapolis to Kansas City just to meet her. As Jon entered the room where Cheryl was waiting, the care team applauded.
After a warm embrace, Cheryl thanked Jon for the gift of life. Jon, now 25 years old, hadn't expected to be treated like a hero.
"I feel humbled," he says. "It was such a small price to pay to make a big difference for someone."
Her own best cheerleader
With Cheryl's positive attitude, her strong faith and the many advances in transplant care, the BMT team has high hopes for her continued success. Of course, Cheryl has always managed to smile through ups and downs, wins and losses, good seasons and bad.
"It's just the way I am!" she laughs.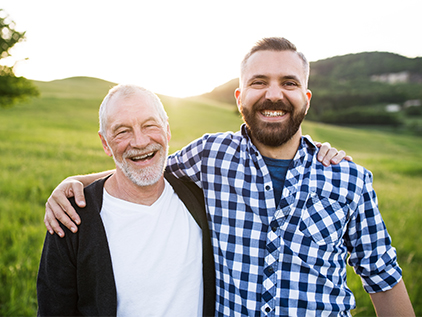 Be a hero
Stem cell transplants benefit thousands of blood cancer patients every year. Visit Be The Match to join the marrow registry.
Join now