June 21, 2022
At 50, Kansas City police officer Angela Garrison was in the best shape of her life. For the previous 2 years, she trained for a leadership program that she knew would require her to demonstrate physical fitness. And although she wasn't worried, Angela always had regular recommended cancer screenings, including an annual mammogram, and got a clean bill of health.
That's why her story is so shocking. Despite going to the same imaging center for years and having not 1 but 2 mammograms earlier that year, Angela learned in November 2020 that she had stage lll breast cancer.
"When I found out that the imaging center that I had gone to for over 20 years religiously completely missed a very large breast cancer, I was very upset. I feel extremely fortunate that I went to The University of Kansas Cancer Center and they followed up on it and found it when they did," she says. Now, Angela shares her story because she wants other women to know that "you need to ask questions and be an advocate for yourself and go to an imaging center where breast imaging is the only thing they specialize in."
Kidney stones to lung nodule to breast cancer
Angela began having mammograms in her 20s because of a family history of breast cancer. "I went to the same imaging center every year, and I was given a clean bill of health," she says. She never noticed a lump in her breast or any other sign of cancer, such as pain or an inverted nipple. In fact, her breast cancer showed up on a scan meant to examine a suspicious nodule in the lower lobe of her right lung.
"I had been ill in May 2020, and I had just seen a nurse practitioner who sent me to an imaging place to get a CT scan of my abdomen to look for kidney stones," Angela recounts. The radiologist who performed that scan reported a surprising finding – a suspicious lung nodule. Angela's nurse practitioner followed up by ordering a CT scan of Angela's chest.
"That culminated in seeing a pulmonologist who sent me for a PET scan," Angela continues. "That scan also showed the lung nodule, but at that point they weren't super concerned and just wanted to monitor it. But the PET scan also showed a mass in my right breast." Angela's pulmonologist sent her for a follow-up mammogram and ultrasound exam, although she had her annual mammogram only 2 months before the PET scan finding.
The follow-up test reports indicated no suspicious findings. Relieved that she had no apparent sign of breast cancer, Angela proceeded to follow up on the lung nodule. "I gathered all my medical records and went to the cancer center for a second opinion on the nodule in my lung," she says. Because the lung nodule was located where a biopsy was difficult to obtain, Alykhan Nagji, MD, a thoracic surgeon at The University of Kansas Health System, began following Angela with periodic CT scans of the chest. Under his orders, Angela had a scan in August and again in November 2020.
Dr. Nagji also noticed the breast mass and was concerned when it increased in size between August and November. "He sent me the very next day to Dr. Wagner's office," Angela recounts.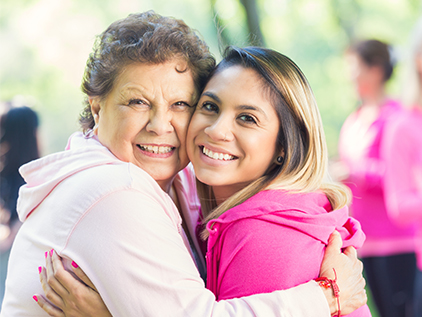 Schedule your mammogram online
We find early-stage breast cancer at a rate that exceeds the national benchmark.
Schedule now
Expertise leads to quick diagnosis
Jamie Wagner, DO, division chief of breast surgical oncology at The University of Kansas Cancer Center, knows that specificity is important to developing excellence. "All of our radiologists are fellowship-trained in breast imaging," she says of her colleagues at The Women's Cancer Center at The University of Kansas Cancer Center. "Their training and practice allow them to see subtle changes or very small cancers, and we perform 3D mammography on every patient here, so there's high quality in both the imaging and the expertise of the radiologist interpreting those images." She adds that 3D mammography is so important to her and her colleagues that the health system covers any extra cost if a patient's insurance doesn't cover 3D mammography.
Angela saw Dr. Wagner's nurse practitioner for an initial assessment. "That appointment started me on the path to my eventual breast cancer diagnosis," Angela says. She adds that she is grateful that Dr. Nagji referred her to the cancer center where she was quickly diagnosed before the cancer could progress further. "It could have turned out a lot differently if my cancer hadn't been diagnosed when it was," she says.
Dr. Wagner notes that this type of multidisciplinary collaboration is part of the benefit of a large academic medical center. "It takes a team to treat breast cancer, and it took 2 teams working together to treat Angela as a whole person," Dr. Wagner says. "We could easily share information, discuss and agree on a stepwise approach and the appropriate priorities, considering all her medical issues." Dr. Wagner also advises all individuals to advocate for themselves, seeking second opinions and following up if there are any doubts or lingering concerns.
Angela's care team recommended removal of the lung nodule first, which was found to be a small stage 1A lung cancer. With the lung cancer removed and no additional treatment needed for it, Angela began breast cancer treatment in January 2021. The multidisciplinary team also determined that the lung cancer was not a metastasis from the breast cancer – an important piece of information in deciding on subsequent treatment strategies.
From January through May 2021, Angela had weekly chemotherapy treatments at the cancer center's Westwood Campus. "I joked that it was 'me time,'" she says. Making the best of her situation, Angela watched painting tutorials and began practicing during her chemotherapy appointments. "It was therapeutic to concentrate on my painting instead of just thinking about the toxic medicine going into my body."
When Angela finished chemotherapy, Dr. Wagner performed a double mastectomy, which was followed by 6 weeks of radiation therapy. She finished her cancer journey in late 2021 with breast reconstruction.
Where you get your breast care matters
While Angela's case is unusual, there are important lessons to be drawn from it. Besides emphasizing the importance of breast imaging expertise, Dr. Wagner points out that all women should know their breast density. "A lot of women have dense breast tissue, and you can't tell how dense your breasts are by feeling them," she says. "But the amount of dense tissue makes a big difference in how the breast tissue looks on a mammogram. We recommend that all women with dense breasts have supplemental screenings, like ultrasound or breast MRI. It's important to talk to your doctor about the best screening schedule and options."
Breast density can change as women move through menopause, and older women typically have less dense breasts. However, about 40% of women have dense breasts throughout their lifetime. Dr. Wagner adds that the cancer center has a "dense breast clinic" specifically to assess patients with dense breast tissue.
Now cancer-free, Angela is enjoying life with her first grandson, born just 2 weeks after her mastectomy. She continues to paint and sew and work. "A few months ago, I got a letter from the imaging facility that missed my breast cancer, reminding me to get my annual mammogram," she says. "I'm telling all my friends now to go to a place that specializes in breast care. And that place is The University of Kansas Cancer Center."