July 05, 2023
Yolanda Irvin is a woman on a mission. Using her personal experience as a testament to the lifesaving power of a cancer second opinion, Yolanda is determined to bring healthcare education, accessibility and hope to her Kansas City community.
Yolanda radiates positivity and compassion, with a smile that lights up everyone she interacts with from her position at Brookside Charter School's front office. It's hard to imagine just a year ago she was facing a diagnosis that would upend her world.
For well over a year, the COVID-19 pandemic disrupted everyone's daily lives and normal routines. For many women like Yolanda, 65, that disruption caused a lapse in getting an annual mammogram and other regular health screenings. When pandemic challenges lifted, Yolanda quickly made her breast exam appointment where doctors discovered a mass in her right breast. The news left her shaken and with many questions. But Yolanda's family immediately pushed her to seek a second opinion specifically from The University of Kansas Cancer Center.
Overcoming community misperceptions
"In my community, a lot of people don't know the power of a second opinion, and to be honest, I just didn't think that (The University of Kansas Cancer Center) was attainable," says Yolanda. "I didn't have a clue that I could go outside my community and check out a hospital that had a specialty in treating cancer."
Yolanda's decision was lifesaving, as the team at The University of Kansas Cancer Center discovered more asymmetry within her breast that raised concern and led to further imaging.
"We saw a mass that had not been biopsied. Yolanda's cancer was more aggressive than first thought," says Jamie Wagner, DO, breast surgical oncologist. "We have specialty fellowship-trained breast radiologists here, and the protocols that go into how we use the advanced equipment allow us to stay at the forefront of breast imaging. We want that for all our patients."
"They were able to pinpoint my diagnosis," says Yolanda. "They did not hesitate to get me into every particular test I needed."
Dr. Wagner notes that health disparities, especially with breast cancer, are all too common. African American women like Yolanda tend to have higher rates of advanced breast cancer, which is why regular, thorough screening is so important.
"The second opinion makes such a difference in breast cancer specifically," says Dr. Wagner. "We know when patients get a second opinion at a National Cancer Institute-designated cancer center, their diagnosis and treatment can change as often as 43% of the time."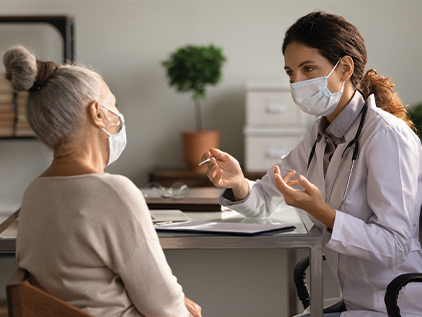 Begin your cancer journey with a second opinion
We know the value of getting a second opinion on a cancer diagnosis. Let us help you navigate your cancer journey. Connect with one of our nurse navigators at 913-588-1227 or 844-323-1227 to schedule your cancer second opinion.
Learn more
A second diagnosis
Yolanda began chemotherapy for her breast cancer and responded well to treatment. During her care, she developed unrelated gastrointestinal bleeding that doctors investigated further. The result was not something she was prepared to hear. Yolanda was diagnosed with a separate, second cancer, located in her stomach.
"One really knows what it feels like when you get cancer, but then to be told you have another cancer that's not even related, it can be mind-boggling," says Yolanda. "Well, I didn't blame God, but I had some questions."
"The interesting thing about Yolanda's situation is she had a rare type of stomach cancer that can start in any part of the GI tract," says surgical oncologist Mazin Al-Kasspooles, MD. "It was easier to treat because we knew it was in its earliest phases. That's the value of coming to an academic medical center like ours. Our experience told us it was best to focus on her breast cancer treatment first and then deal with the stomach cancer."
Yolanda had questions and she got answers, which also reaffirmed her undeterred hope. "I wrote down all the things the doctors were to me," she says. "They were confident, polite, listened to me and praised me for my progress. They watched for signs of changes in my body. Most of all, they had a genuine hope for my future in their eyes. I could see it."
Sharing hope
Today, Yolanda is cancer-free and using her voice and resources to share the value of her care experience at The University of Kansas Cancer Center. "The Lord woke me up that morning (I was diagnosed) and said he was going to give me a platform to give testimony of the care I received at this hospital," she says. "I didn't understand it then, but I do now."
She has made it her mission to bring awareness to her community about the importance of a second opinion after receiving a cancer diagnosis, and the opportunity for all to find help and hope at The University of Kansas Cancer Center.
"I think advocates like Yolanda will help us move forward in just getting the word out that our facility and team are here for everyone," says Dr. Al-Kasspooles. "Those who don't think they have a right to be here are exactly the people who need to be here. They have more advanced cancers, they need clinical trials, they need the higher levels of therapy we offer. In our minds, there should be no disparity in care. But we also realize physical access can be a challenge."
Solving these challenges and others guides Yolanda's vision for creating a center within her community to serve as a resource for transportation, childcare, meals and other practical needs to help people improve their ability to access specialty care.
"We would like to renovate a building in our neighborhood and make it a place people can come to for assistance," says Yolanda. "We would call it the Hope Center ̶ Healing Opportunities for People Everywhere. The key word is 'everywhere'. Some people don't feel like they have the right to a second opinion because they can't get to this hospital. We can change that."
Yolanda hopes to secure a sponsor for the Hope Center and bring the necessary resources to her community. "It would be a place for people (with health concerns) to come to when they don't know what to do," she says. "I would say, let me show you what you can do, and then let me help you get it done."
Your first choice for a second opinion.
Having confidence in your diagnosis and treatment is critical when you're faced with the possibility of cancer. Call 913-588-1227 for a second opinion.
As with all treatments, individual patient results vary. It is important to discuss your treatment options with your healthcare provider.