Skip Navigation
Getting the Dose Just Right
Getting the Dose Just Right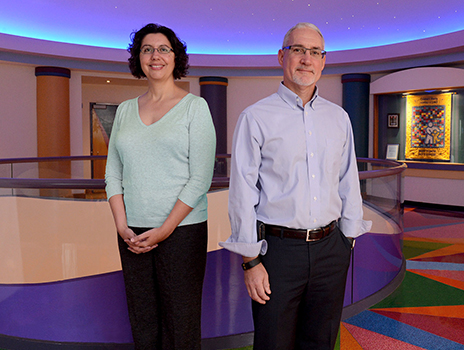 Taking a cue from the classic fairy tale "Goldilocks and the Three Bears," a team at Children's Mercy is focused on finding medication doses that are "just right" for each and every patient. The initiative, called GOLDILOKS (Genomic and Ontogeny-Linked Dose Individualization and cLinical Optimization for KidS), looks to better understand patients unique characteristics and how they may influence an individual's response to a medication or treatment. And they're starting with children, who are often incorrectly viewed as miniature adults when it comes to dosing.
J. Steven Leeder, PharmD, PhD, division director of clinical pharmacology, toxicology and therapeutic innovation at Children's Mercy, believes there is a better approach to ensuring children get the right dose.
"There are several factors that contribute to how children respond to medications. You can give a group of kids the same dose of medication and find that the amount of drug in the system – which is what we call 'exposure' – varies widely," Leeder said.
Case-in-point, in a Children's Mercy study, children were given roughly the same weight-based dose of ADHD medication. Findings revealed that the difference between the patient who had the highest exposure compared to the patient with the lowest exposure was fifty-fold. This variability can make the difference between side effects or a failure to respond to treatment.
With childhood cancer medications, the stakes are higher. There must be enough medication to kill the cancer, but not so much that it results in severe, irreversible side effects. Understanding patient "exposure" becomes necessary.
What makes a patient respond so differently to a proven treatment? One factor can be a genetic variation, or differences in the DNA sequence in each of our genomes.
For example, our bodies contain a specific gene pathway primarily expressed in the liver, which helps eliminate foreign chemicals, including those contained in certain medications. Seven percent of the Caucasian population is genetically deficient in this pathway, and this can affect how a patient responds to treatment.
"Many people go their entire life without being aware of this deficiency," Leeder noted. "But if you are genetically deficient, and you're prescribed a medication that's dependent on this pathway for its elimination, a typical dose can lead to an overdose."
To hone in on the correct dose, providers must be aware of each patient's unique characteristics, including their genomic makeup and age. Children's Mercy is the first to develop a computer-based medication dosing decision support tool for point-of-care physicians embedded in the patient's electronic medical record.
Susan Abdel-Rahman, PharmD, section chief for therapeutic innovation at Children's Mercy, built the tool for the program's first drug, Busulfan, a chemotherapy agent with significant patient exposure variability.
Multiple doses of Busulfan are given over a 4-day period to prepare a child for a bone marrow transplant. Not enough of the medication can lead to transplant rejection; too much can lead to liver failure or even death.
"With 4 clicks, the clinician can visualize what's going on with each patient and explore the dose required to get them to where they want the patient to be, then the software returns a dosing recommendation," Abdel-Rahman said.
Most hospitals send the patient's blood for analysis to an outside laboratory. Often, these labs only operate on weekdays, delaying results. The software, on the other hand, is accessible around-the-clock, pulls in data for analysis and returns a clinical decision to the patient's record. A mathematical algorithm functions behind the scenes, allowing the physician to simulate a dose, while red-yellow-green tachometers point toward the ideal decision.
"Recently, we had a patient who received their dose at 6 a.m. We drew blood levels mid-morning and changed their dose that evening. Rather than sending levels out for analysis – which would delay care by 48 hours – we were able to make a same-day decision," Abdel-Rahman said.
The software is in the works to be adopted by The University of Kansas Cancer Center's Bone Marrow Transplant program.
It's exciting to think that this cutting-edge decision support tool may soon be available to our clinicians. This is a great example of our two institutions partnering to give patients the best possible care. –Roy A. Jensen, MD

Director, The University of Kansas Cancer Center
The decision support tool has the potential to make more efficient use of a clinician's time, return therapeutic decisions more quickly, ultimately impacting care.
"What we're doing is state-of-the-art," Abdel-Rahman said. "Clinicians can make a decision and see the implications before they ever put the dose in the child."
Related links