Skip Navigation
Stereotactic Body Radiation Therapy
Stereotactic Body Radiation Therapy
As a National Cancer Institute-designated cancer center, The University of Kansas Cancer Center offers the most advanced medical and surgical treatments. This includes shorter-course radiation therapy, called stereotactic body radiation therapy, which involves delivering higher doses of radiation in fewer treatments.
Typically, radiation therapy may take weeks to complete, depending on the type and stage of cancer being treated. With SBRT, you receive 5 treatments over a span of 1½ weeks. The innovative procedure dramatically reduces treatment time, is more manageable for you and reduces the overall dose of radiation.
In addition, side effects and cure rates are equal to or better than when compared to conventional treatment with image-guided radiation therapy and intensity modulated radiation therapy. The University of Kansas Cancer Center is the only cancer center in the region with the expertise to routinely offer this treatment.
What is stereotactic body radiation therapy?
Stereotactic body radiation therapy administers radiotherapy from several different points around the body, with the radiation beams meeting at the spot of the tumor. The tumor receives a very high dose of radiation, while surrounding tissue receives less, lowering the risk of radiotherapy side effects and complications.
Who can have stereotactic body radiation therapy?
SBRT is offered to select patients who have low-, intermediate- and high-risk prostate cancer and for some breast cancer patients. In addition, SBRT may be used to treat small, early-stage lung cancer and pancreatic cancer, or cancers that have spread to the lung, liver, adrenal gland or spine.
How does stereotactic body radiation therapy work?
SBRT is a noninvasive form of radiation treatment that involves high-dose radiation beams. It can deliver precisely targeted radiation in fewer high-dose treatments than traditional therapy, which reduces the total dose of radiation to healthy tissue.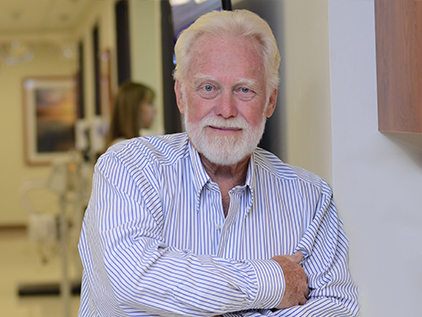 Beating prostate cancer without surgery
Don Hall was unable to receive standard therapy for prostate cancer. SBRT made it possible for him to get the treatment he needed in less time.
Don's story
Benefits and risks of stereotactic body radiation therapy
SBRT offers many advantages, including:
Allows delivery of a higher dose of radiation with fewer treatments
Shows outcomes that are equal to or better than conventional radiation therapy
More convenient for you and not as disruptive to your life
Reduces unpleasant side effects, including fatigue
More cost effective
Conventional radiation is typically delivered in small doses each day over several weeks. This can delay or interfere with other cancer treatments, such as chemotherapy. By contrast, SBRT can usually be given in 5 or fewer daily sessions and requires no anesthesia. SBRT also can lead to better outcomes and fewer side effects than conventional radiation therapy.
SBRT has been used to treat prostate cancer for 10-15 years. Researchers are still collecting data about the treatment's long-term results compared to other forms of radiation therapy, but outcomes to date have been promising. People who have received SBRT have similar or better cancer control and side effects 5 and 10 years after treatment, compared to those who have had standard radiation therapy.
What happens during stereotactic body radiation therapy?
SBRT is delivered through a linear accelerator, which forms beams of fast-moving subatomic particles. Radiation oncologists use a computerized system to shape the radiation beams to match a 3D outline of the tumor. This outline is generated by an MRI scan, which is performed prior to the procedure. The radiation oncologist collaborates with medical physicists to design a treatment plan that allows the delivery of radiation that conforms to the specific dimensions of the tumor. Patients are awake and lying on a table during SBRT. SpaceOAR® gel spacer helps to protect the rectum from radiation.
Why choose us
Currently, stereotactic body radiation therapy is offered at specialized cancer centers such as The University of Kansas Cancer Center, an NCI-designated cancer center. We encourage both patients and physicians to learn more about the benefits of having this treatment at our cancer center.
Request your appointment today.
To make an appointment at The University of Kansas Cancer Center, call 913-588-1227.