Skip Navigation
Research Administrative Offices
Research Administrative Offices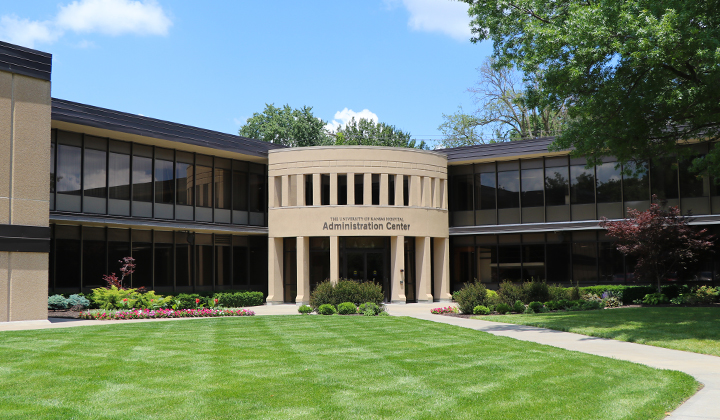 The University of Kansas Cancer Center administration provides critical support to cancer center members in order to facilitate and enhance scientific collaboration and productivity. The cancer center is a matrix organization with its members located at the University of Kansas Medical Center (KUMC), the University of Kansas, Lawrence (KU), Children's Mercy and the Stowers Institute for Medical Research (Stowers).
The overall objective of the cancer center administrative office is to provide a functional unit that coordinates the entire operation of The University of Kansas Cancer Center, including its shared resources and research programs. This is accomplished by:
Providing support for faculty research interactions, including intra- and inter-programmatic and inter-institutional activities.
Enhancing faculty scientific progress through coordination of cancer center shared resources and grant development and submission support.
Communicating effectively with members about cancer center events and opportunities.
Administrative offices important information
Telephone number
913-588-4700
Address

The University of Kansas Cancer Center
3901 Rainbow Blvd., Mail Stop 1027
Kansas City, KS 66160
Associate Director of Administration
Teresa Christensen
Phone: 913-588-2577
Careers

Theresa Leinwetter, Director of Human Resources
Phone: 913-945-6765
Fax: 913-588-4701
tleinwetter@kumc.edu
Communications
Christine Thomas, JD, Senior Director of Public Relations, Communications and Strategic Partnerships
Phone: 913-945-6017
cthomas17@kumc.edu
Marketing communications/website feedback
Media inquiries
Research | Clinical trials | Education
Phone: 913-588-2598
Patient care
Phone: 913-588-5246
Grants Development Office
Susan Harp, Assistant Director of Education and Research Resources
Phone: 913-588-4786
Clinical Trials Office
Office location
4350 Shawnee Mission Pkwy.
Fairway, KS 66205
Phone: 913-945-7552
Mail to
The University of Kansas Cancer Center
3901 Rainbow Blvd., Mail Stop 1027
Kansas City, KS 66160
Related links