October 31, 2019
More and more people are surviving cancer. Over the last 2 decades, cancer death rates have dropped 23%. Thanks to advances in cancer treatment, the number of cancer survivors in the U.S. is expected to exceed 20 million by 2026.
However, with more long-term survivors, the very treatment that can save lives may also put them at risk for heart conditions. Since the 1970s, established therapies still in use for cancer have been known to cause cardiac complications. Newer, effective cancer treatments can carry risks for different types of cardiac problems that may not be well understood when they are approved for use.
Late effects of cancer treatment become more important as survival after cancer treatment has improved. Problems like heart failure, vascular disease, valve damage and even problems with blood pressure control are more common after some types of therapies.
It has recently been demonstrated that survivors of some types of cancer are more vulnerable to cardiovascular side effects than others, and the treatments used may contribute to this situation. These side effects can appear years after treatment has ended, making long-term care important. The cardiac damage caused by cancer treatment can develop during therapy and years after treatment. This can cause anxiety for cancer patients.
The good news: Proactive management of cardiac issues during cancer treatment can reduce a patient's risk for heart problems and improve treatment results. More oncologists are partnering with cardiologists to manage cardiotoxicity in cancer patients.
Cardio-oncology: An emerging specialty
In cardio-oncology, specialized doctors, nurses and basic scientists focus on prevention, early recognition and treatment of cardiovascular diseases related to cancer and cancer treatments. Advances in echocardiography and other types of cardiac imaging studies are increasingly effective at identifying these toxicities.
Recognizing this emerging need for patients, clinical leaders in cancer and cardiovascular disease at The University of Kansas Cancer Center and The University of Kansas Health System banded together more than a decade ago to create one of the first (and now one of only a handful) cardio-oncology programs in the country. As a program founder, along with breast cancer specialist Carol Fabian, MD, and cancer survivorship expert Jennifer Klemp, PhD, I work with a growing team of experts to prevent, identify and manage cardiac issues in patients.
How our cardio-oncology program works
Ultimately, our aim is to balance effectively treating the cancer while preventing cardiac damage and other cardiovascular side effects during and after therapy. Working together, cardiologists and oncologists combine knowledge to determine the best course of cancer treatment. Collaborative monitoring, multidisciplinary experts and state-of-the-art technology, including advanced imaging, are the keys to success of the program. As an academic cancer center, we are also able to develop new strategies to minimize risk and increase awareness among clinicians and patients with opportunities to improve cancer treatment outcomes through multidisciplinary collaboration among cancer and cardiology specialists working in the field.
Cancer treatments that may cause heart problems
New drugs, including targeted therapies that contribute to improved cancer survival, have shown new side effects that damage the heart. Radiation therapy to the chest and upper body has been linked to a range of damage to the heart, coronary arteries, heart valves, pericardium and large blood vessels in the chest and neck.
Chemotherapy drugs with anthracyclines are linked to an increased risk of heart failure and valve disease. These drugs principally treat types of leukemia, lymphoma, breast cancer and sarcoma. Drugs such as daunorubicin, doxorubicin, epirubicin, idarubicin and valrubicin are all members of the anthracycline family.
Sometimes effects of the disease itself, rather than the treatment, can bring cardiotoxicity. Blood cancer does not commonly start in or spread to the heart, but some conditions such as amyloidosis, a disease that occurs because of abnormal protein buildup in tissue, may involve the heart due to a difficult-to-treat malignancy called multiple myeloma.
Types of heart issues and risk factors
Complications from cancer treatment include:
Congestive heart failure
Chest pain
Acute myocardial infarction
Coronary artery disease
Scarring (fibrosis) of heart valves
High or low blood pressure
Arrhythmias ranging from life-threatening ventricular tachycardia to stroke-producing atrial fibrillation
Clotting in the arterial or venous systems
Inflammation of the heart muscle
Heart valve disease.
Symptoms of heart problems
Shortness of breath
Lightheadedness or dizziness
Discomfort or pain in the chest
Swollen hands and/or feet
Palpitations or other sense of cardiac rhythm irregularity
Candidates for cardio-oncology
Those who may be candidates for cardio-oncology services include people treated with drugs such as:
Anthracycline-based chemotherapy
Herceptin
Risk factors for heart problems after cancer treatment
Risk factors recommended for assessment at start and end of cancer therapy include:
Elevated cholesterol
Family history of heart disease
High-dose chemotherapy
Radiation to the left chest or neck
Hypertension
Overweight
Smoking history
Physical inactivity
Before cardio-oncology emerged as a specialty, termination of the therapy associated with the side effect was commonly done with substitution of a second line of therapy that was easier on the heart, but less likely to treat the cancer effectively. Now, instead of avoiding specific treatments, we proactively strive to prevent or minimize heart problems, or use treatment protocols that allow patients to complete cancer treatment with an acceptable cardiac risk, even if that risk cannot be eliminated.
I want to emphasize that not all cancer treatments carry the risk of heart problems, but before starting treatment, it is important to talk with your doctor about health history and learn about possible risk factors. It is also important to first treat the primary disease – cancer, and look for the best multidisciplinary cancer treatment team that can help beat the cancer and minimize long-term cardiac problems that are more common in cancer survivors.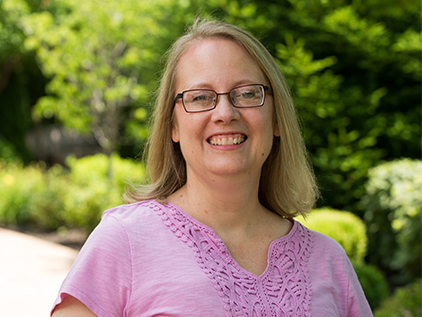 When cancer isn't the only concern
Rebecca Schrivener's cancer treatment was dangerous to her heart. But thanks to cardio-oncology services, her heart was protected.
Rebecca's story
Learn how our cardio-oncology program is one of only a few programs in the nation designed to improve cardiovascular outcomes for patients with cancer.