Skip Navigation
Myeloma is a cancer of the plasma cells. Plasma cells are white blood cells that are part of your immune system. They are found in your body tissue, mostly in the bone marrow.
If you have myeloma cancer, you will find the leading specialists you need at The University of Kansas Cancer Center. Our interdisciplinary team of oncologists and hematologists offers years of experience treating people with all types of myeloma, including multiple myeloma. Other very specialized doctors who may be involved in your care include radiation oncologists and the blood and marrow transplant team.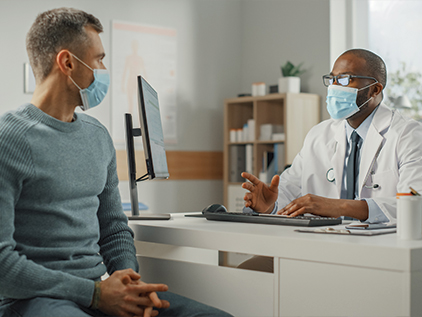 Begin your cancer journey with a second opinion
We know the value of getting a second opinion on a cancer diagnosis. Let us help you navigate your cancer journey. Connect with one of our nurse navigators at 913-588-1227 or 844-323-1227 to schedule your cancer second opinion.
Learn more
Myeloma care overview
In myeloma cancer, a developing plasma cell becomes malignant (cancerous). The growing number of malignant plasma begins to disrupt normal blood cell production. This destroys normal bone tissue and causes pain. This process often includes the production of a paraprotein, which can cause kidney problems and weaken your immune system.
Multiple myeloma is a blood cancer that affects plasma cells, a type of white blood cell in the bone marrow that makes antibodies and helps with bone repair. Multiple myeloma can form in multiple locations within the body and is the most common form of myeloma. This type of myeloma cancer affects more than 90% of people who have myeloma. Multiple myeloma is the 3rd most common blood cancer after lymphoma and leukemia.
Although the exact cause of multiple myeloma is unknown, we do know there are certain risk factors such as:
People 50 and older are more likely to develop multiple myeloma than those under 40.
More men develop multiple myeloma than women.
African-Americans are more than twice as likely to develop multiple myeloma than Caucasians.
Certain underlying health conditions can lead to multiple myeloma.
Multiple myeloma usually presents no symptoms until advanced stages. One risk factor, MGUS (monoclonal gammopathy of undetermined significance), is a noncancerous condition that can progress into multiple myeloma. MGUS is typically diagnosed during routine blood tests. Although there is no treatment, we monitor those with MGUS to know if and when the condition could turn into multiple myeloma.
Types of multiple myeloma include:
Smoldering (asymptomatic) myeloma, which progresses slowly and has no symptoms
Symptomatic myeloma, which has related symptoms such as anemia, kidney damage and bone disease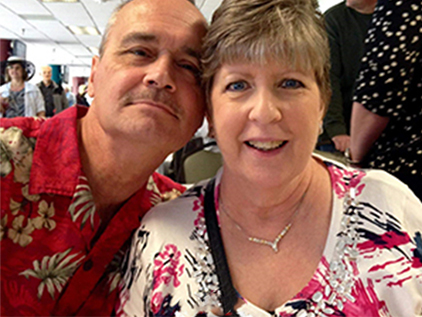 Beating multiple myeloma
Karen Foster was only expected to live 3-5 years. But thanks to a customized treatment plan, she's been cancer-free for 1 year.
Karen's story

NCI Designation
Our cancer center is 1 of 54 NCI-designated comprehensive cancer centers nationwide.

Clinical Trials
We are a pioneer in new clinical trial research that leads to innovative treatments.

Still the Best
Our hospital continues to rank as the best in Kansas City and in Kansas according to U.S. News & World Report.