February 01, 2018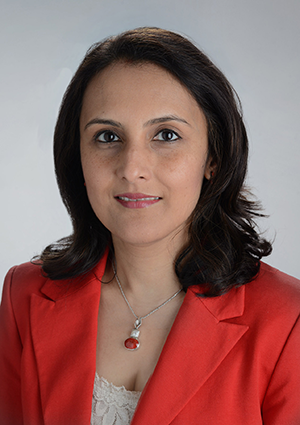 Priyanka Sharma, M.D., a breast cancer medical oncologist at The University of Kansas Cancer Center, has been named vice chair of SWOG's Breast Committee. SWOG, formerly the Southwest Oncology Group, is a global cancer research community that designs and conducts publicly funded clinical trials. It is one of five National Cancer Institute (NCI) National Clinical Trials Network-funded groups.
Sharma has been a member of SWOG's Breast Committee since 2013. She is actively involved in both clinical and translational research at KU Cancer Center. Improving treatment outcomes for aggressive breast cancer subtypes, including triple-negative breast cancer, is her main research focus. Sharma is the principal investigator of multiple investigator-initiated phase I/II clinical trials of novel targeted agents in triple-negative breast cancer.
"Dr. Sharma has been a pioneer in deepening our understanding of triple-negative breast cancer. Her intense, focused approach will be a great asset to SWOG," Roy Jensen, M.D., KU Cancer Center director, said.
"I am deeply privileged and delighted to be given this opportunity. In this position, I hope to continue to foster the development of high-impact research to inform clinical practice," Sharma said.
The SWOG Breast Committee comprises 244 members who share an interest in treating and conducting breast cancer clinical trials. As vice chair, Sharma's responsibilities will include overseeing SWOG breast cancer research activities and developing new ideas for clinical research. The SWOG Breast Committee chair and vice chair are members of the NCI Breast Cancer Steering Committee that reviews all breast cancer trials conducted through the National Clinical Trials Network.
In addition to her new vice chair role with SWOG, Sharma has been co-leading a project funded by the SWOG Integrated Translational Science Center program which aims to facilitate incorporation of translational science into NCI-supported cancer clinical trials.
About SWOG
Since its founding in 1956, SWOG has grown into an expansive cancer research community, spanning more than 12,000 people at over 1,000 hospitals, clinics and cancer centers worldwide. Clinical trials made possible by SWOG have led to the approval of 14 new cancer drugs, changed standards of cancer care more than 100 times and saved more than 3 million years of human life.