January 03, 2019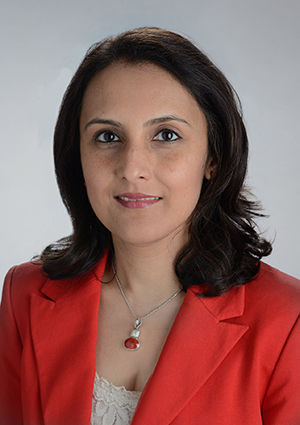 Priyanka Sharma, MD, breast oncologist with The University of Kansas Cancer Center, was one of five speakers selected to present at the Year in Review session at the 2018 San Antonio Breast Cancer Symposium (SABCS). The annual symposium provides state-of-the-art information on the experimental biology, etiology, prevention, diagnosis and therapy of breast cancer and premalignant breast disease, to an international audience of more than 7,500 physicians and researchers.
Dr. Sharma has dedicated much of her career to decoding triple-negative breast cancer's complexities, including identifying more effective therapies for this difficult-to-treat subtype. At SABCS, she presented results of the first study to examine the long-term outcomes of patients with different molecular subtypes of triple-negative breast cancer.
The study utilized a National Cancer Institute (NCI)-funded clinical trial conducted by the SWOG Cancer Research Network, which is a cancer research community that designs and conducts publicly funded clinical trials.
"This study highlights the molecular heterogeneity and the clinical implications of this heterogeneity for patients with triple-negative breast cancer," Sharma said. "Improved understanding of the molecular diversity of different triple-negative breast cancer subtypes will lead to the development of more effective treatments for the different subtypes."
"Dr. Sharma is one of the world's leading experts on triple-negative breast cancer, which is a particularly aggressive subtype of breast cancer," said Roy Jensen, KU Cancer Center director. "Being recognized at a major meeting like the San Antonio Breast Cancer Symposium illustrates the impact of her work."