Skip Navigation
Deepening Our Understanding of Triple-Negative Breast Cancer
Deepening Our Understanding of Triple-Negative Breast Cancer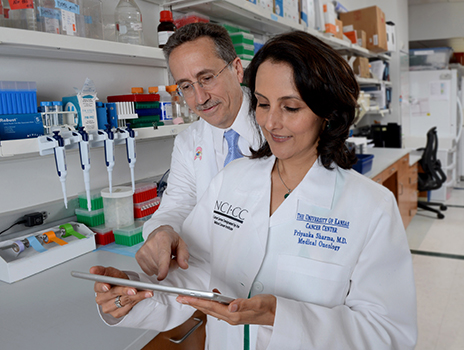 Every cancer case is unique. As a cancer grows, new and different types of cancer cells are created within that same tumor. By the time it becomes detectable, the tumor can consist of millions of cells.
Molecular and genetic information determines a cancer's subtype. One such subtype of breast cancer is triple-negative, which medical oncologist Priyanka Sharma, MD, has been studying her entire career.
"We define triple-negative breast cancer by what it isn't," Dr. Sharma says. "It tests negative for the 3 most common factors that fuel breast cancer growth: estrogen receptors, progesterone receptors and HER2."
About 15% of breast cancer cases are triple-negative. Depending on the stage of diagnosis, it can be particularly aggressive and more likely to recur than other subtypes. It has the lowest survival rate of all breast cancer subtypes.
Triple-negative breast cancer is heterogeneous which means that at a biological level it has several variations and additional subtypes. The nuances that distinguish one case from another can be significant enough to require adjustments in treatment and inclusion/exclusion from clinical trials.
Looking beyond triple-negative as a subtype
In 2011, Sharma established a triple-negative breast cancer registry with the goal of gathering more clinical information and accompanying biospecimen (blood and/or tumor) samples from patients with this type of cancer.
"I wanted to build a detailed landscape of the disease," Sharma says.
With their consent, data is gathered from every patient regardless of cancer stage. About 900 patients have participated in the registry thus far.
"Each patient holds unique information about their individual disease," Sharma notes. "The majority of patients seen in breast cancer clinics do not participate in clinical trials either because they do not have access or the eligibility criteria are too narrow. Our registry does not have strict guidelines."
Institutions and investigators may collect blood samples from every patient who walks in their door. However, unlike The University of Kansas Cancer Center's registry, most don't collect both blood and tumor specimens, along with well-characterized clinical information and prospective follow-up. Sharma is not aware of any similar prospective registries that exist.
The most unique aspect of the registry, Sharma points out, is that it collects data from multiple institutions in a variety of settings. Several sites across Kansas participate, including a few Midwest Cancer Alliance partners in rural areas. The broad patient population gives researchers a panoramic view of the disease.
"If a researcher has a question about a specific set of triple-negative patients, say, stage 3 patients who have undergone a mastectomy, the information is there," Sharma says.
The registry helps provide data needed to develop scientific questions that are clinically meaningful to patients and researchers. This in turn helps design clinical trials that are critical to furthering treatment options for triple-negative breast cancer.
Over time, Sharma hopes to utilize this information to study biological markers that predict which triple-negative cancers are less likely to be cured with standard chemotherapy and thus have the highest risk of recurring. That knowledge would allow researchers to devise clinical trials with novel agents for these particular patients.
A key instrument in precision medicine
The University of Kansas Cancer Center deputy director and The University of Kansas Medical Center director of molecular oncology Andrew Godwin, PhD, has worked closely with Sharma on developing this registry, which helps support the movement toward precision medicine, an approach that customizes treatment based on an individual's genes, environment and lifestyle.
"The information gleaned from these patients can be used to establish new therapeutic approaches for sub-populations of triple-negative breast cancer patients and help us better predict how a specific patient may respond to a given therapy. Our goal in precision medicine is to expand this type of approach to other diseases so we can provide the best possible care to patients in our region," Godwin says.
The first published finding to come out of the registry involved testing the prevalence of the BRCA1 and BRCA2 mutation in patients. Women with this mutation have a risk of breast cancer that is about 5 times the normal risk. Researchers found that 15% of triple-negative patients have this mutation.
"This finding demonstrates that testing may better predict chances of developing triple-negative breast cancer. This has the potential to alter genetic testing guidelines, including its coverage by insurance," Sharma notes.
Two grants and 14 high-impact publications from Sharma and Godwin have come out of accessing information and samples from this registry, and there are more to come. Sharma is at the end of a two-arm platinum-based therapy clinical trial utilizing registry data. Next, she will be studying an immunotherapy treatment.
"Every finding from this registry leads to a better understanding, which will hopefully lead to improved treatment," Sharma says.
Related links