April 16, 2019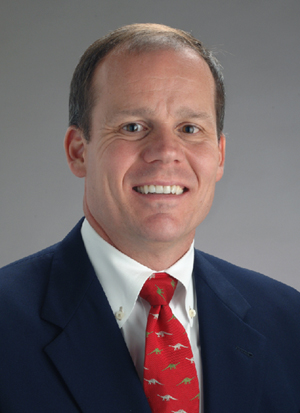 The American Association for Cancer Research (AACR) Annual Meeting reviews the latest discoveries in cancer research and highlights the work from institutions and experts all over the world. Several researchers, physician-scientists and staff members represented The University of Kansas Cancer Center, chairing sessions and presenting abstracts.
Joseph McGuirk, DO, Division Director of the Hematologic Malignancies and Cellular Therapeutics program, chaired a session on a major conference topic, immunotherapy. The session, titled "CAR T, TCR, and Beyond: A Rapidly Evolving Revolution in Cancer Cellular Immunotherapeutics," discussed historic milestones in the development of CAR T-cells, current available therapies and future applications.
Chimeric antigen receptor modified T-cells (CAR T) is a form of cellular immunotherapy – a rapidly evolving approach that harnesses a patient's immune system to fight cancer. Immunotherapy is now considered the "fifth pillar" of cancer care, alongside surgery, chemotherapy, radiation, and targeted therapy.
This is a rapidly evolving field," Dr. McGuirk said. "It has gained incredible traction in recent years, and represents a true revolution in cancer care. Several thousand people attended this session, a testament to immunotherapy's significance."
The panel, assembled by Dr. McGuirk, featured Saad Kenderian, MB, ChB, assistant professor of Medicine, Oncology and Immunology at the Mayo Clinic College of Medicine, Bruce Levine, MD, founding director of the Clinical Cell and Vaccine Production Facility at Abramson Cancer Center, Michel Sadelain, MD, PhD, director of the Center for Cell Engineering at Memorial Sloan Kettering Cancer Center and Ewelina Morawa, MD, executive medical director at CRISPR Therapeutics.
These experts represent some of the brightest minds in immunotherapeutics," Dr. McGuirk said.
Dr. McGuirk, who is leading the American Association of Cancer Institutes (AACI) national initiative to advance the use of CAR T-cell therapies, added that because the field has made such large leaps forward, meetings such as the
AACR annual meeting play an important role in keeping professionals abreast of the latest developments and identifying areas for improvement and further research. "Pressing issues include improving CAR T-cell education and training for practitioners, forming national research networks to expedite clinical trials and mandating a centralized system to track and report patient outcomes," Dr. McGuirk said.
---
Related Content
CAR T-cell therapy harnesses the immune system to fight cancer
Groundbreaking CAR T-Cell Therapy Gives Husband, Father New Chance at Life