August 29, 2019
Lana Blagg has spent her life witnessing breast cancer cut short the lives of cousins, aunts, a grandmother and a great-grandmother. So, in 2009, after yet another family member was diagnosed with breast cancer and found to carry the faulty BRCA1 gene that leads to the disease, Lana was proactive.
She turned to Carol Fabian, MD, an internationally recognized breast cancer expert and director of the Breast Cancer Prevention and Survivorship Research Center at The University of Kansas Cancer Center. After undergoing genetic counseling and testing, Lana's fears were confirmed when she learned that she also carried the BRCA1 gene mutation.
"I grew up watching family members die," says Lana, of North Kansas City, Missouri. "It was always in the back of my mind that I was at risk for developing breast cancer and suffering the same fate."
After thorough testing, Dr. Fabian told Lana that she had up to an 85% lifetime risk of developing breast cancer and she was most likely to develop a triple-negative breast cancer.
Compared to other types of breast cancers, triple-negative breast cancer grows faster, is more likely to recur within the first couple of years after treatment, and has a poorer prognosis.
Lana chose to have a complete hysterectomy and double mastectomy.
"I knew I had to do whatever I could to eliminate my risk," shares Lana, 54. "I can't imagine not taking these preventive measures. It was a given."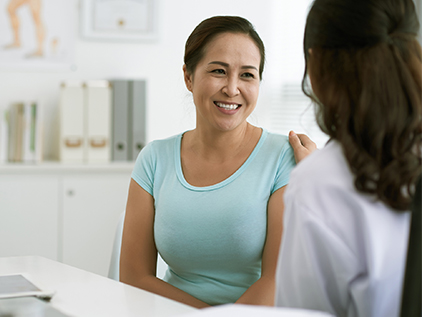 High-risk breast cancer prevention
We offer a full range of breast cancer prevention services for women who are at high risk for breast cancer, including risk assessments, breast cancer genetic counseling and testing and BRCA gene testing.
Learn more
Breast cancer genetic testing
Mutations in the BRCA1 or BRCA2 genes are the most common cause of hereditary breast cancer. BRCA stands for BReast CAncer susceptibility gene. There are 2 BRCA genes: BRCA1 and BRCA2.
Normally, they help protect people from getting cancer. But when there are changes or mutations on one or both of the BRCA genes, cells are more likely to divide and change rapidly, which can lead to cancer. The same genetic mutations also dramatically increase a woman's risk of developing ovarian cancer.
"The risk of developing breast cancer for BRCA1 and 2 carriers is increased by 10- to 20-fold," Dr. Fabian explains. "Sometimes, we need to take serious steps to prevent cancer development. Other times, depending on the patient, her age and other factors, less extreme efforts can help reduce their risk."
Interestingly, Lana's family history of breast cancer is on her father's side. She says many people don't realize BRCA1 and BRCA2 mutations can be passed down paternally. Like her father, she had a 50% risk of passing the abnormal gene to her children.
Lana's daughter, Taylor McCord, inherited the BRCA1 genetic mutation. Lana's son, 28, has not been tested.
"That was devastating, knowing that I passed this on to my daughter," says Lana.
Taylor, 25, learned the results of her genetic testing in 2013. She has been under Dr. Fabian's care and close monitoring since turning 21.
"I knew what the results were going to say," says Taylor, of Gladstone, Missouri. "Not only did I have the mutation from my mom's side, but it was on my paternal side, too. My paternal grandmother and my aunt both had breast cancer."
Focusing on a future without breast cancer
Taylor, whose daughter, Arianna, is 4, undergoes imaging at the Breast Cancer Prevention and Survivorship Research Center every 6 months. She has had fine needle aspirations, as part of clinical studies, which consistently show hyperplasia with atypia, which is a short-term risk marker for cancer.
"I will have a hysterectomy when I'm between 30 and 35 to reduce my risk and go from there," says Taylor. "For me, it's just something that's on the schedule. I can't imagine not doing it."
She and Lana also take part in Dr. Fabian's clinical trials offered through the Breast Cancer Prevention and Survivorship Research Center. The goal of the trials is to help discover better ways to prevent breast cancer in high-risk patients.
Changing fate
For many women, the thought of going through genetic testing and learning their fate might be overwhelming. But, Lana and Taylor have no regrets.
"My risk for developing breast cancer is now less than that of most women," notes Lana.
Lana says she owes her life to Dr. Fabian. "Not only is Dr. Fabian internationally recognized for her life's work, she has a clear plan of what needs to be done and can explain exactly what should happen next."
Lana and Taylor are all too aware that their genetic makeup may impact future generations, including Arianna, who will likely be tested after she turns 21. "I want to do what I can to help her and other women who are in my place in the future," Taylor shares.
"Being involved in clinical trials, getting preventive treatment, whatever I can do," she continues. "For me, it was empowering to know that I could get a head start on protecting myself from cancer."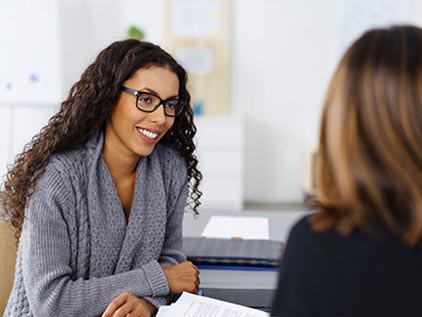 Genetic testing and counseling
Genetic counselors at our nationally recognized cancer center identify and manage cancer risk through genetic testing and risk assessment.
Manage your risk
This individual participated in a clinical trial of an investigational treatment. Clinical trials are different from standard medical care. As with all research studies, clinical trial participant outcomes vary. Before participating in a clinical trial, it is important to discuss the risks and benefits with your healthcare provider.