August 30, 2019
Just days after Christmas, Jeanne Ackerson's doctor found a shadow on her chest X-ray. A smoker for 3 decades, Jeanne knew it wasn't good news. She was diagnosed with stage 3B lung cancer: The cancer had spread to her lymph nodes.
Her doctor told her that this stage of lung cancer has a 15% survival rate.
"I was so scared of dying, and I was mad," says Jeanne. "We had just built a beautiful house, and I was mad that I wasn't going to get to enjoy it. I was mad that I had to leave my husband. I was mad that I wouldn't be able to see my grandsons grow up."
Advanced lung cancer treatment
Jeanne channeled her anger and started researching. She came across a story about Richard Bloch, a former Kansas City entrepreneur, philanthropist and lung cancer survivor. Like her, he was given only 3 months to live when diagnosed with terminal lung cancer in 1978. He lived another 25 years. Through his and his wife's generous gifts, Richard and Annette helped The University of Kansas Cancer Center achieve the high standards to earn National Cancer Institute designation.
With that special designation in mind, Jeanne decided she wanted to be treated at The University of Kansas Cancer Center. Within a month, her oncologist, Chao Huang, MD, had enrolled Jeanne in a clinical trial. She began aggressive treatment, undergoing 33 rounds of radiation with concurrent chemotherapy.
"I remember lying on the radiation table and visualizing Pac-Man eating all my cancer cells," says Jeanne. "I visualized the treatment working. I really thought I could feel the tumor getting smaller."
At the end of her treatment, the tumor, which had been close to 7 centimeters, was all but gone.
That was 8 years ago.
Gratitude and hope
Now, Jeanne visits Dr. Huang every 6 months for a CAT scan, and her survival rate has doubled since she was first diagnosed in December 2011.
"I feel overwhelmingly grateful for everyone who has helped me survive as long as I have," she says.
Jeanne adds the specialists at The University of Kansas Cancer Center were instrumental in giving her the best care, but she also admits that cancer patients themselves have a big role to play, as well.
"You have to be diligent about learning everything you can about your disease and your treatment," she says. "But above all you have to have hope."
Help us do more.
By supporting The University of Kansas Cancer Center, you help us reach more people and save more lives. Give to research or patient care.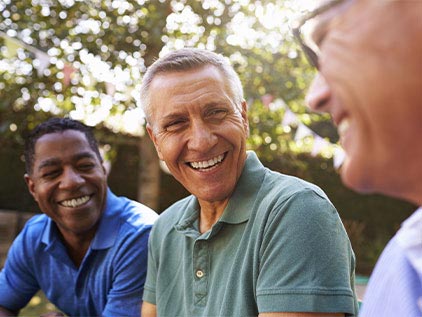 More options, more hope
Many new therapies are available through clinical trials. Find out how you may benefit from a clinical trial, and what it can do for others.
Why join