August 29, 2019
Susan McCall has covered a lot of miles this year, traveling between Kansas City and her home in Goodland, Kansas. Since Susan was diagnosed with stage 1 breast cancer in January 2015, she has gotten to know The University of Kansas Cancer Center well.
Susan was no stranger to breast cancer, as her paternal grandmother had been diagnosed with it. But the retired elementary school teacher says she was surprised and scared by her own diagnosis. Even so, she says the staff and clinicians at The University of Kansas Cancer Center, the region's only National Cancer Institute-designated cancer center, made her feel like it was going to be OK.
"Not only was the care we received wonderful, but it was also personal," says Susan, 63. "Everyone made me feel like they were focused on me and my needs."
Living near the Colorado border, Susan had the option of seeking care in Denver, which is closer. But she was drawn to Kansas City by the nationally recognized cancer center and hospital, and because her 2 daughters live here. "We wanted to be close to them during this process," she says.
A renewing retreat
As Susan frequented the cancer center for procedures and treatments, she also made time to visit Missys' Boutique. The accredited appearance center and retail boutique helps patients cope with the effects of cancer treatment.
"I was fitted with a wig. I also shopped for gifts for my mother-in-law, friends and myself. My daughter bought a purse. And I purchased hats and head coverings I knew I wouldn't be able to find elsewhere," she says.
"Missys' is more than just a boutique or gift shop," Susan notes. "The people make you feel so comfortable. They are friendly and welcoming, professional and caring. It's like an oasis away from your treatment and worries about your diagnosis. You feel like everything there is just for you."
Susan appreciated Missys' help in finding a wig. "It's a lot like my hair before my treatment," she says.
Something for everyone
Missys' Boutique offers a wide variety of items including wigs, breast forms, postsurgery bras and camisoles, turbans, caps, hats, scarves, cancer awareness jewelry, skincare products and accessories for men and women. Certified fitters assist with the breast forms and bras, and a licensed cosmetologist helps with wig selection and fitting.
After surgery and 4 rounds of chemotherapy, Susan says her breast cancer oncologist, Qamar Khan, MD, tells her that her prognosis is good. Susan continues with follow-up checkups and visits Missys' Boutique whenever possible.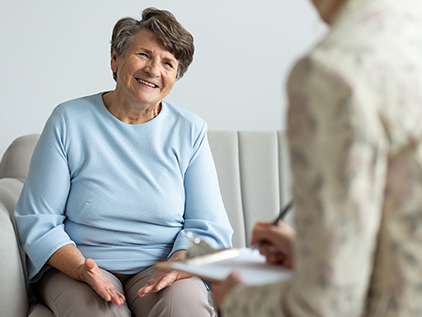 Treating cancer with more than medicine
Our approach to cancer care includes support services for the mind, body and spirit. Research shows this approach provides better outcomes.
Whole person care
As with all treatments, individual patient results vary. It is important to discuss your treatment options with your healthcare provider.