August 29, 2019
Hospital stays, pain and infections were normal for Desiree Ramirez. The Topeka, Kansas, college student was diagnosed with sickle cell disease as a toddler and battled the condition for more than 20 years.
That all changed a year ago when Desiree became the first Kansas adult to have a bone marrow transplant to treat sickle cell disease. The trailblazing procedure changed the life of the 23-year-old, who now sees a future without limits.
Two decades to a cure
Sickle cell disease is a severe form of anemia caused by a hemoglobin defect that produces rigid, curved red blood cells that block blood flow. After a long illness at age 3, Desiree was tested and confirmed to have the disease.
She began managing daily symptoms, including debilitating pain, swelling, fatigue and a compromised immune system that triggered frequent infections. It would take 20 years of living with the condition before Desiree would connect with the care team that could perform the bone marrow transplant expected to yield a cure.
A pioneering patient
In 2015, Desiree was extremely ill, her condition worsening. A medicine she was taking to ease her symptoms provided little relief. She consulted her pediatric oncologist, who told her about a bone marrow transplant to treat sickle cell disease.
Her doctor referred her to The University of Kansas Cancer Center, a leader in blood and marrow transplant services. While common among children with sickle cell disease, the risk of complications makes the procedure rare for adults.
Blood and marrow transplant specialist Sunil Abhyankar, MD, led Desiree's care. He said the severity of Desiree's symptoms made her a good candidate for the transplant procedure.
"Referring Desiree to us was the right move at the right time," Dr. Abhyankar points out. "Waiting any longer may have caused severe and irreversible lung damage that would have made the transplant even riskier."
Dr. Abhyankar and the care team made sure Desiree understood the procedure and potential side effects. This gave her the confidence she needed to become the first Kansas adult to receive a bone marrow transplant for treatment of sickle cell disease.
"The staff provided me with a lot of information and made sure I was aware of everything that would or could take place," Desiree says. "This really helped prepare me for the procedure and process ahead."
Bone marrow cells can come from a family member who doesn't have sickle cell disease or from an unrelated donor. African Americans – the majority of those afflicted with sickle cell disease – are underrepresented in the donor registry, so finding a match can be a longshot.
"Amazingly, we found 2 unrelated matches through the registry," says Dr. Abhyankar.
Though sickle cell disease is not a cancer, chemotherapy is part of the preparation for transplant. Desiree had chemotherapy to remove some of her existing bone marrow to make room for the new cells and to prepare her immune system to accept the donor cells.
On March 15, 2016, Desiree received her transplanted cells.
"I feel very blessed and very thankful I was able to get this done," Desiree shares. "I'm happy I don't have to deal with a life full of pain due to sickle cell disease."
Family bonds provide comfort
A 3-week hospital stay followed Desiree's transplant. Her complications included swelling, rashes and graft-versus-host disease, which occurs when donor cells attack the recipient's cells.
Desiree says the toughest parts of her recovery came down to 2 things: the simple act of movement and time away from home.
An earlier sickle cell crisis had left her with avascular necrosis in her right hip and barely able to walk. This condition occurs when bone tissue dies from lack of blood supply. Desiree's doctors wanted her to get out of bed and walk each day.
"My hip hurt so much, and I felt tired and a little weak due to the chemotherapy," she confides. "It was hard to get up and walk every day."
Her hip pain, combined with an inability to sleep and the extended time away from home, made recovery grueling at times. But having family by her side gave her encouragement when she needed it most.
"I don't like being away from home, so it was hard spending all that time in the hospital," she says. "Thankfully my mother, sister and grandparents were with me the whole time. They put my needs before their own and made sure I had things from home to comfort me."
Desiree credits these close relationships as essential to enduring 2 decades of medical tests, doctor visits and hospital stays.
"None of this would have been possible without them," she says.
Trailblazing sickle cell disease treatments
Blood and marrow transplant specialist Leyla Shune, MD, will be the principal investigator on a sickle cell disease clinical trial. As the only provider in Kansas who offers this type of transplant for adults with sickle cell disease, she said the care team focuses on patients with severe symptoms.
Dr. Shune says the cancer center continues to refine the procedure to offer it to more adults fighting the disease.
"A bone marrow transplant can eradicate sickle cell and give an adult with severe symptoms a chance at a normal life," explains Dr. Shune. "We're offering a ray of hope for those with sickle cell. The future is bright for these patients."
BMT offers a future without boundaries
One year after the transplant, Desiree sees a future free of pain and limits. She hasn't been readmitted to the hospital since the procedure – a significant change from what used to be normal.
Eventually, Desiree will have her right hip replaced. The orthopedics team at The University of Kansas Health System will guide her through this procedure.
For now, Desiree's health journey has inspired her to help others with sickle cell disease. She takes online college courses in support of her goal for a career in the medical field.
"I want to share my story with as many people as possible and encourage others to be bone marrow donors," she says. "We could cure others of the disease and find more perfect matches if more minorities were bone marrow donors."
Desiree is optimistic, motivated and ready to make up for lost time.
"Now I can go more places and do more things without having to worry about pain or being admitted to the hospital," she says. "I missed out on doing and enjoying a lot, but my health is a lot better and continues to improve. I'm very optimistic about my future. "
Help us do more.
By supporting The University of Kansas Cancer Center, you help us reach more people and save more lives. Give to research or patient care.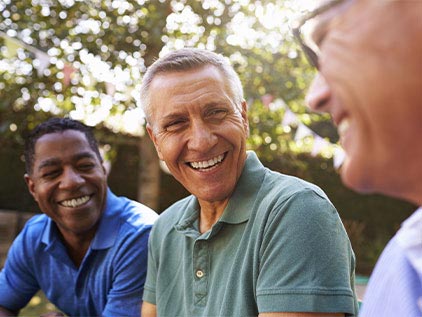 More options, more hope
Many new therapies are available through clinical trials. Find out how you may benefit from a clinical trial, and what it can do for others.
Why join