Skip Navigation
More than half of all people diagnosed with cancer receive chemotherapy, a drug-based form of cancer treatment. Your doctor may use one chemotherapy medicine or a combination during the course of your treatment. The type of chemotherapy you receive depends on the type and stage of your cancer along with other factors.
What is chemotherapy?
Chemotherapy, or chemo, uses medicine to kill cancer cells. Chemotherapy can be delivered by infusion or you may take it in pill form by mouth. You can even apply topical chemotherapy as a cream to treat skin cancer. Chemotherapy can be systemic (delivered through the bloodstream to the entire body) or regional (delivered to a specific area of the body).
Chemo is usually given as a series of treatments spaced a certain amount of time apart. You may receive your chemotherapy treatments daily, weekly or monthly. It's typical to schedule a series of treatments followed by a break from chemo to give your body time to rebuild healthy cells. For example, your doctor may schedule 3 weeks of chemo followed by a week off over 6 total months of treatment.
Your doctor may recommend chemotherapy as a standalone treatment, but often chemo is combined with other cancer treatments like radiation therapy or surgery. Often, doctors use chemo before surgery to help shrink your tumor, or after surgery to ensure that there are no remaining cancer cells. Chemotherapy is also used to prepare patients for a bone marrow transplant.
Who can have chemotherapy?
Not everyone is a good candidate for chemotherapy. Certain types of cancer may not respond well to chemotherapy treatment. Chemo can also cause many side effects, so your doctor will take your general health into consideration when recommending the best cancer treatment for you.
How does chemotherapy work?
Cancer cells grow and divide quickly, and chemotherapy can slow or stop this process. This means chemo may be used not only to cure cancer, but also to slow its growth or prevent cancer cells from spreading. Chemotherapy can also be used to reduce symptoms associated with your cancer — for example, chemo can shrink a tumor that's large enough to cause pain or other discomfort.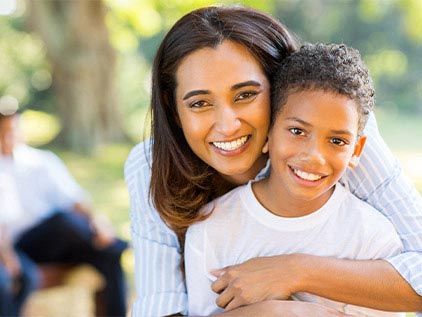 Saving lives and making a difference
We are committed to saving lives. And while our cancer center has earned many achievements, the health of our patients is our greatest accomplishment.
Read their stories
Benefits and risks of chemotherapy
The benefits of chemotherapy include shrinking or slowing your cancer's growth, along with improving the results from other cancer treatments. This is known as neoadjuvant therapy. In some cases, surgery may not even be possible without having chemo first.
However, because chemo affects healthy cells as well as cancer cells, side effects are common. The most common chemotherapy side effects include loss of appetite, nausea, vomiting, hair loss, fatigue, constipation or diarrhea, mouth sores and pain. Side effects can range from mild to serious, although not everyone is affected the same way. Your doctor can prescribe medications to help manage many of the possible side effects and help you feel comfortable during your treatment. Chemotherapy can also cause long-term side effects that may not appear until months or years later.
Your doctor will go over the risks and benefits of having chemotherapy before your treatment. If your doctor thinks chemotherapy is the best option for treating your cancer, it's because he or she feels the benefits outweigh the risks.
What happens during chemotherapy?
A team of medical professionals will coordinate together to administer your chemotherapy treatments. Your treatment experience will vary depending on your treatment cycle schedule, the type of chemo you receive and how doctors administer your treatment (by IV or orally).
You may need to visit a clinic for your chemotherapy treatment, or you may be able to have your treatments at home. Treatments can be very quick, or may take hours or even days to complete. A member of your care team will check your temperature, pulse, blood pressure and breathing both before and after your chemo treatment.

NCI Designation
Our cancer center is 1 of 54 NCI-designated comprehensive cancer centers nationwide.

Clinical Trials
We are a pioneer in new clinical trial research that leads to innovative treatments.

Still the Best
Our hospital continues to rank as the best in Kansas City and in Kansas according to U.S. News & World Report.
Request your appointment today.
To make an appointment at The University of Kansas Cancer Center, call 913-588-1227.