September 30, 2019
A misstep off a curb during a morning jog in March 2015 marked the unlikely first step of a long journey for Andrew and Brieanna Claassen.
The next 2 years brought twists and turns the couple never dreamed of navigating, including a cancer diagnosis, lifesaving care and fertility treatment. The birth of their son, Milo, in January 2017 was a joyful milestone.
A leukemia diagnosis
The Claassens remember the spring of 2015 as a whirlwind of challenges.
In April, Andrew underwent surgery to repair ligament tears in his knee from the jogging injury. On May 2, Brieanna graduated with her master's degree in counseling. They made an offer on their first home. With Andrew still healing from knee surgery and a root canal, the couple set off on a postgraduation trip to see family in North Carolina and Connecticut.
During the visit, Andrew started having terrible headaches. By the time they came home, the pain was so excruciating, he visited the emergency department. A blood test found his white blood cell count to be very high. The diagnosis: acute myelogenous leukemia (AML), a fast-growing cancer of the bone marrow in which blood cells develop abnormally, crowding out normal cells and platelets needed for survival.
It was a shock. At 25 years old, Andrew had seemed the picture of health. He and Brieanna headed to The University of Kansas Cancer Center, 1 of just 54 National Cancer Institute-designated comprehensive cancer centers in the nation, where blood and marrow transplantation (BMT) specialist Leyla Shune, MD, came in on her day off to talk them through the diagnosis.
"It was such a horrible moment, but she handled it with so much compassion and grace," recalls Brieanna. "She said, 'We are going to be aggressive and go for the cure.' And her confidence was so reassuring."
Team approach to leukemia treatment
The cancer care team assembled quickly. Because AML is a very aggressive cancer, patients are at risk of fatal bleeding and myriad infections. Andrew was admitted to the hospital immediately.
"Andrew's leukemia was in his spinal fluid and brain already, and it showed some genetic abnormalities, which told us this was a bad leukemia," explains Joseph McGuirk, DO, medical director of the blood and marrow transplant and cellular therapeutics program. "Without care, he would have died within a week or two."
With their minds consumed with surviving cancer, planning for a baby was not on the couple's radar. That's when experience came in. Care providers reached out to the couple to discuss sperm cryopreservation. Andrew's dad, an internal medicine physician, urged the couple to complete sperm banking before treatment began.
"We are so thankful that everyone was thinking about these things for us," Brieanna says.
Andrew began intense chemotherapy. To more effectively deliver treatment to his spinal fluid, surgeons placed an Ommaya reservoir under his scalp. This plastic bubble connects to a catheter that delivers chemo to the area of the brain that produces spinal fluid.
The uphill battle began. Treatment sapped Andrew's energy and appetite. During his month in the hospital, he lost his hair, 35 pounds and a great deal of strength. Having a leading-edge comprehensive cancer team made a world of difference. The couple visited with palliative care providers, spiritual support, psychologists and nutritionists. Their close-knit friends and family were by their side every day. And their faith was exceptionally strong.
The BMT nurses had a positive impact on the Claassens. When Andrew struggled to push through pain and weakness to get moving each day, it was his nurses who found ways to motivate him.
"Our highly specialized nurses do nothing but take care of patients with blood cancers all day and all night," Dr. McGuirk notes. "Our whole team is essential, but they have the insight and experience to recognize those day-to-day things that impact a patient's recovery."
Stem cell transplant care
After 31 days in the hospital, Andrew and Brieanna returned home to prepare for the next step in Andrew's treatment – a stem cell transplant. Andrew's leukemia was in remission, but he had only a 20-25% chance of staying cancer-free without a transplant, Dr. McGuirk says.
A perfect donor match was found in the transplant registry. Andrew's challenge was to regain weight and strength.
Life didn't stand still for them. The couple stayed in a hotel the first night after Andrew's discharge, and a title company representative came to their room to close on the home they had offered to purchase before Andrew's health declined. Family and friends pulled together to clean the new house so it would be safe for the immunocompromised Andrew.
Within weeks, he regained almost all the weight he'd lost. Next, he underwent intense chemotherapy and total body radiation before receiving a stem cell transplant on July 23, 2015. About a month later, he was home and recovering.
"At that point, I was back to square one on my strength, but I could see an end in sight," he shares. "I was working to get into remission for the long-term, and that made a lot of difference psychologically."
Now Andrew is in complete remission. Dr. McGuirk and the care team monitor him for mild graft-versus-host disease complications, and he receives periodic blood tests to ensure he is healthy.
A turn in the road
By December 2015, Andrew and Brieanna were ready to turn the corner from their stressful journey and look to the future.
They visited reproductive endocrinologist Kristin Holoch, MD, an expert physician with The University of Kansas Health System's advanced reproductive medicine team.
After trying a round of intrauterine insemination, the Claassens turned to in vitro fertilization. Following egg retrieval, fertilization and frozen embryo transfer, on the day after Mother's Day, Brieanna's home pregnancy test came back positive.
"We talk about it now, but I don't know if we were fully understanding the huge amount of life events we were packing into a short amount of time," Andrew says. "This gave us something to look forward to, in a very real sense, versus looking back."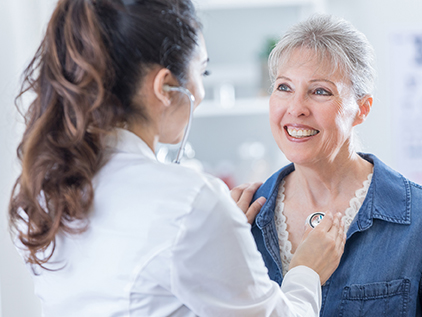 Blood and marrow transplant care
We are home to the region's largest BMT program and the first in the region accredited by the Foundation for Accreditation of Cellular Therapy.
Learn more
As with all treatments, individual patient results vary. It is important to discuss your treatment options with your healthcare provider.