September 30, 2019
Bettye Givens has a smoking habit that's 50-plus years old. She knew it was time to shake her habit because the risk of developing lung cancer was weighing on her.
"I've been smoking a long time, so I knew I was at risk," admits Bettye, 72, of Kansas City, Missouri.
During a routine checkup with her physician, Bettye requested a screening for lung cancer. According to the recommended guidelines, she met the screening criteria:
55 to 74 years old
Relatively good health
Smoked a pack a day for 30 years or more
Active smoker or former smoker who quit within the last 15 years
She was approved for a low-dose CT scan at The University of Kansas Cancer Center last fall, and said she was dumbfounded at the results. Her CT scan showed suspicious lesions in both lungs. "I was really apprehensive about what that meant. It was early-stage cancer, but it was scary. And, even though I knew it was possible, I couldn't believe it was really happening," says Bettye.
Early lung cancer diagnosis
Cardiothoracic surgeons performed a wedge resection on Bettye's left lung in January 2017.
Using a single, small and minimally invasive incision on the left side, surgeons performed a lung resection. The lesion on the left was benign. Several weeks later, Bettye had a lower lobectomy on the right lung. She was diagnosed with stage I nonsmall cell lung cancer. No lymph nodes were affected. Her situation was very treatable."
While her left side healed quickly, Bettye said surgery on her right side took longer to mend and was more painful, although manageable.
"I was so blessed it was caught early," she says. "Even though I will have follow-ups for the next 5 years, I didn't have to have radiation or chemotherapy. But, Dr. V made me very aware that I'm still at risk for recurrence, especially if I can't kick my smoking habit."
Up for the challenge
Despite her diagnosis and knowing the risks, Bettye said quitting cigarettes is a challenge. "It's hard!" she says.
She is in a smoking cessation class and is hopeful she will be able to give up cigarettes soon.
"I understand I have to quit to live. I have had so many major losses in the past 5 years, in addition to my cancer diagnosis. Those are things I can't control. But, I can control the cigarettes. I want to keep playing tennis, volunteering and helping at church. To do these things, I need to quit," she says.
Being proactive leads to Crucial Catch
"Few lung cancers present at early stages. They begin to exhibit noticeable symptoms as the cancer progresses and approaches advanced stages. Bettye's experience demonstrates the advantages of being proactive with low-dose CT scan screenings," says Dr. Veeramachaneni. "However, these screenings aren't ideal for everyone. Bettye is vivacious and a fighter. She's definitely a poster child for early screenings."
Bettye calls it an honor to be selected for the Kansas City Chiefs Crucial Catch program. "You think you're invincible, even though you know there's a strong possibility of having cancer," she says. "I know it can be far worse, and I'm just relieved that I'm out of the woods for the time being. Dr. V and his staff saved my life, and I know that without that early screening, my years on this planet would have been limited. The care I received was second to none!"
The Kansas City Chiefs Crucial Catch program invited 7 cancer patients to a team practice and lunch, where they met Chiefs players and received autographs. "I took a friend of mine with me," says Bettye, "and she knew all of the Chiefs players. We had a blast!"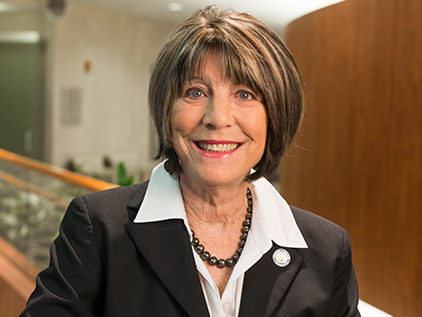 The power of hope
Jeanne Ackerson was diagnosed with stage 3B lung cancer and given a 15% chance of survival. She enrolled in a clinical trial, and the decision saved her life.
Jeann's story
As with all treatments, individual patient results vary. It is important to discuss your treatment options with your healthcare provider.