June 20, 2022
Lisa Webb is praying that a pencil-thin beam of light will stop the stealthy tumor that is stealing her sight.
In May, Lisa was among the first patients to receive proton treatment at The University of Kansas Cancer Center's Proton Therapy Center. Proton therapy is a targeted form of radiation therapy that uses a precise, powerful beam of protons to deliver radiation directly to the tumor while sparing healthy tissues.
Lisa, 53, is being treated for a meningioma, which she was diagnosed with last fall after experiencing issues with her vision. Although her meningioma is noncancerous, it's in a tricky location inside her skull and wraps around her left optic nerve and the main artery (internal carotid) to her brain.
The tumor, which continues to grow, has severely distorted the vision in her left eye, as she can't distinguish people or objects. Without proton treatment, the tumor could eventually lead to blindness.
"The doctors don't believe the vision in my left eye will improve, but proton therapy should stop the tumor from growing into my right eye and further into my brain," she says.
Lisa says she can't make out faces or reflections with her left eye, but instead sees an octagon shape. Concern over her impaired vision is why she went to see her eye doctor last fall. From that initial appointment, Lisa was referred to a retina specialist who ran tests and then requested she have an MRI. Results from the MRI revealed the meningioma.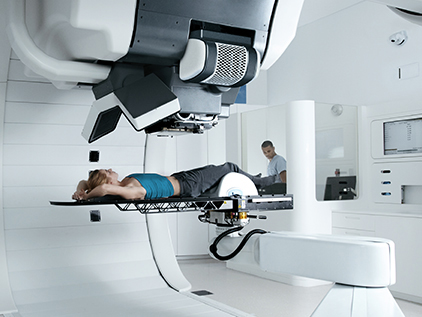 Proton therapy in Kansas City
Receive lifesaving proton therapy treatment at the region's only proton center.
Learn about proton therapy
What is a meningioma?
Lisa was diagnosed with a meningioma, which is a primary central nervous system tumor that begins in the brain or spinal cord. Fewer than 200,000 meningiomas are diagnosed annually, but they are still the most common type of primary brain tumor.
As in Lisa's case, initial symptoms can include vision changes. Recurring headache, hearing loss and seizures may also occur. Meningiomas are typically noncancerous and arise from the membranes surrounding the brain and spinal cord. No one knows what causes them. Treatment, if necessary, may involve surgery and/or radiation.
Complex treatment for noncancerous diagnosis
Four days after receiving her MRI results, Lisa saw neurosurgeon Roukoz Chamoun, MD, at The University of Kansas Health System.
Dr. Chamoun presented Lisa with several options, including surgery to remove her golf ball-sized tumor and proton therapy, which was not yet available in Kansas City but was outside of the state. "He recommended going out of state for proton therapy, but I didn't want to travel that far," says Lisa, who lives in Overland Park.
During her November 30 surgery, Dr. Chamoun removed 25% of Lisa's tumor. To gain access to the tumor site, he had to remove part of Lisa's skull and left jaw. She spent a week in the hospital and another 6 weeks recovering. Fortunately, she did not have to travel outside the state for proton treatment as Lisa knew the Proton Therapy Center was opening in April and she would be able to receive treatment in Kansas City.
"Dr. Chamoun, Dr. (Ronny) Rotondo and the proton team are awesome," says Lisa. "I am so blessed and fortunate to have these wonderful experts and proton therapy in the area to help me and my family. It would have been depressing to have had to go out of state and be away from my family during this time."
Easy listening during treatments
Lisa, who concluded her proton therapy at the end of June, says her treatments were uneventful. The only aspect she didn't particularly enjoy was the mask or fitted device she had to wear over her face to immobilize her head and neck and ensure the proton beam was delivered precisely. For certain body parts, such as the head and neck, the team creates a mask to fit the patient that covers the face to ensure proton beam accuracy.
"I'm claustrophobic, but I listened to my country music and it helped relax me," she says.
Since Lisa is done with proton therapy, she now has follow-up appointments with Dr. Rotondo, medical director of the Proton Therapy Center, and health system neuro-ophthalmologist Thomas Whittaker, MD, JD.
"Right now, I can't lift heavy items. I just take it easy," she says. "Proton treatment did cause fatigue."
Still, the future seems bright. The family looks forward to a vacation they won to Orlando, Florida, where Lisa plans to get back on the golf course.
"I've stayed positive, saying my Rosary daily, going to Mass with the family ̶ so really, there was minimal disruption to my life because proton therapy is available here," she says.
As with all treatments, individual patient results vary. It is important to discuss your treatment options with your healthcare provider.