Skip Navigation
The University of Kansas Cancer Center is transforming the way cancer care is delivered to people across Kansas and beyond by offering the region's first Proton Therapy Center. Now, you no longer need to leave Kansas City area to receive this advanced form of targeted radiation treatment using protons – instead of traditional X-rays or photon radiation – to attack cancerous tumors.
Proton therapy care overview
Proton therapy is a highly specialized, state-of-the-art form of radiation treatment. It precisely targets tumors and spares the surrounding tissues by using a pencil-thin beam of protons to deliver radiation directly to the tumor. This innovative treatment is used to treat many types of adult and childhood cancers.
Proton therapy is the most advanced form of radiation therapy for cancerous tumors available today. It offers many advantages over traditional X-rays or photon radiation and is not currently available elsewhere in the region. In children, proton therapy decreases the radiation exposure to healthy, growing tissue and can dramatically reduce the risk of later complications, including future cancers, from radiation.
Powerhouse proton expertise
At The University of Kansas Cancer Center's Proton Therapy Center patients will receive top-of-the-line care from a powerhouse team of proton experts unparalleled in the region. This includes nationally and internationally renowned radiation oncologists, medical physicists and dosimetrists. Together, these specialists, whom we have recruited from across the country, will create a treatment plan comprising the exact dose, beam angles and patient positioning required to deliver the proton dose to the tumor.
Region's First Proton Therapy
The University of Kansas Health System is building the region's first proton therapy center. Proton therapy is an advanced form of targeted radiation treatment using protons – instead of x-rays – to attack cancerous tumors.
Bob Page: If there's a point of pride here it's that we have now earned the right to be spoken in the same sentence as the Hopkins, the Cleveland Clinic, Mayo Clinic, MD Anderson, Mass General. And rightfully so.
Speaker 1: The University of Kansas Health System will be the first in the region to provide proton therapy. This type of therapy allows for more pinpointed treatment for cancer patients.
Bob Page: Proton therapy is one of the most advanced forms of radiation therapy for cancer patients.
Speaker 1: But until now, not easy for patients in the Kansas City metro or Midwest region to access. Currently, there are only 29 proton therapy centers nationwide.
Tammy Peterman: There are times when patients have to leave Kansas City for some of the most advanced treatments, such as proton. We don't want that to happen. We believe that with this announcement today we can keep even more patients here in Kansas City, closer to home, as they receive care.
Speaker 1: Proton therapy is a pencil-size beam that differs from regular radiation treatment by killing the cancer without harming nearby healthy tissue.
Terry Tsue: This type of a particle, which is a proton particle, part of the nucleus, is delivered to the patient, and then when it hits the cancer all of its energy is dissipated in killing that cancer. Other types of radiation then go on beyond that cancer and can cause damage in normal tissue.
Speaker 1: Proton therapy is FDA approved and covered by Medicare, Medicaid, and most insurance companies. More important, research has demonstrated its effectiveness with minimal side effects, plus proton therapy has been shown to lower the risk of secondary cancers in patients. In 18-24 months this new technology will be available here for both adult and pediatric patients.
Roy Jensen: Pediatric cancer, we've made incredible progress against this disease. Back in the 1960s maybe 10% of kids survived pediatric cancer, and now it's well over 80%, and depending on the type of cancer it's over 90%.
Narrator: Hospital leaders say bringing proton therapy to the University of Kansas Health System represents a multimillion-dollar commitment to this region, guided by a singular focus.
Bob Page: Put the patient in the center of your decision making. Put all your efforts around what's the right thing to do for the patients. Put the technology around it, you put the resources around that. This is just another step in that process.
Speaker 1: The process of changing how healthcare is delivered today and in the future.
Why choose us for proton therapy care
The University of Kansas Cancer Center is the region's only
National Cancer Institute-designated
comprehensive cancer center, 1 of just 54 NCI comprehensive centers in the nation. We are the first in Kansas City to offer proton therapy and multidisciplinary team cancer care. There are no other proton therapy centers in Kansas or the surrounding states of Iowa, Nebraska, Colorado and Arkansas. When you choose The University of Kansas Cancer Center for your proton therapy treatment, you'll receive personalized, precision medicine from a multidisciplinary team that no one else in the region has the expertise to do.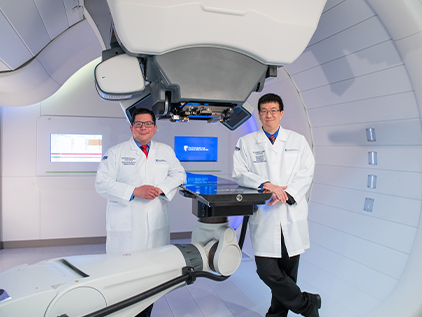 Proton therapy physician referral
If you have a patient who may benefit from proton therapy, we can help. We partner with referring physicians to ensure your patients receive top-of-the-line care and work closely with you to answer questions and ease the referral process.
Learn more
Learn more about proton therapy care