June 13, 2023
When facing a cancer diagnosis, people seek the most innovative and effective treatments available. Sometimes that means traveling to distant medical facilities, adding the anxiety of being hundreds or thousands of miles from home to an already stressful time.
Patrick Lanphier, who lives near Omaha, Nebraska, was prepared to relocate to Houston, Texas, for weeks to treat his recurrent prostate cancer. But to his pleasant surprise, the cancer center in Texas referred him to The University of Kansas Cancer Center's Proton Therapy Center, a state-of-the-art facility that opened in April 2022.
At the Proton Therapy Center in Kansas City, which was 3 hours away instead of 3 states, Patrick received the most advanced treatment without leaving his family behind for the duration.
Patrick learned he had prostate cancer in 2015 and had surgery to treat it in early 2016. At first, it appeared the cancer was gone, but over the next several years Patrick's levels of prostate specific antigen (PSA), a prostate cancer marker, increased, concerning Patrick and his physicians.
Proven prostate cancer treatment
"In early 2022, we decided to look at some treatment options, including radiation," he says. Further tests showed the cancer had not spread beyond the prostate, making Patrick a good candidate for proton therapy. Proton therapy is a highly targeted and innovative treatment that uses a pencil thin beam of protons to deliver radiation directly to the tumor, killing cancer cells while sparing healthy tissue.
"Proton therapy has a proven track record for prostate cancer," says Ronald Chen, MD, MPH, chair of radiation oncology at the University of Kansas Medical Center and associate director for health equity at the cancer center. "It's been shown to be a very safe and effective treatment. And with our facility here, people from a wide region around Kansas City can get this treatment closer to home than before."
Most surrounding states, including Nebraska, Iowa, Arkansas and Colorado, lack proton therapy facilities, and Dr. Chen and his colleagues offer telehealth consultations to patients in these states who could benefit from the treatment. He also notes that the proton center has the most up-to-date equipment, making the treatments more accurate than older centers.
"We have the best technology in the country because it's the latest iteration of proton therapy equipment," Dr. Chen says. "And we also have incredible expertise on our proton therapy team here to know how to best use this technology. Several of our physicians and medical physicists trained at the best cancer centers in the world, including Harvard and MD Anderson, and are experts in proton therapy. We are also engaged in ongoing clinical trials with colleagues around the world to further improve and refine cancer treatment with this and other tools."
As a National Cancer Institute-designated comprehensive cancer center, many cancer physicians participate in research. They are aware of and can recommend appropriate clinical trials for patients while contributing to advancing cancer treatments. "We do have a number of clinical trials underway involving proton therapy. In particular, my research focuses on the treatment's impact on patients' quality of life. We want to not only cure a patient's cancer but also protect the quality of life as much as possible," Dr. Chen says.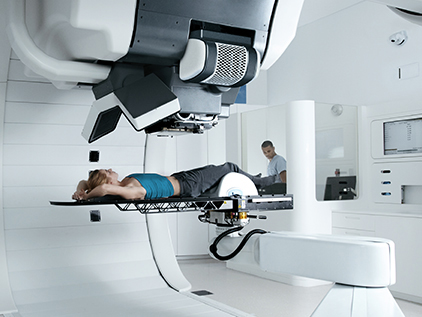 Proton therapy in Kansas City
Receive lifesaving proton therapy treatment at the region's only proton center.
Learn about proton therapy
Being close to home has its rewards
For Patrick, quality of life improved greatly because he could return home to see his family and welcome them to Kansas City periodically during his 7 weeks of treatment in fall 2022. "Dr. Chen and the entire staff at the Proton Therapy Center were excellent," Patrick says. "And being away for 4 nights during the week and then back home every weekend was much better than having to leave home for almost 2 months without any easy or affordable way to return."
Each of Patrick's 37 proton therapy treatments lasted no more than an hour from checking in to walking out of the proton center. Patrick met weekly with Dr. Chen and had additional tests to ensure that the treatments were proceeding as expected. During his treatment period, Patrick's wife, children and grandchildren occasionally visited Kansas City, touring museums and hiking in area parks.
"I had very few side effects and I feel completely back to normal now," says Patrick, only a month after his treatment concluded. "And everything looks great!" In fact, Patrick is back to work as a health department inspector for the city of Omaha. "I'm so grateful proton therapy is available in Kansas City and at a nationally recognized cancer center, where the doctors and staff are top-notch," he says.
Proton therapy treats many types of cancer
Proton therapy can benefit a variety of cancers, including brain, breast, head and neck, liver, lung, pancreas and pediatric cancers, to name a few. "I always encourage patients to seek a second opinion when facing a cancer diagnosis and treatment plan, and our cancer center nurse navigators are wonderful at helping people who want to know more about this as an option or to set up an appointment for a consult with one of our experts," says Dr. Chen.
For Patrick, it was the right choice. "This was a good way to go with fewer side effects than traditional radiation and an easier recovery," he says. "And on top of that, the doctors and staff can't be beat. They're knowledgeable, kind, professional and patient. If you have to go through something like this, the Proton Therapy Center at The University of Kansas Cancer Center is a great place to be."
Proton Therapy Center Virtual Tour
Ronny Rotondo: Welcome to the Proton Therapy Center, Kansas City's first proton center and the 39th proton center in the country. I'm Dr. Ronny Rotondo, medical director of the Proton Therapy Center at The University of Kansas Cancer Center.

Ronald Chen: And I'm Dr. Ronald Chen, chair of radiation oncology. Patients of our Proton Therapy Center receive top of the line care from a team of proton experts unparalleled in their region. This includes nationally and internationally renowned radiation oncologists, medical physicists and dosimetrist.

Ronny Rotondo: These specialists, whom we've recruited from across the country will create a customized treatment plan for each patient. Now, we want to take you inside our NCI comprehensive cancer center's proton therapy center. Here is Jessica Lovell to give you a tour.

Jessica Lovell: Hard at work inside the Proton Therapy Center is a pencil thin beam of light giving new hope to cancer patients across the region and beyond.

Jessica Lovell: Hello, I'm Jessica Lovell and welcome to The University of Kansas Cancer Center. I'm standing in what I like to call, the healing hallway that leads back to the proton treatment room. This is where you'll come after you check in at the front desk.

Jessica Lovell: The dogwoods symbolize rebirth but this wood frame is also symbolic. This curve right here, it's intentional. It represents the Bragg-Peak of the proton beam. The precise point where protons stop on a dime to deliver a prescribed dose of radiation to the tumor but not beyond.

Jessica Lovell: So come along, there's must more to show you.

Jessica Lovell: These are the changing areas where you will wait for treatment. There's an area for men and women. Children wait in here too but don't worry, they have plenty of ways to entertain themselves prior, in a family waiting area with TV, animated games, floor art and interactive programming they can take with them, even into treatment.

Jessica Lovell: Now before I show you the treatment room, I want you to understand the prep work that happens first. All proton therapy patients go through a process called CT simulation and treatment planning in the radiation pavilion just down the hall. The CT scan provides imaging to precisely localize the tumor that will require proton therapy. Here, some patients may have a couple of tattoo dots placed on their body to indicate where the radiation beam will be directed.

Jessica Lovell: No worries about any other medical devices you might have, your medical team knows what to consider and that's all part of your personalized plan.

Jessica Lovell: Are you ready to see the vault? That's what we call the treatment room. Come with me.

Jessica Lovell: One of the first things you'll see is this video projection wall. Patients can select from 14 different scenic lighting and surround themes. There are calming scenes as well as jungles, oceans and even outer space. It's all customizable for children and adults. The room temperature is kept at 70 degrees. That's because the proton equipment produces a lot of heat.

Jessica Lovell: Notice the subdued lighting. There's wifi for music. You may bring your own playlist or podcast too. The cyclotron that delivers the proton therapy is behind that locked door. The nozzle delivers the pencil thin beam of protons to the patient. The patient lays on the table, this is when the mask is positioned, if you have one. Images are taken, rotating 220 degrees as the treatment can be delivered from multiple angles and then the nozzle is set. The therapists then exit the treatment room and go to the console area to deliver the treatment.

Jessica Lovell: No worries, cameras and microphones mean the therapists can still see and hear you. Your tumor type determines the number of beams and the length of treatment.

Jessica Lovell: There is absolutely no pain from proton therapy. In fact, you can't even feel the proton beam at all.

Jessica Lovell: While treatment deliver takes just a few minutes, on average it takes 30 minutes to position patients perfectly. There is anesthesia for children and adults who may need it.

Jessica Lovell: Once your treatment is done, you may leave unless it's an exam day. Exams with your doctor happen every five treatments or more often as needed.

Jessica Lovell: Okay, there's just one more thing I wanna show you and that's the proton therapy bell that sits across from the nursing station. When your treatments are done, you'll get to ring it and we'll be right there celebrating with you.

Jessica Lovell: Remember, our medical team is a combination of highly skilled and nationally renowned proton therapy experts available in the region only at The University of Kansas Cancer Center and we thank you for trusting us with your cancer care.
This individual participated in a clinical trial of an investigational treatment. Clinical trials are different from standard medical care. As with all research studies, clinical trial participant outcomes vary. Before participating in a clinical trial, it is important to discuss the risks and benefits with your healthcare provider.