Skip Navigation
Prostate Cancer Prevention
Prostate Cancer Prevention
The Burns & McDonnell High-Risk Prostate Cancer Screening Program provides vital tools to help with early detection and treatment of men with prostate cancer.
The goal of the program is to personalize prostate cancer screening – based on your risk factors, general health and screening goals – and to closely monitor high-risk patients. Patients receive comprehensive services delivered by cancer doctors and advanced practice providers from numerous specialties, at multiple convenient locations 5 days a week.
Our services include:
Multidisciplinary approach to prostate cancer prevention and care
Consultation regarding monitoring options and standard prevention therapies
Dietitian counseling available
Development of lifestyle strategies, including diet modification and exercise recommendations
Access to clinical research trials
Prostate cancer risk assessment and education for family members
We focus on all men at risk for prostate cancer, including:

African Americans
Men over age 50
Men with a prior history of elevated PSA
Men who have an abnormal prostate examination
Men who have a family history of prostate cancer
Men who have a family history of other cancers (breast, ovarian, pancreatic and Lynch syndrome)
Highly experienced team
Each patient in the program has access to a highly experienced group of physicians, advanced practice providers, nurses, a dietitian, research coordinators and others. These specialists work together as a multidisciplinary team to provide innovative services at multiple convenient locations across the Kansas City metro. We screen patients at multiple sites and together the team works to create a treatment plan tailored to the individual needs of each patient.
Advanced care, multidisciplinary approach
Our high-risk prostate cancer screening program is the first of its kind in the region. It is available to men from across the Kansas City area and beyond who are at high risk of developing prostate cancer.
Patients have access to comprehensive services delivered by cancer doctors from many specialties at locations throughout the Kansas City metro 5 days a week. The program is part of The University of Kansas Cancer Center's effort to provide the region with the most advanced cancer prevention and care available anywhere.
For an appointment or referral
No referral is necessary. Contact us if you are a patient at high risk for developing prostate cancer or a physician who is referring a patient for the high-risk program.
For more information
Patients: 913-588-1227 | 844-323-1227
Physicians: 913-588-5862 | 877-588-5862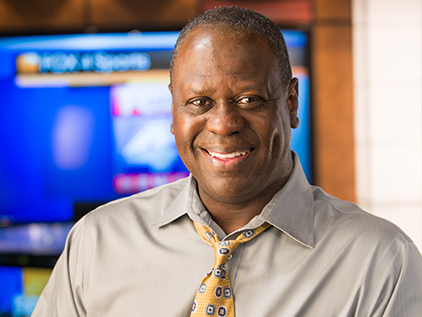 Timing is everything
Thanks to an annual physical, sports anchor Al Wallace received an early prostate cancer diagnosis that saved his life.


Al's story
Related links