August 13, 2019
At 67, Michael Farmer had never had a colonoscopy. He appeared healthy, trekked 2,000 miles a year on his bicycle and was active in his business, KC Running and Sports Medicine, a sports medicine, footwear and apparel store.
Other than feeling mild fatigue a few months prior to his diagnosis, Michael, a physical therapist, said he never would have guessed anything was seriously wrong. Until he thought he was having an appendicitis attack on New Year's Eve 2012.
"I went to the ER the next day because the pain was worse. When they did an MRI, they told me my appendix was just fine. But I had an issue with my ascending colon that needed to be checked out immediately," recalls Michael, who has no family history of colon cancer.
Timely colon cancer diagnosis
During exploratory surgery, surgeons found Michael's colon cancer had erupted through the colon wall and spread to the lymph nodes. Michael was diagnosed with stage 3 colon cancer. Doctors told him that they had discovered his cancer just in time.
"The surgeons removed a good portion of my colon," says Michael, who lives in Lake Winnebago, Missouri.
After recovering from surgery, Michael chose to seek treatment at The University of Kansas Cancer Center. He had 6 months of chemotherapy, receiving infusions every other week. Today, he is on the road to a full recovery.
"The concern and compassion expressed by everyone here was indescribable," shares Michael. "Everyone wanted to make sure I was OK."
Paying it forward in a clinical trial
But, Michael's story doesn't end there. He seized an opportunity to help improve other patients' treatment experiences by taking part in a clinical trial. The trial he enrolled in may help reduce chemotherapy treatment spans for future colon cancer patients.
Clinical trials are part of clinical research and at the heart of all medical advances. Clinical trials look at new ways to prevent, detect or treat disease. Participants like Michael also have the opportunity to receive the newest treatment and additional care from the clinical trial staff.
Joaquina Baranda, MD, Michael's oncologist, thoroughly explained and answered his questions about the clinical trial before he enrolled.
"I realized that my involvement might help someone else with colon cancer down the road," he shares. "If doctors could learn from me and help lessen someone else's treatment time that would be terrific!"
At The University of Kansas Cancer Center, all clinical trials follow National Institutes of Health and Food and Drug Administration guidelines. The trials are designed to answer medically important questions in a scientific and responsible way. Because The University of Kansas Cancer Center is an NCI-designated cancer center, we offer more options and more clinical trials than other cancer centers.
"If I can help someone else avoid some of what I went through during treatment, then a clinical trial is the right thing to do," Michael says. "I want to help make a difference for another person."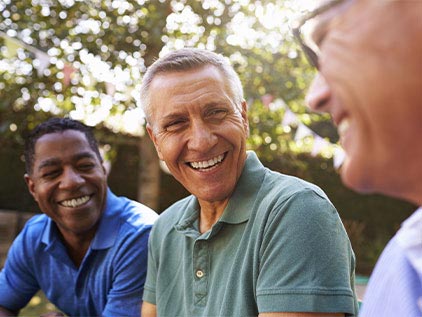 More options, more hope
Many new therapies are available through clinical trials. Find out how you may benefit from a clinical trial, and what it can do for others.
Why join
This individual participated in a clinical trial of an investigational treatment. Clinical trials are different from standard medical care. As with all research studies, clinical trial participant outcomes vary. Before participating in a clinical trial, it is important to discuss the risks and benefits with your healthcare provider.