Skip Navigation
Our NCI Designation
The University of Kansas Cancer Center is a National Cancer Institute (NCI) designated comprehensive cancer center. It is the only such center in the region and 1 of only 53 in the United States. This is the highest honor bestowed by the NCI.
Comprehensive designation means greater access to cutting-edge treatments, leading to higher survival rates. Roy Jensen, MD

Vice Chancellor and Director, The University of Kansas Cancer Center
The University of Kansas Cancer Center achieved NCI comprehensive cancer center designation in 2022.
Comprehensive cancer centers like The University of Kansas Cancer Center are pioneers in cancer research, recognized for their scientific leadership, resources and depth of research in basic, clinical and population science.
As an NCI-designated center, it is also the cancer center's duty to provide public education and outreach programs on cancer prevention and screening, with a sharpened focus on the unique underserved and high-risk populations in Kansas and western Missouri.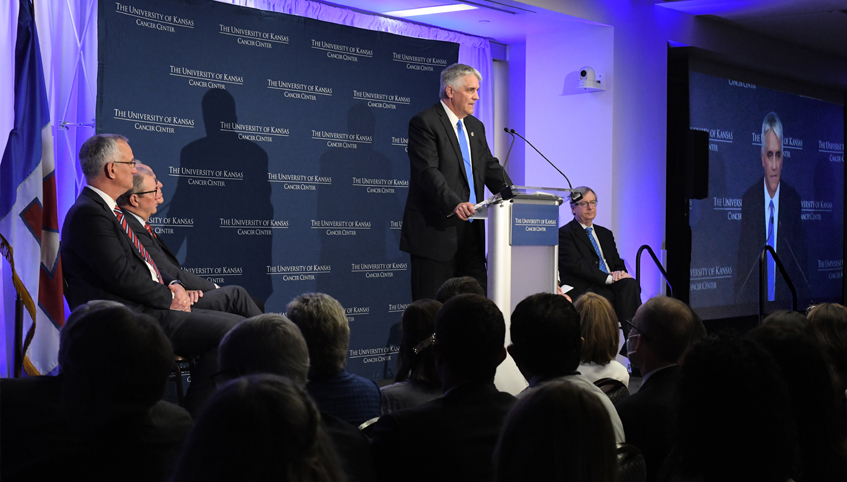 Our consortium partners
Stowers Institute for Medical Research and Children's Mercy are recognized by the NCI as our formal consortium members. Our cancer efforts are made stronger by these powerhouse partners. With Stowers' strong emphasis in basic research, combined with Children's Mercy's focus on pediatric patients, we are able to deepen our research efforts and help more patients.
Read our latest application below, which highlights the cancer center's vision, goals and notable accomplishments. You can read our 2022 site report here.
NCI Site Visit Director's Overview 2022
Dr. Roy Jensen, vice chancellor and director of The University of Kansas Cancer Center, presents his Director's Overview for NCI site reviewers.

NCI Designation
Our cancer center is 1 of 53 NCI-designated comprehensive cancer centers nationwide.

Clinical Trials
We are a pioneer in new clinical trial research that leads to innovative treatments.

Still the Best
Our hospital continues to rank as the best in Kansas City and in Kansas according to U.S. News & World Report.
NCI Site Visit Presentations 2022
Related links