Skip Navigation
Skin cancer is an abnormal growth of cells within the skin that usually develops due to long-term sun exposure. It is the most common type of cancer that occurs in men and women. The number of overall skin cancer cases increases each year and melanoma rates continue to rise as well. While most people associate skin cancer with melanoma, doctors see cases of nonmelanoma skin cancer more frequently.
At The University of Kansas Cancer Center, our specialists provide the most compassionate and comprehensive level of care for all types of skin cancer. Our multidisciplinary team of dermatologists, medical oncologists, plastic surgeons and dermatopathologists has decades of experience treating thousands of people with skin cancer.
As the region's only National Cancer Institute-designated comprehensive cancer center, we offer some of the most advanced skin cancer treatments, including leading-edge clinical trials and immunotherapy, which harnesses the body's own immune system to kill the cancer cells. Our specialists meet regularly at tumor conference to discuss individual patient cases in-depth. This results in a multidisciplinary opinion and coordination of care that gives our cancer patients a powerful advantage. We tailor our treatments to the needs of each patient and base our therapies on the latest cancer research as well as the patient's individual goals and preferences.
Skin cancer care overview
Anyone can develop skin cancer, regardless of skin type, race, age, where you live or what you do. You are at greater risk if you have any of these factors:
Fair skin that freckles easily
Light-colored hair and eyes
A large number of moles, or moles of unusual size or shape
A family history of skin cancer
A personal history of blistering sunburns
Have spent a lot of time working or playing outdoors
Organ transplant recipients also are at greater risk for skin cancer, as are those who take immuno-suppressive medications.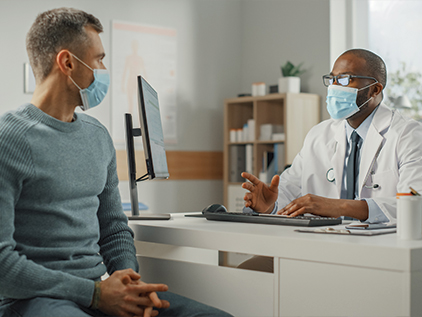 Begin your cancer journey with a second opinion
We know the value of getting a second opinion on a cancer diagnosis. Let us help you navigate your cancer journey. Connect with one of our nurse navigators at 913-588-1227 or 844-323-1227 to schedule your cancer second opinion.
Learn more
Types of skin cancer
There are several different types and subtypes of skin cancer. The 3 most common are:
Basal cell carcinoma is the most frequently diagnosed type of skin cancer, but is also the least dangerous. Basal cell carcinoma grows slowly, rarely spreads beyond its original site and is seldom life-threatening. However, if left untreated, basal cell carcinoma can grow deep beneath the skin into underlying tissue and bone, causing serious damage.


Squamous cell carcinoma is the second most common type of skin cancer and can grow anywhere, particularly on areas exposed to prolonged sunlight. It sometimes spreads distantly to other areas of the body, including lymph nodes and internal organs. If not treated, squamous cell carcinoma can become life-threatening.


Melanoma is the most dangerous form of skin cancer. Although the least common, reported cases have increased steadily and rapidly in recent decades. If discovered early, melanoma can be completely cured. If not treated quickly, melanoma can spread throughout the body and be deadly.
Examine your skin regularly. Skin cancer screening can catch potentially dangerous conditions while they are at their most treatable. Basal and squamous cell carcinomas may begin as:
A small, white or pink nodule or bump with a smooth and shiny, waxy or pitted surface
A red spot that is rough, dry or scaly
A firm, red lump that may form a crusted group of nodules
A sore that bleeds and does not heal after 2 to 4 weeks
A white patch that looks like scar tissue
Melanoma is usually signaled by a change in the size, shape or color of an existing mole or as a new growth. Watch for the "ABCDE" warning signs:
A

symmetry: a growth with unmatched halves

B

order irregularity: ragged or blurred edges

C

olor: a mottled appearance, with shades of tan, brown and black, sometimes mixed with red, white or blue

D

iameter: a growth more than 6 millimeters across (about the size of a pencil eraser) or any unusual increase in size

E

volution: a growth that seems to change in size, shape, color, texture or border
If you notice any of these changes or have concerns about potentially cancerous moles or lesions, you should contact your doctor.

NCI Designation
Our cancer center is 1 of fewer than 60 National Cancer Institute-designated comprehensive cancer centers nationwide.

Clinical Trials
We are a pioneer in new clinical trial research that leads to innovative treatments.

Still the Best
Our hospital continues to rank as the best in Kansas City and in Kansas according to U.S. News & World Report.
Learn more about skin cancer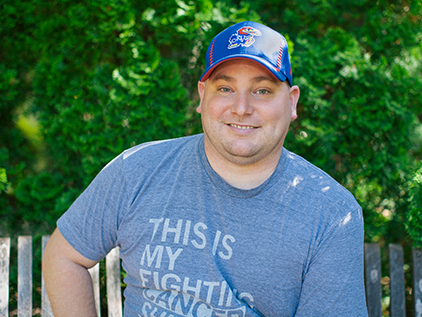 Beating the odds
Tim Grimes went to the doctor for a simple mole removal, but his whole world changed when he received a diagnosis of stage 4 melanoma.


Tim's story