Skip Navigation
Interventional Pain Therapies
Interventional Pain Therapies
Some people experience pain due to their cancerous tumors or as a result of the invasive or diagnostic procedures and treatments that take place to address their cancer. Surgery, radiation, chemotherapy, immunotherapy and hormonal therapy all can cause pain and discomfort that can make treatment difficult.
Prescription medication may not be effective in instances of intense discomfort, may cause unwanted side effects, or may not be advisable for other reasons. In these cases, interventional techniques to control pain may be a better option so that patients with cancer can complete their treatment and work toward a cure in the most comfortable way possible.
All of our interventional pain therapies are provided by physicians who are board-certified in the fields of anesthesiology and interventional pain medicine.
What is interventional pain therapy?
The term "interventional" means that this type of therapy is focused on intervening internally to disrupt the flow of pain signals along specific pathways of the body's nervous system. These therapies may take the form of spinal cord injections or stimulations, nerve blocks, pain pumps or other internal interventions to decrease the amount of pain a person experiences.
Who can have interventional pain therapy?
Anyone with a cancer diagnosis who is experiencing debilitating discomfort may be a candidate for interventional pain therapy from our specialists in pain management. Our anesthesiologists work closely with other members of your treatment team to develop options that can minimize discomfort without affecting the success of your cancer treatment.
How does interventional pain therapy work?
The treatment process depends on the specific type of interventional pain management therapy being used. Some common approaches include:
The OsteoCool™ radiofrequency ablation system uses targeted radiofrequency energy to treat malignant metastatic bone tumors. This treatment technique can be effective in all bone anatomy. In addition to the spine, OsteoCool can achieve palliative treatment of tumors in the ribs, sacrum, extremities, hip and other bony areas in patients who are not candidates for standard therapy or for whom standard therapies have been ineffective in adequately relieving pain.

Having the flexibility to treat a wide range of bone tumors gives doctors at The University of Kansas Cancer Center more options to manage pain associated with cancer. Metastatic bone disease can occur in cancer patients, especially those with cancer of the prostate, breast, liver and lung. In addition to causing pain, bone tumors can lead to decreased mobility and fractures that further impact quality of life during cancer treatment.

OsteoCool gets its name because the tip of the ablation probe is internally cooled with circulating water. This allows the radiofrequency energy to be delivered to the treated tissue with less risk of damaging surrounding tissue.

The STAR™ Tumor Ablation System relieves pain from cancers that spread to the spine from other areas like the breast, prostate, lung or kidney. Through a minimally invasive, nonsurgical approach, a probe is inserted into the spinal tumor under local anesthesia. The probe emits heat that shrinks or destroys the tumor resulting in rapid, lasting pain relief. If administered prior to any other cancer treatment, STAR tumor ablation may enable patients enough freedom from pain to undergo uninterrupted, continuous treatment of their primary cancer.

Benefits

Rapid back pain relief through a minimally invasive, targeted, outpatient procedure
Compatible with patients' current cancer treatments
Option for people who have reached their cumulative radiation dose limit
Potential treatment for radiation therapy-resistant tumors

Within 24-48 hours, the procedure allows individuals who were wracked with pain and unable to move or walk the ability to move easily and walk without pain again. Studies show sustained pain relief at 6 months following the procedure. With their pain eased, patients can go on to receive uninterrupted chemotherapy or radiation treatment for their primary cancer. This procedure is available only at The University of Kansas Health System, including the Indian Creek Campus location and The University of Kansas Cancer Center.

Currently, our physicians rank 2nd in the nation for placement of pain pumps in patients with advanced cancer. This therapy is considered the gold standard in the management of advanced cancer-related pain. A drug-infusion system implanted into the patient automatically releases pain medication to the targeted areas.

Either chemical agents, such as alcohol and phenol, or radiofrequency ablation are used for the destruction of nerves responsible for cancer-related pain of the breast, lung, prostate, pancreas, colon, spine or other cancers.

Performed on an outpatient basis, this minimally invasive procedure implants stimulators along the spine, which allow electrical impulses to be transmitted to nerves affected by cancer. The electrical stimulation of the nerves relieves pain in patients with various syndromes resulting from their cancer. MRI-compatible nerve stimulators ensure the continued ability to monitor cancer progression after implantation. Our physicians were the first in the region to implant the first fully compatible, MRI-safe spinal cord stimulator.

Fractures in vertebrae weakened by cancer are stabilized through these procedures using medical-grade cement.

Vertebroplasty inserts medical-grade cement into the fractured vertebrae restoring functionality.
Balloon kyphoplasty uses injected cement and orthopedic balloons to stabilize spinal fractures and alignment.
Sacroplasty injects cement into the sacrum to dramatically reduce low back and buttock pain caused by sacral insufficiency fractures that can occur with cancer.

Ultrasound and fluoroscopically guided peripheral nerve blocks
Physicians use either ultrasound or fluoroscopy for image guidance to maneuver the needle between vertebrae to deliver pain-relieving medications. Injections contain a steroid medicine and an anesthetic medicine to block the nerves affected by cancer.
Why choose us
Nationally ranked. For 13 consecutive years, The University of Kansas Hospital has been recognized among the nation's best hospitals as ranked by U.S. News & World Report.
Interdisciplinary care. Interdisciplinary care simply means that you will benefit from a comprehensive team of doctors from different specialties all working for you.
A comprehensive approach. We provide "end-to-end" care. That means we work with you from the moment you walk through our doors, throughout your diagnosis and treatment and beyond.
Innovative treatments. Because The University of Kansas Cancer Center is part of an academic medical center, we offer innovative treatments and clinical trials – often long before other hospitals can.
Expertise you can trust. Our board-certified, fellowship-trained physicians provide some of the most advanced and efficient treatments to alleviate pain.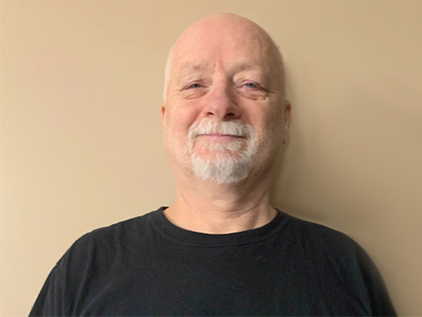 OsteoCool relieves spinal pain
Diagnosed with myeloma and amyloidosis, Randy Long turned to pain specialists at The University of Kansas Health System for immediate relief.
Randy's story
Request your appointment today.
To make an appointment at The University of Kansas Cancer Center, call 913-588-1227.