Skip Navigation
Cervical Cancer Resources
At The University of Kansas Cancer Center, we provide a range of support programs, resources and survivorship care for women with cervical cancer. These programs are designed to help you and your loved ones address issues that may arise as a result of your cervical cancer diagnosis and prognosis. We want you to know how to address known health risks and side effects that may arise from your cervical cancer treatments.
The University of Kansas Cancer Center's gynecologic cancer care team can help you learn more about cervical cancer, including prevention, risk factors and ways to cope with your diagnosis. Because prevention begins with education, we can also help you find more resources on cervical cancer.
Questions for your doctor
We're here to answer any questions you may have about cervical cancer. Some questions you may want to bring to your doctor include:
What kinds of tests will I need, and what will they tell me?
Do I need to do anything to prepare for them?
Will they hurt? Will they interfere with my daily activities?
Will my insurance cover them?
What are my treatment options?
What are the pros and cons of different cervical cancer treatments?
How will I feel during my treatment?
Will the treatment have any lasting or short-term effects?
How long will treatment take?
Am I eligible for any clinical trials?
What will my insurance cover?
How should I prepare for surgery?
If I need surgery, how long will I be in the hospital?
How soon may I resume normal activities, like driving or going to work?
What are the risks of having this surgery?
Are there alternatives to the surgery?
Will I need further treatment after surgery?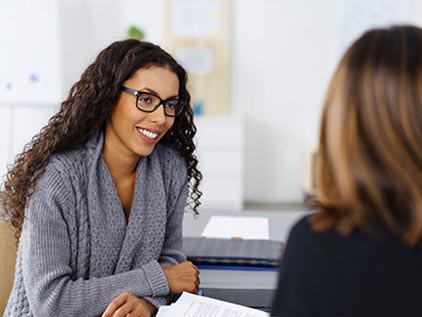 We are here for you, woman to woman.
The Woman to Woman program provides
one-on-one
emotional support and mentoring for women who are newly diagnosed with gynecologic cancer.
About the program
Survivorship after cervical cancer
We believe surviving cancer begins the day of diagnosis and continues every day after, and we integrate survivorship into your overall care. Surviving cancer is a lifelong process and regular appointments are an important part of follow-up care. You'll receive the same high-quality, personalized and comprehensive care in survivorship that you received during your treatment.
We also ensure you have access to survivorship services, such as fertility preservation, sexual health counseling and support, mental health counseling and support, fatigue management, physical therapy and rehabilitation.
All cervical cancer patients receive a treatment summary. This allows you and your doctors to know which medications or therapies you received during your cervical cancer treatment. We also provide you with a personalized survivorship care plan, which outlines clear steps for monitoring and maintaining your reproductive health after your cancer treatment ends.
Additional cervical cancer resources
The University of Kansas Cancer Center does not assume responsibility for any of the information posted on these sites.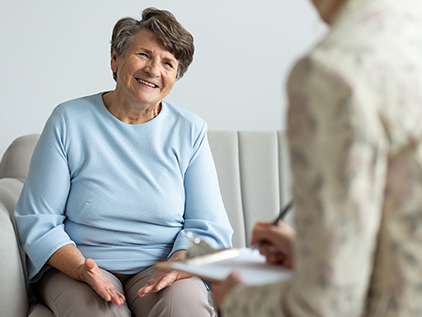 Treating cancer with more than medicine
Our approach to cancer care includes support services for the mind, body and spirit. Research shows this approach provides better outcomes.
Whole person care
Related links