Skip Navigation
The thyroid is a butterfly-shaped gland at the base of the throat, under your voice box. At normal size, each half is about 1-inch in diameter. The thyroid gland makes hormones that affect metabolism, including body temperature, weight gain and loss, blood pressure, heart rhythm and energy level. Thyroid tumors happen when cells build up in the thyroid gland, forming a nodule.
Thyroid cancer specialists at The University of Kansas Cancer Center are leaders in the field. Working as a team, they will provide you with the latest advances in prevention, diagnosis, treatment and resources.
What is thyroid cancer?
Thyroid cancer occurs when cancerous cells develop in the thyroid gland. More than 90% of thyroid tumors are benign or not cancerous. Most of them are not life-threatening and don't need to be removed.
Malignant thyroid tumors can be life-threatening. They also may invade surrounding tissue and can spread to other parts of the body through the blood vessels and the lymph system.
Types of thyroid cancer
The 4 main kinds of thyroid cancer are:
Papillary: About 80% of thyroid cancers. Grows slowly and is most curable.
Follicular: About 15% of thyroid cancers. Grows slowly and is very treatable.
Medullary: About 3% of thyroid cancers. Can be controlled when found and treated early, before spreading widely.
Anaplastic: About 2% of thyroid cancers. Grows quickly and spreads rapidly. Difficult to control. Very rarely treatable.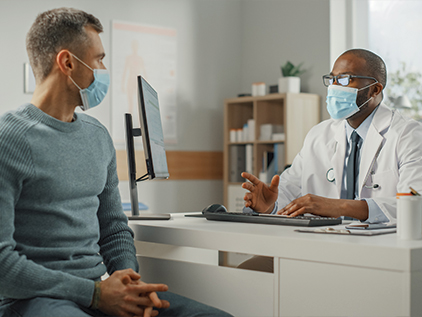 Begin your cancer journey with a second opinion
We know the value of getting a second opinion on a cancer diagnosis. Let us help you navigate your cancer journey. Connect with one of our nurse navigators at 913-588-1227 or 844-323-1227 to schedule your cancer second opinion.
Learn more
Thyroid Cancer Symptoms and Risks
Thyroid cancer often does not have any symptoms, especially in the early stages. Other thyroid cancer symptoms may appear as the cancer grows:
Hoarseness or voice changes
Lump in the front of the neck
Swollen lymph nodes in the neck
Trouble swallowing or breathing
We don't know the exact cause of thyroid cancer. We do know that some factors can put you at greater risk, although many are beyond your personal control. You are at highest risk if you experienced radiation exposure from:
X-rays as a child from the 1920s to the 1960s
Radioactive fallout from nuclear disasters
Radiation or radioactive materials in the workplace
Routine chest and dental X-rays use very low doses of radiation. But you still may want to talk with your doctor or dentist about shielding your neck when you receive X-rays.
Other risk factors include:
Family history of thyroid cancer
Personal history of large goiter or enlarged benign thyroid nodules
Gender: Women are more likely than men to develop thyroid cancer
Age: Thyroid cancer can happen at any age, but most people with thyroid cancer are over age 45
Thyroid Cancer Screening and Diagnosis
Diagnosing a thyroid nodule accurately and promptly is important. Early diagnosis improves the likelihood that a cancer can be discovered while still contained within the thyroid gland and is most treatable with surgery.
To detect and diagnose thyroid cancer, we use a traditional physical exam and the latest technology:
Thyroid biopsy uses a long, fine needle inserted into the neck to remove a sample of thyroid tissue. The tissue sample goes to the lab. A doctor reviews it under a microscope to help diagnose disease.
Blood tests to assess your thyroid function and any abnormal thyroid hormone levels. Some of these are markers for thyroid cancer.
Laryngoscopy is when your doctor inserts a fiber-optic scope with a camera into your throat or nose to see your larynx or voice box. The image often is recorded on video.
Imaging tests may be requested to create an image of your thyroid gland and any associated lymph nodes.
Our thyroid nodule clinic gives you same-day access to testing, diagnosis and treatment options. You can meet with specialists from endocrinology, pathology and head and neck surgery in one location at the same time.
Your physician will need to refer you to our thyroid nodule clinic. Our nurse navigator will help collect the results from thyroid function laboratory tests and a recent diagnostic ultrasound, preferably from the last 6 months, and share them with the clinic.
Endocrinologists who specialize in thyroid cancer will evaluate your thyroid nodule with a fine-needle aspiration. This diagnostic procedure uses ultrasound guidance to locate the best area to biopsy. A thin needle, no larger than the needle used in a flu vaccination, withdraws cells for evaluation.
Results from the biopsy may indicate the need for additional tests that can usually be performed the same day. If surgery is necessary, you can meet with a surgeon before leaving.
Thyroid Cancer Treatment
Your thyroid cancer treatment will depend on the stage of your disease and your overall health. Most people with thyroid cancer need surgery to remove the thyroid gland. This surgery, called a thyroidectomy, usually is done through a small incision in the base of your neck and may also involve removing nearby lymph nodes.
You may be able to have minimally invasive surgery, which requires a smaller incision, provides faster recovery and causes less scarring than traditional surgery.
After surgery, you will need to take thyroid replacement hormones.
Your doctor may follow your surgery with radioactive iodine therapy to destroy any remaining thyroid tissue and any areas of spread. You'll take the iodine by mouth as a capsule. Thyroid tissue absorbs the iodine, which kills the cancerous cells.
We use external radiation therapy for thyroid cancer rarely, only when conventional thyroid cancer treatments have failed. We only use chemotherapy rarely for thyroid cancer.
Sometimes people with thyroid cancer take part in clinical trials. Clinical trials help find better ways of preventing, diagnosing and treating various types of cancer.
Why choose us for thyroid cancer care
If you have thyroid cancer, you will find the leading specialists you need at The University of Kansas Cancer Center. Our team of fellowship-trained doctors has years of experience treating hundreds of patients with thyroid cancer. The team includes doctors who specialize in:
Thyroid disease
Thyroid surgery
Cancer (medical oncologists)
Nuclear medicine
Radiation therapy (radiation oncologists)
Guided imaging to deliver treatment (interventional radiologists)
These doctors and other team members form a multidisciplinary thyroid tumor board. The tumor board meets weekly to discuss and coordinate the best treatment for every thyroid cancer patient at the cancer center.
We also offer advanced surgical techniques and technologies to improve patient outcomes and reduce side effects:
We offer minimally invasive surgery options. These require smaller incisions, provide faster recovery and less scarring than traditional surgery.
We can biopsy hard-to-reach nodules with special imaging to guide the surgeon.
Our surgical complication rates are well below the national average.
Our cancer center physicians and staff also work with community healthcare providers. In many cases, you can receive your treatment close to your own home while coordinating with your treatment team at The University of Kansas Cancer Center.
Each person is unique, so we tailor your care to your personal needs. Your doctors, nurses and other team members will work closely together to develop a treatment plan that works best for your needs. As a team, we'll discuss your treatment, track your progress and coordinate your care.
As a National Cancer Institute-designated comprehensive cancer center, we are committed to making a difference for thyroid cancer patients using the latest, most advanced cancer treatments, innovative therapeutics and chemoprevention. We take part in numerous national clinical trials on cancer treatment, as well as develop our own clinical studies to improve patient care and outcomes. You may be able to take part in a clinical trial for thyroid cancer. This means you benefit from our team's knowledge about the latest options and research.