August 13, 2019
Rebecca Hertzog Burns is a competitor. Growing up, her 2 big brothers pushed her to play sports and be physically strong.
"They wanted to make sure I was tough and knew how to fight for things," she says. "I've always been a fighter and someone who can see the finish line and isn't going to give up."
In 2009, Rebecca would draw from this strength heading into the toughest battle of her life – a leukemia diagnosis at 20.
Taking on a leukemia diagnosis
Always in tune with her body and health, Rebecca knew something was "off" during her sophomore year at Pittsburg State University in Pittsburg, Kansas. She was fatigued and felt like she was going to faint during routine workouts. Her symptoms progressed to night sweats and a painful, itchy rash.
Tested at a local urgent care clinic, her white blood cell count proved low. Rebecca followed up during the next few weeks, but the count remained unchanged.
Life hit a fast-forward pace at that point. Rebecca underwent a bone marrow biopsy. Her parents then drove from their Lee's Summit, Missouri, home to talk to her about the diagnosis. Rebecca had acute myelogenous leukemia (AML), a fast-growing cancer of the bone marrow in which blood cells develop abnormally, crowding out normal blood cells and platelets needed for survival.
"They walked in my door and said, 'Rebecca, you have cancer,'" she recalls.
Without even a moment of defeat, Rebecca's close-knit family and friends came together to lend their support and form a game plan.
Rebecca's message to them: "Be sad now, but after tonight, nothing but positive attitudes."
Fighting through leukemia treatment
Rebecca was referred to The University of Kansas Cancer Center, a world-class, National Cancer Center Institute-designated cancer center, and among the leaders in blood and marrow transplant services. Here, Joseph McGuirk, DO, medical director of the blood and marrow transplant and cellular therapeutics programs, emphasized how urgent it was to take action.
Because AML progresses very quickly, Rebecca began induction chemotherapy – an intensive chemotherapy to destroy as many leukemia cells as possible – within days. Three rounds of additional chemotherapy followed over the course of 6 months.
Strength continued to be the theme in Rebecca's journey. Family and friends were by her side every moment. And her positive attitude remained unshakable.
By May 2010, Rebecca's cancer was in remission.
An unexpected turn
Normal life resumed for Rebecca, who returned to school, transferring to Kansas State University and then to the University of Mississippi. She met her future husband, Tanner, along the way. In 2014, Rebecca landed her dream job as business coordinator for the athletic department at the University of Arkansas.
Two months into her new role, Rebecca began feeling nauseous and weak. At a local clinic, her white count proved dangerously low. She returned to The University of Kansas Cancer Center, where a bone marrow biopsy confirmed cancer. Just 3 months shy of the gold-standard 5 years of remission, Rebecca was again fighting AML.
"I was in shock," she says. "I had been feeling great, and people commented on how healthy I looked."
But Rebecca had a lot of fight left in her. She embraced the slogan "Believe it; achieve it." Family and friends reassembled for round 2.
Immunotherapy answer
Rebecca needed a bone marrow transplant. However, a full match could not be found among family members or on the National Bone Marrow Registry.
Dr. McGuirk presented Rebecca with 2 options, both at the forefront of cancer care: a blood stem cell transplant using umbilical cord blood from an unrelated donor or a haploidentical bone marrow transplant (a genetic half match) from her brother.
Rebecca chose the cord blood transplant, drawing from her memories of a beloved high school softball coach who had undergone the same procedure in his battle against lymphoma.
"The placenta, essentially a waste product following birth, is rich in potentially lifesaving cells," notes Dr. McGuirk. "For children and adults, cord blood transplant is a frontline treatment option."
The procedure is also part of a leading-edge approach to cancer treatment known as immunotherapy, which harnesses the immune system to help fight cancer.
When Rebecca discovered the same high school coach helped fund an investigational study involving cord blood, she took it as a sign and joined the study, which examined whether time spent in a hyperbaric chamber accelerates new stem cell growth.
Standing strong
Rebecca received powerful regimens of chemotherapy and radiation, followed by the cord blood transplant on September 9, 2014. The cord blood donation was from a baby boy – now a healthy 13-year-old – from Orange County, California.
To Rebecca, this was further affirmation that she had made the right choice. She wears a ring bearing a palm tree – her favorite emblem – as a reminder to stay strong. The California connection spoke to her sense of fate.
"Palm trees can bend to the ground without breaking during a storm," she explains. "Then they stand back up and rise to the challenge of a new day."
She would need that same resilience to survive the transplant procedure.
The average timeframe to cell recovery after a cord blood transplant is 22-26 days, but Rebecca failed to show signs of recovery in the first 40 days. She was gravely ill and had plummeted from 125 pounds to just 97. Her care team was preparing to start over with her brother Todd as a half-matched donor.
Rebecca's strength kept her fighting for more time.
"At one point, they told me my chances of surviving were like a Hail Mary pass," she says. "I was looking for a miracle."
Dr. McGuirk recognized Rebecca had what he calls "the eye of the tiger."
"Rebecca was in harm's way with no immune system whatsoever, and I was very worried we would lose her," he says. "But she wasn't. And she's my boss. So when she wanted to be patient and give it 1 more day, I followed her wishes. The next day showed a tiny white blood cell count. Rebecca had the determination to sit tight, and sure enough, the next day showed a few more white blood cells. Since then, her new immune system has grown beautifully."
As she continues to recover, she returns every 3 months to monitor her blood counts and overall health. She understands just how fragile life can be but leans on her strength and her care team to keep her in the fight.
"I would not be where I am today without the care and support of this incredible team," she shares. "At my lowest moments, I was surrounded by kind, caring people who were truly fighting for me. I was never just a number here. I was a person and a respected contributor in my own healthcare decision-making."
Today, Rebecca's blood is 100% donor, and she is leukemia-free.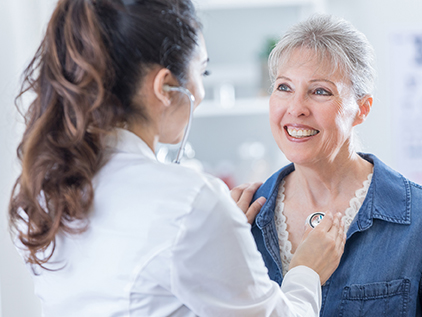 Blood and marrow transplant care
We are home to the region's largest BMT program and the first in the region accredited by the Foundation for Accreditation of Cellular Therapy.
Learn more