August 30, 2019
With a larger-than-life personality, charitable nature and sense of community, Charley Vogt never considered his biggest opponent in life would be cancer. Yet, when he was diagnosed with stage 3 prostate cancer in December 2013, Charley said the disease was a formidable foe.
Charley is senior vice president of business/economic development at Country Club Bank in Kansas City. He travels the metropolitan area and region for work and devotes countless hours to community service. Some may know him as "Charley Claus" from the Country Club Bank lobby, the Shawnee Fire Truck and several charitable events, including those with the Shawnee Rotary Club and Christmas in the City with Kansas City Kansas Community College.
"I was diagnosed just before Christmas 2013 – the day before I put on my Santa suit for 250 of the bank's employees and their families. That was a hard day," Charley recalls. "When you hear the news about cancer, you think it couldn't happen to you. Then you're so anxious to get it out of your system and you're frustrated by the wait."
Prostate cancer wasn't on Charley's radar. But thanks to a checkup with a trusted physician, who insisted on a biopsy after an elevated PSA (prostate-specific antigen) screening, Charley's diagnosis was confirmed.
Prostate cancer treatment options
Charley was presented with several treatment options: radiation or surgery to remove the prostate.
He sought a second opinion at The University of Kansas Cancer Center. There, he was referred to urologic oncologist Eugene Lee, MD, and urologic oncologist J. Brantley Thrasher, MD. They instilled the confidence Charley needed to choose surgery. Dr. Thrasher did Charley's prostatectomy with the da Vinci System®, which is similar to traditional laparoscopic surgery. It features a magnified 3D high-definition vision system and enables surgeons to operate with enhanced vision, precision, dexterity and control.
"Dr. Lee and Dr. Thrasher were the best referrals I could have had. Dr. Lee's bedside manner made me feel special, and Dr. Thrasher is in the top 1% of his field, right here in our own backyard," Charley says. "I can't tell you how reassuring it was to have these 2 physicians oversee my surgery."
According to Dr. Thrasher, despite clear lymph nodes, Charley's cancer was aggressive and had extended beyond the prostate. It required him to have further treatment, including 6 monthly hormone injections that put him in a state of "male menopause," hot flashes and all, and 38 radiation treatments between May and September 2014.
"I did well with the radiation," Charley says. "But the hormone treatments were rough. It completely changed my personality. I went from being a type A personality to struggling to engage with people or in activities."
According to Dr. Thrasher, Charley's case serves as a reminder for regular prostate screenings.
"One of the lessons in Charley's case is that the faster you find it, the more curable it is," Dr. Thrasher explains. "This is why we screen. If you wait too long, it becomes more complicated and not as curable."
Prostate cancer in remission
Charley took a month's leave from the bank after his surgery but managed to work through the remainder of his cancer treatments. Today, he is cancer-free and back to serving his community. He remains active with numerous charitable endeavors, including the Shawnee and Bonner Springs Rotary Clubs, the Kansas City Kansas Community College Endowment Board and the KC Urban Core Group.
Likewise, to show his appreciation for the outstanding treatment he received at The University of Kansas Hospital and cancer center, Charley brought flowers to each individual who helped him. This included the server at d'Bronx, a restaurant near the hospital, where he was served a hearty bowl of chicken broth the night before his surgery.
Even while Charley was receiving radiation, his exuberance slowly returned. Each week he had treatment, he brought the receptionist at the Richard and Annette Bloch Radiation Oncology Pavilion a vase of flowers. He says the bouquets were to brighten the waiting area for all patients who were having radiation.
"People who know me will ask how I made it through the experience, and I tell them it was with the support of my family, coworkers and The University of Kansas Hospital and cancer center, which was fantastic – the physicians, the nurses … everyone down to the receptionist," says Charley.
Last fall, while attending his son's wedding in Italy, Charley toured a number of churches and cathedrals. At each one he visited, he lit a candle in honor of the hospital and cancer center staff who cared for him.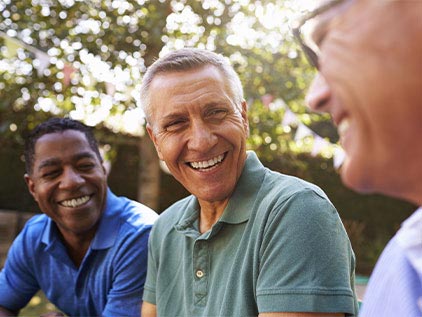 Prostate cancer awareness
Prostate cancer is the most common cancer in American men. Yet, with early detection, the cure rate for prostate cancer is high.


Get the facts
Request your appointment today.
To make an appointment at The University of Kansas Cancer Center, call 913-588-1227.