Skip Navigation
Prostate cancer is the most common cancer among men, except for skin cancer, in the United States and the 2nd leading cause of cancer death in men after lung cancer. About 1 in 8 U.S. men will develop prostate cancer in his lifetime. When we detect prostate cancer early, treatment can result in a cure for up to 90% of men.
The University of Kansas Cancer Center's prostate cancer program has been recognized as 1 of 13 Clinical Centers of Excellence in the nation by Urology Times. Additionally, U.S. News & World Report ranks our urology program among the nation's top in cancer care. The urologic surgical oncologists at The University of Kansas Cancer Center set the standard for care and treatment in prostate cancer and other urologic specialty areas.
We also offer the Burns & McDonnell High-Risk Prostate Cancer Screening Program, the first of its kind in the Kansas City region. The program is available to men from across the Kansas City area and beyond who are at high risk of developing prostate cancer. Patients receive comprehensive services delivered by cancer doctors and advanced practice providers from numerous specialties, at multiple convenient locations 5 days a week. The program is part of The University of Kansas Cancer Center's effort to provide the region with the most advanced cancer prevention and care available anywhere.
Begin your cancer journey with a second opinion
We know the value of getting a second opinion on a cancer diagnosis. Let us help you navigate your cancer journey. Connect with one of our nurse navigators at 913-588-1227 or 844-323-1227 to schedule your cancer second opinion.
Learn more
Proton therapy in Kansas City
Receive lifesaving proton therapy treatment at the region's only proton center.
Learn more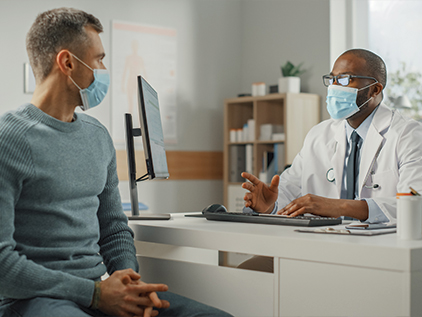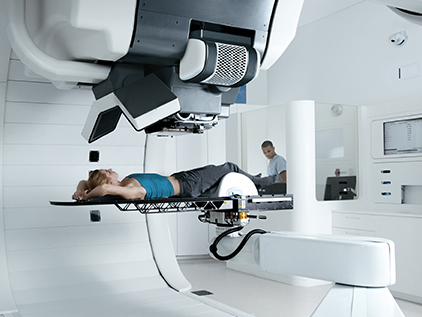 Prostate cancer care overview
The prostate is a gland that sits just below the bladder. Responsible for making part of the fluid for semen, the prostate is about the size of a walnut in young men and usually grows larger as you age. Prostate cancer occurs when cells in the prostate become abnormal. Over time, these cells can form a tumor.
Most prostate cancers grow slowly and don't spread past the prostate gland. This type of prostate cancer may require only minimal treatment, or even no treatment at all. However, other types of prostate cancer can be more aggressive and grow very quickly. Like other kinds of cancer, prostate cancer can spread beyond the prostate to other organs of the body (metastasize).
As with many cancers, doctors have a better chance of successfully treating prostate cancer when we can diagnose it early. This can be a challenge, as early stage prostate cancer often has few symptoms. To diagnose prostate cancer, doctors recommend regular screening.
Screening for prostate cancer is the cornerstone of early detection. We recommend annual screening for:
African American men over 40
All men age 55 to 70
Men over 40 with a family history of prostate cancer
To schedule a prostate cancer screening, call:
913-588-1227
Toll-free 844-323-1227
For some men, making certain lifestyle changes can lower your risk of prostate cancer. Our team will work closely with you to make the best recommendations for your health.

NCI Designation
Our cancer center is 1 of fewer than 60 National Cancer Institute-designated comprehensive cancer centers nationwide.

Clinical Trials
We are a pioneer in new clinical trial research that leads to innovative treatments.

Still the Best
Our hospital continues to rank as the best in Kansas City and in Kansas according to U.S. News & World Report.
Learn more about prostate cancer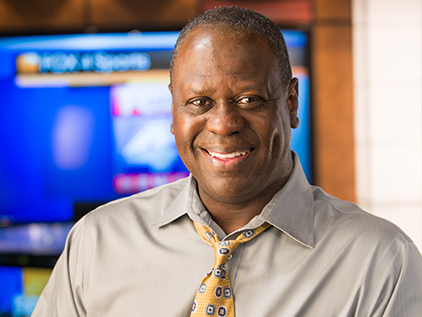 Timing is everything
Thanks to an annual physical, sports anchor Al Wallace received an early prostate cancer diagnosis that saved his life.


Al's story