Skip Navigation
Prostate Cancer Treatment
Our nationally recognized urologic surgical oncologists, radiation oncologists and medical oncologists successfully treat all stages of prostate cancer with the most advanced technology. We partner with you for comprehensive care before, during and after your prostate cancer treatment, including first access to the latest advances in prevention, screening and diagnosis, treatment and clinical trials.
Our multidisciplinary team of prostate cancer experts works together to determine the best prostate cancer treatment plan for you. A dedicated nurse navigator provides guidance and education from diagnosis through treatment and survivorship.
Begin your cancer journey with a second opinion
We know the value of getting a second opinion on a cancer diagnosis. Let us help you navigate your cancer journey. Connect with one of our nurse navigators at 913-588-1227 or 844-323-1227 to schedule your cancer second opinion.
Learn more
Proton therapy in Kansas City
Receive lifesaving proton therapy treatment at the region's only proton center.
Learn more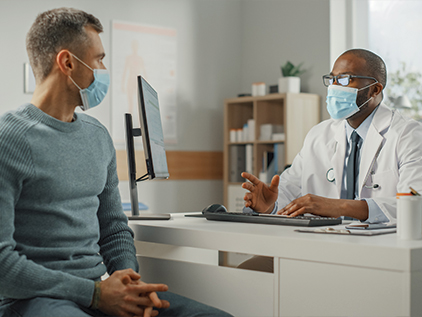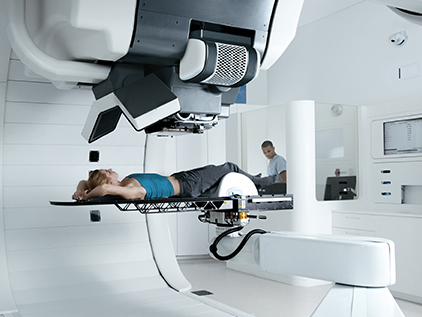 Prostate cancer treatment options
The University of Kansas Cancer Center offers the most comprehensive and subspecialized prostate cancer program in the region. As the region's only National Cancer Institute-designated comprehensive cancer center and 1 of fewer than 60 nationwide, our patients have access to the most innovative therapies leading to improved outcomes and patient satisfaction.
Prostate cancer is a complex disease that requires the expertise of a team that is fellowship trained and subspecialized in only one cancer – your cancer. We know and understand the complexities of the disease that may be missed by a generalist. Because of this comprehensive, prostate-specific model of care, our patients experience higher cure rates, fewer side effects and a better quality of life.
Brachytherapy: A treatment in which radioactive seeds or needles are surgically implanted into the prostate to deliver radiation directly to the prostate gland, allowing a higher dose and sparing normal tissues
Clinical trials: Scientific studies that lead to new ways to prevent, detect or treat prostate cancer
High-intensity focused ultrasound (HIFU): A technology that ablates prostate tissue by focusing high-intensity ultrasound waves on the affected area, causing localized heating that destroys the cells in the gland without damaging the healthy surrounding tissue. Focused ultrasound works in the same way as rays of sunlight that pass through a magnifying glass and are concentrated at a single point, causing a significant temperature rise around the focal point.
Proton therapy: A highly specialized, advanced form of radiation treatment that precisely targets tumors and spares the surrounding tissues by using a pencil-thin beam of light to deliver radiation directly to the tumor
Robotic prostate surgery, including:

Nerve-sparing surgery: To prevent nerve damage in those whose prostate cancer has not spread outside of the prostate gland
Retzius-sparing prostatectomy: A minimally invasive robotic surgery to remove the prostate that dramatically reduces recovery time and unwanted side effects.
Salvage prostatectomy: A surgical procedure for prostate cancer that recurs after radiation, a salvage prostatectomy (surgery after radiation) may be the only remaining option for cure

Stereotactic body radiation therapy (SBRT): A treatment that delivers higher doses of radiation with fewer exposures (5 or fewer over 1-2 weeks) compared to standard radiation therapy, and reduces your overall radiation dose
In addition, our comprehensive prostate cancer treatment program offers:
Advanced imaging with MRI and PET
3D conformal beam radiation
Prostate cancer immunotherapy and hormone therapy
Intensity modulated radiation therapy (IMRT)
SpaceOAR and Calypso live tracking for prostate radiation
Retzius-sparing radical prostatectomy
Prostate cancer patients often fear prostate surgery because of the associated side effects, such as loss of control of urinary function and impaired sexual performance. Prostate cancer disease-specific urologists at The University of Kansas Cancer Center are the only experts in the Kansas City region who offer an advanced robotic surgical procedure that reduces these unwanted side effects.
The Retzius-sparing radical prostatectomy is a new approach to an existing minimally invasive robotic surgery. During this advanced procedure, your surgeon approaches the prostate from below rather than above the bladder, making it possible to remove the prostate in a less invasive way.
Our prostate cancer specialists have seen significant improvements in postoperative incontinence rates using this new approach. In addition to reducing unwanted side effects, robotic prostate surgery dramatically improves recovery time. Most men who have the Retzius-sparing procedure regain urinary control within a week of their catheter being removed – a milestone that traditionally takes about 6 months to achieve.
High-intensity focused ultrasound
High-intensity focused ultrasound is a prostate cancer treatment that uses the energy of sound waves to heat and destroy cancer cells in prostate tumors that have not spread. Our cancer center is the first and only in the region to offer this advanced technology.
Typically, when the cancer is confined to the prostate gland, the chief treatment options are active surveillance, surgery and radiation. But surgery and radiation often lead to side effects, such as urinary incontinence and sexual problems, that can reduce quality of life.
Because of the precise targeting capabilities HIFU offers, we can precisely destroy targeted prostate tissue while preserving the rest of the gland and avoid damage to the erectile nerves and urinary sphincter. Clinicians cite up to 90% preservation of potency and similar preservation of continence.
HIFU destroys cancerous prostate tissue by focusing heated high-intensity ultrasound waves on the affected area. We use MRI scans to aid in directing the sound waves at the tumor. Focused ultrasound creates heat similarly to how heat is created when rays of sunlight pass through a magnifying glass, becoming concentrated at a single point and causing a significant rise in temperature. With HIFU, the localized heating kills the cancer cells without damaging the healthy surrounding tissue.
HIFU is an outpatient procedure offered by our urologic surgical oncology prostate cancer specialists. It takes between 45 minutes and 2 hours to perform, so patients can expect to return to their normal activities within a few days.
Active surveillance for prostate cancer
Not all prostate cancers require immediate treatment. If neither prostate cancer surgery nor radiation treatment are advised, we may recommend active surveillance and offer a comprehensive active surveillance program to guide you through this process. Currently, we recommend active surveillance as the treatment of choice for men whose cancer is not causing any symptoms, is slow growing or is small and confined to the prostate.
Active surveillance may include:
Annual or semiannual PSA blood tests and digital rectal exams
Ultrasounds and regular biopsies
Appropriate treatment, if necessary
Prostate cancer is not the only focus in active surveillance. In addition to monitoring your prostate cancer, our multidisciplinary care team works to improve your overall health. Services available include:
Counseling with a dietitian
Development of lifestyle strategies, including diet modification and exercise recommendations
Access to prostate cancer

clinical research trials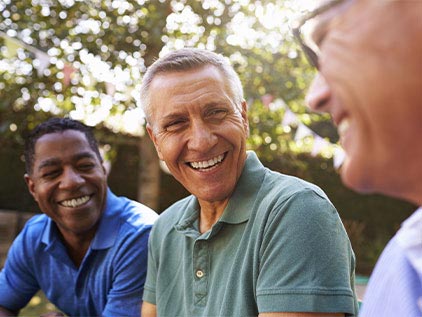 More options, more hope
Many new therapies are available through clinical trials. Find out how you may benefit from a clinical trial, and what it can do for others.
Why join
Life after prostate cancer treatment
Watch Bench to Bedside and hear our experts discuss the latest advances in prostate cancer treatment.
Related links