September 30, 2019
Johnson County Community College interior design instructor, Dalene Erwin, wasn't overly concerned when she felt a lump in her breast in 2010. Because she had a history of fibrocystic breast disease, it wasn't unusual for her to periodically discover a lump.
To be safe, Dalene had a breast exam. All seemed routine until the radiologist appeared during her sonogram and told her he suspected she had breast cancer. After a biopsy to confirm the diagnosis, surgeons performed a double mastectomy and reconstruction. Dalene then began 12 weeks of chemotherapy.
Two years later, Dalene, who has no family history of cancer, discovered another lump under her arm. Testing determined it was cancerous and had spread to her lymph nodes. She had surgery at an area hospital to remove the tumor and then began 18 months of weekly chemotherapy at The University of Kansas Cancer Center in Overland Park.
When the chemotherapy was no longer effective, her medical oncologist started Dalene on an oral treatment. Eventually, the oral medication stopped working, too, and her medical oncologist began to explore other treatment options.
A safer way to treat brain tumors
During this time, Dalene, 64, says she started feeling "off," not like herself. She might have attributed it to the variety of chemotherapy treatments she had received, which zapped her energy. "But this was something different," she says. "I wasn't synching with things."
After a visit to the emergency room in early 2015, neurologists found a walnut-sized tumor in the left side of her brain. "They removed it, and I didn't have a lot of issues as a result of the surgery," says Dalene. "Then doctors wanted to use radiation on my tumor site. But I didn't want to do multiple treatments. I wasn't sure I could handle it."
After researching radiation treatments and discussing it with her medical oncologist and radiation oncologist, Dalene decided to take part in a clinical trial. The clinical trial she enrolled in involved delivering a single stereotactic radiation treatment to her tumor location. The alternative to a clinical trial would have been whole brain treatment over 10-14 separate appointments.
Dalene received one dose of radiation to the margins (perimeter) of her tumor site. She is hopeful that she and other patients like her will prove that this one-time application can be effective in fighting brain tumors.
Life after brain tumor treatment
Dalene says that after learning all she could about the clinical trial involving radiation, she felt she had nothing to lose.
"I feel very informed about the trial. I can stop at any time or change my mind midway through the process," she says. "I am monitored more closely and have more frequent MRIs and blood tests than if I were receiving standard treatment alone. To me, that is a good thing, especially if my cancer comes back or doesn't respond."
Dalene says she's pleased with the clinical trial and her experience at The University of Kansas Cancer Center in Overland Park. She especially notes the compassionate care she's received from the cancer center's infusion nurses.
"Without their kindness and skill, I'd have quit this fight," Dalene says. "It's a nasty battle I'm fighting against cancer, and it's not going away anytime soon. But I'm going to continue fighting to maintain my quality of life. And, so far, I'm fighting hard."
"With the repeated radiation treatments, I'm not sure I could have continued working. The clinical trial afforded me another option, which allows me to be functional," she says. "I have 2 granddaughters I want to do fun things with, yet. I want them to have good memories of me."
This individual participated in a clinical trial of an investigational treatment. Clinical trials are different from standard medical care. As with all research studies, clinical trial participant outcomes vary. Before participating in a clinical trial, it is important to discuss the risks and benefits with your healthcare provider.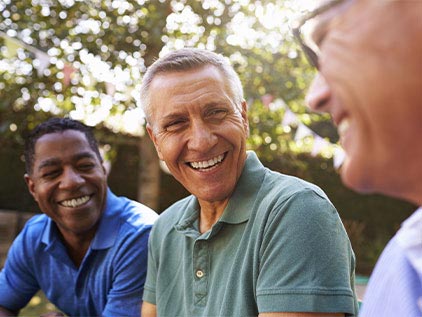 More options, more hope
Many new therapies are available through clinical trials. Find out how you may benefit from a clinical trial, and what it can do for others.
Why join