October 02, 2019
In 2000, 40-year-old Stephanie Annable had what she thought would be another routine mammogram. But in her film, the radiologist saw a small cluster of calcifications.
Those turned out to be stage 0 breast cancer.
Stephanie knew how fortunate she was that the calcifications were even picked up. As with an estimated 60% of American women, Stephanie had dense breast tissue, which is made up of more connective tissue and appears white on a mammogram. Because cancer also appears white on a mammogram, tumors can be difficult to detect.
"As the breast density goes up, the mammogram's accuracy drops," explains Marc Inciardi, MD, a breast imaging radiologist at The University of Kansas Cancer Center. "In non-dense breasts, a tumor is easy to see in a mammogram. It looks like a little white ball. But in a dense breast, it's like trying to find a snowball in a snowstorm."
After receiving breast cancer treatment, Stephanie sought out breast cancer prevention experts at The University of Kansas Cancer Center. Her prevention team educated Stephanie about lifestyle changes, preventive drug options, additional screening opportunities and future risk assessments. She started taking the breast cancer drug Tamoxifen, and had a mammogram or a sonogram every 6 months.
"I had a gut feeling this could come back, and I wanted to be fully armed and ready should that occur," Stephanie says. "I wanted to do everything in my power to keep this from coming back. I knew I would be in the best hands here."
In September 2009, Stephanie had her 6-month mammogram at the cancer center. Though her mammogram showed nothing abnormal, Stephanie decided to participate in the new SOMO•INSIGHT clinical study. The study evaluates whether automated breast ultrasound (ABUS) technology is more accurate than a routine screening mammogram alone in detecting breast cancer in women with dense breast tissue.
Through a gentle scanning process, the ABUS scans each breast from the front, outer and inner sides, providing radiologists with a clear 3D picture.
"It's another tool in the fight, so I absolutely wanted to participate," Stephanie says. "But I thought, 'They won't find anything.'"
Stephanie was shocked to learn the ABUS revealed a spot her mammogram hadn't showed. Further tests confirmed it was stage 1 breast cancer.

Though the study is ongoing, Dr. Inciardi, the study's principal investigator at the cancer center, has already seen the value in ABUS: In February 2010, breast radiologists detected an early-stage cancer in a 2nd study participant.
"We will need more results to confirm," Dr. Inciardi explains. "But if the study results show this is applicable to the general population with dense breasts, this may result in another tool for early detection."
Stephanie says that until a cure is found, access to clinical trials helps provide more hope to women.
"I'm so fortunate that because of the clinical study, they found this cancer so early," she adds. "I'm so blessed to have the team at The University of Kansas Cancer Center, and to have had access to this tool."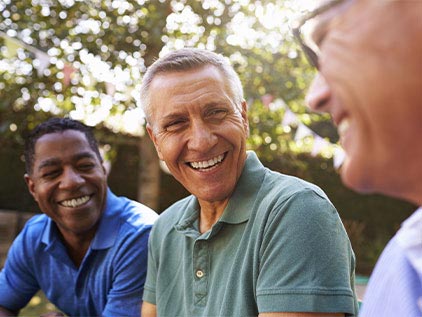 More options, more hope
Many new therapies are available through clinical trials. Find out how you may benefit from a clinical trial, and what it can do for others.
Why join
This individual participated in a clinical trial of an investigational treatment. Clinical trials are different from standard medical care. As with all research studies, clinical trial participant outcomes vary. Before participating in a clinical trial, it is important to discuss the risks and benefits with your healthcare provider.