Skip Navigation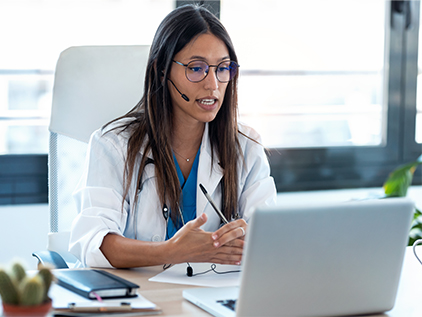 Telehealth cancer second opinion
Telehealth cancer second opinions allow you to meet with a team of multidisciplinary breast cancer specialists from the comfort of your home. During the visit, you can confirm an initial diagnosis, ask questions and explore your treatment options.
Learn more
The most common types of breast surgery include:

Sentinel lymph node biopsy to remove 1 or more of the first draining lymph nodes nearest the tumor to determine whether cancer cells have spread beyond the breast.
Auxiliary lymph node dissection to remove the level 1 and 2 lymph nodes below the auxiliary vein and close to the breast.
Lumpectomy to remove the cancer with a rim (or margin) of normal tissue. Lumpectomy may be an option when the cancer is localized to 1 area of the breast. In most cases, radiation treatment is recommended following lumpectomy.
Mastectomy to remove the entire breast if the cancer has spread beyond a single mass or when early stage cancer exists in multiple locations.

Having a mastectomy is physically and emotionally difficult. Your care team will talk with you before your mastectomy to answer your questions and ensure you are comfortable with your choices. We offer skin-sparing procedures and advanced techniques to provide the best results possible and minimize the need for additional surgery and radiation. We also monitor your progress after surgery to limit the potential for developing lymphedema.

If you are having a mastectomy and are interested in breast reconstruction surgery, we will arrange a consultation with one of our breast reconstruction surgeons. He or she will discuss your options based on your particular type of breast cancer and treatment plan.

Our breast surgical oncologists and breast reconstruction surgeons collaborate frequently, and often work in tandem so that reconstruction begins when the mastectomy is performed.

In some instances, your doctor may advise systemic treatment (chemotherapy, hormonal therapy and/or targeted therapy) before you have surgery. The advantages include the potential to reduce a tumor's size and allow for a lumpectomy.

Our breast medical oncologists are nationally and internationally recognized. They will discuss treatment options with you and personalize your care to the type and stage of your disease. Additionally, they will tailor your treatment to other health issues you may have, such as a heart condition, diabetes or even pregnancy.

Breast cancer is commonly treated with chemotherapy, medication that stops or slows the growth of cancer cells. Your oncologist may also use targeted therapies and hormonal treatments, depending on the stage and type of breast cancer.

Radiation therapy – also called radiotherapy – is a highly targeted and highly effective way to destroy cancer cells in the breast that may linger after surgery. Radiation therapy is typically well-tolerated and its side effects are limited to the treated area. Your care team's radiation oncologist will oversee your radiation treatments.

Radiation may be used in addition to chemotherapy and surgery or to reduce a tumor's size before surgery. Radiation therapy after mastectomy or lumpectomy reduces the chance of recurrence and improves long-term survival.

We use the most advanced equipment and techniques to deliver radiation to your breast tumor(s) while avoiding exposure to normal tissues. This includes hypofractionated whole-breast radiation, which administers the traditional amount of radiation in a shorter time period. Fewer treatment days can be easier for you to schedule, so completing the full course of treatment also becomes easier.

Proton therapy is the leading-edge form of radiation treatment currently available. Proton therapy is a form of external beam radiation that uses energized protons to deliver radiation to a tumor. Proton therapy allows us to target and focus the radiation much more precisely, concentrating radiation in the tumor, where it will benefit the patient, and minimizing radiation to the surrounding healthy tissue. As a result, proton therapy may offer patients the possibility of fewer side effects and improved quality of life, both during and after treatment.

We were the first cancer care team in the Kansas City metro region to use radioactive breast seed localization. This presurgical procedure is more comfortable than other forms of localization and gives you more options in scheduling your surgery. Additionally, you benefit with a shorter surgery, less discomfort and faster healing.

Guided by mammography or ultrasound, a breast radiologist injects tiny, low-energy radioactive seeds into the cancerous tumor. About the size of a grain of rice, each seed is detected by a gamma meter and can be seen by the surgeon on ultrasound during surgery. When the seed is removed with the cancerous tissue, no radioactivity remains in the body.

We use the most advanced equipment and techniques to deliver radiation to your breast tumor(s) while avoiding exposure to normal tissues. This includes hypofractionated whole-breast radiation, which administers the traditional amount of radiation in a shorter time period, as well as intraoperative radiation therapy. This treatment is performed at the time of lumpectomy and delivers focused radiation where it's needed most.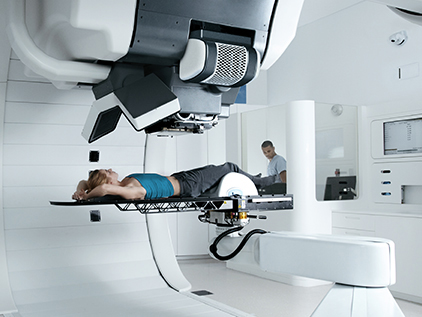 Proton therapy in Kansas City
Receive lifesaving proton therapy treatment at the region's only proton center.
Learn about proton therapy
Your best option for beating cancer
The Women's Cancer Center at The University of Kansas Cancer Center focuses on breast and gynecologic cancers, providing specialized care to women.
Our difference
Related links