Skip Navigation
Lead Development & Optimization
Resources and Core Facilities
Lead Development and Optimization
The Lead Development and Optimization (LDO) shared resource, led by Amanda E. Brinker, PhD, provides access to expertise in target identification and validation, screening compounds, preclinical candidate development, drug delivery and preclinical proof-of-concept animal studies. The LDO shared resource is a key asset supporting discovery and development activities of researchers at The University of Kansas Cancer Center.
The LDO shared resource has 5 aims:
Provide expertise in high-throughput screening, medicinal chemistry and drug delivery in an integrated manner to cancer center researchers and their consortium partners based on their specific project activities.
Provide seamless consulting at a substantially reduced cost to researchers and clinicians in the discovery and development of novel therapeutics for treatment and prevention of cancer.
Provide method development around biochemical, biophysical or phenotypic screens; assay optimization for high-throughput screening adoption and assay validation; large compound library high-throughput screening; and hit identification, confirmation and prioritization.
Provide expanded access to synthesis laboratory.
Offer drug delivery services, including bioanalytical method development, in vitro pharmacology testing, in vivo pharmacokinetic and tissue distribution testing, optimal dosage for development, compound solubility and stability enhancement, drug-substance and dosage-form analysis.
The University of Kansas Cancer Center members as well as other cancer centers and industry partners have access to these services. LDO is comprised of 3 activities that provide discovery and development support of novel cancer therapeutics in the following preclinical space:
This multicomponent shared resource at the cancer center is unique in an academic setting with state-of-the-art equipment and highly trained, experienced scientists to support cancer research toward target validation and the development and optimization of lead compounds. The LDO works closely with the Institute for Advancing Medical Innovation not only to shepherd projects smoothly into the LDO pipeline, but also to ensure that once optimization is complete, these projects are partnered with motivated clinical and product development colleagues.

Amanda E. Brinker, PhD, Lead Development and Optimization scientific director
Request our services
Engage the Lead Development and Optimization Shared Resource on your project. Email abrinker2@kumc.edu your service request.
Research highlights
Investigational therapy shows promise in treatment of bladder cancer
Fosciclopirox, or CPX-POM, was discovered at The University of Kansas Cancer Center, and is being studied in patients with bladder cancer who have advanced solid tumors. Of all known malignancies, bladder cancer has both the highest recurrence rate, and the highest lifetime treatment costs per patient of all cancers.
Ciclopirox is a topical antifungal drug used to treat athlete's foot, ringworm and toenail fungus. Many researchers had noted that it was also effective at killing cancer cells but was not effective in cancer patients because it was broken down by the body and wasn't able to reach the site of tumors. In collaboration with The Institute for Advancing Medical Innovation (IAMI), researchers with the LDO shared resources' Biopharmaceutical Innovation and Optimization Center successfully modified the drug into a prodrug, fosciclopirox, and formulated it to be given to cancer patients by IV so it could reach tumors in its active form.
Fosciclopirox was evaluated in Phase I Trial in patients to characterize the safety, dose tolerance, pharmacokinetics and pharmacodynamics in patients. The trial represented an important first step in the strategy to evaluate the combined activity of fosciclopirox and standard-of-care surgical, chemotherapy and immunotherapy treatments in bladder cancer patients. Learn more about the history of this drug discovery.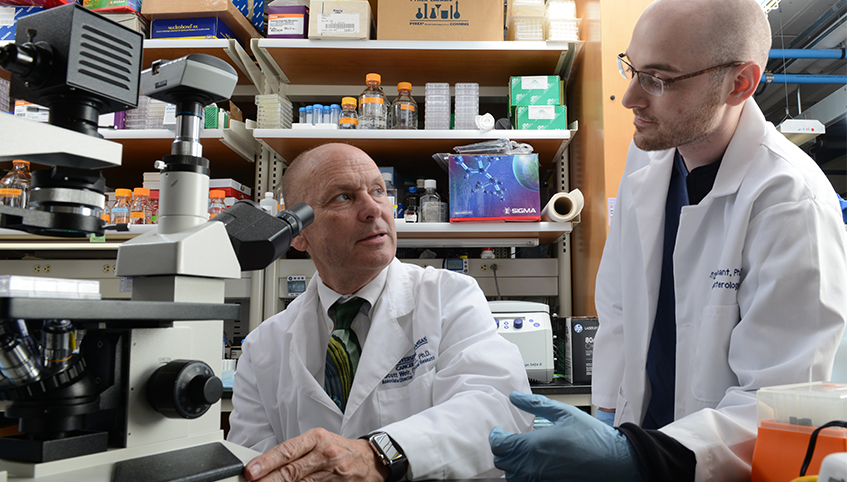 We discovered a treatment that kills bladder cancer cells in the test tube and advanced the treatment from the lab to clinical trials, evidence of our ability to transform bench discoveries into patient care advances. –Scott Weir, PharmD, PhD

Director of the Institute for Advancing Medical Innovation
Identification of a therapy to inhibit osteosarcoma growth
Researchers at The University of Kansas Cancer Center and Children's Mercy Kansas City collaborated to investigate a type of cancer with a long history of low survival rates, osteosarcoma. Osteosarcoma is the most common bone cancer type found in teenagers and adults. Despite intensive chemotherapy, the survival rate for osteosarcoma has been stuck between 60-70% for the past 4 decades. Through 2 projects, researchers worked to identify a therapy to inhibit osteosarcoma growth specifically for patients who have not responded well to other therapies.
The LDO shared resource provided unique, fully integrated drug discovery capabilities including HTS, medicinal chemistry and drug synthesis to support researchers through the discovery process. In total, the LDO screened more than 150,000 compounds for activity against the osteosarcoma target, identifying hits, or a focused set of potential active compounds. From there, the team conducted further tests that narrowed the field to a single, novel compound that killed a particularly aggressive line of canine and human osteosarcoma cells. Learn more.
Identification of a metastasis-suppressing compound
Metastasis, the spread of cancerous cells to other parts of the body, is a leading cause of cancer deaths. A recent study identified a compound, called metarrestin, that blocks metastasis in mouse models of human prostate, pancreatic and breast cancer.
Metarrestin was discovered as part of a national, multicenter collaboration between the LDO shared resource, the University of Kansas NIH-funded Molecular Libraries Probe Production Centers Network Specialized Chemistry Center (KU MLPCN SCC), The National Institutes of Health Chemical Genomics Center, National Cancer Institute (NCI), the National Center for Advancing Translational Sciences (NCATS) and Northwestern University's Robert H. Lurie Comprehensive Cancer Center.
After lead compounds were identified by NCATS scientists, researchers in the LDO shared resource medicinal chemistry group worked to modify the compound's qualities to make it function better as a potential drug. Learn more.
Cite the Cancer Center Support Grant
This resource is funded by The University of Kansas Cancer Center Support Grant (CCSG) awarded by the National Cancer Institute (P30 CA168524). Publications that have utilized facility resources, services or scientific data generated by the resource should acknowledge the resource and cite the NCI CCSG grant.
Interested in becoming a cancer center member?
To apply, click here. Applications are accepted throughout the year. Contact Lisa Harlan-Williams at lharlan-williams@kumc.edu for more information regarding membership.
Related links