Skip Navigation
The University of Kansas Cancer Center's kidney cancer treatment specialists are dedicated to providing compassionate and comprehensive care for those people with kidney cancer, also known as renal cell carcinoma. You will receive highly specialized and personalized care from diagnosis through recovery from our multidisciplinary care team of experts.
Our kidney cancer specialists can define the precise features of your tumor to create a personalized treatment plan for each person. The earlier we find these cancers, the better your chances are for successful treatment of kidney cancer.
What is kidney cancer?
Renal cell carcinoma is a disease that begins when healthy kidney cells become abnormal. Usually, kidney cancer starts in the lining of the renal tubules, or tiny tubes inside the kidney. Kidney cancer doesn't always spread beyond the kidney. However, in cases where the cancer has spread (metastasized), kidney cancer most often travels to the bones, brain or lungs.
Kidney Cancer Symptoms and Risks
Kidney cancer often causes no symptoms. See your doctor if you have any of these concerns:
Blood in the urine
A lump in the abdomen
A pain in the side that doesn't go away
Fever not caused by a cold or flu
Persistent feeling of fatigue
Rapid, unexplained weight loss
Swelling of the legs and ankles
Our experts will see you at any disease stage – whether you have a kidney cancer diagnosis, want a second opinion or if you are concerned about risks.
Research indicates a link between kidney disease and kidney cancer. We treat a high volume of people with hereditary disorders that affect the kidney. People with kidney disease may be at a higher risk for developing kidney cancer. Additionally, kidney cancer survivors can later develop kidney disease.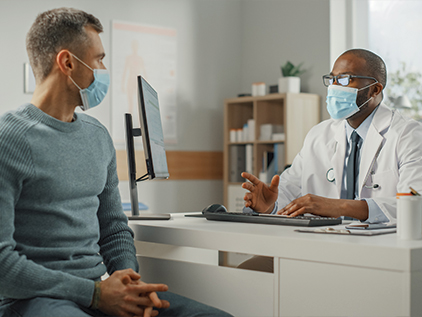 Begin your cancer journey with a second opinion
We know the value of getting a second opinion on a cancer diagnosis. Let us help you navigate your cancer journey. Connect with one of our nurse navigators at 913-588-1227 or 844-323-1227 to schedule your cancer second opinion.
Learn more
Kidney Cancer Screening and Diagnosis
Early and accurate diagnosis is essential for determining your comprehensive and personalized kidney cancer treatment plan. Because some forms of kidney cancer are genetically inherited, your treatment plan may include genetic counseling and testing.
If you are at high risk for kidney cancer, you may benefit from genetic counseling and testing. Genetic counseling can help determine your risk for different types of cancer. Genetic testing provides information about your risk factors for specific hereditary types of cancer. Our board-certified genetic counselors at The University of Kansas Cancer Center follow the gold-standard guidelines set by the National Comprehensive Cancer Network.
In addition to genetic counseling and testing, we offer a full array of diagnostic imaging tools to diagnose kidney cancer.
Imaging tests for kidney cancer
Computed axial tomography: CT scans are like X-rays, but they make 3D images of bones, organs and soft tissue. They help the doctor see the size, density and location of a tumor.
Magnetic resonance imaging: MRI is another way of viewing soft tissues in the body.
Positron emission tomography: The PET scan uses a special camera to see organs in the body. The camera records a tracer (radioactive sugar) that is put into a vein. Cancer cells use more sugar than normal cells, so the tracer shows up in the cancer cells.
Ultrasound: Ultrasound uses sound waves to create an image of your urinary tract and kidneys.
If you don't have cancer, we can help you manage other urinary tract disorders.
Additional testing
If you have a tumor, we can learn more by taking and studying a tissue sample or scheduling additional tests:
Biopsy: The doctor may want to take a sample of the tissue. A biopsy can be taken through the cytoscope. Or, it can be taken with a long needle placed through the back into the kidney. The tissue sample goes to the lab where a pathologist looks at it under a microscope to help diagnose whether you have kidney cancer.
Cystoscopy: This is a test that allows your doctor to look at the inside of the bladder and the urethra using a thin, lighted instrument called a cystoscope. The scope is placed into your urethra and then slowly moved into the bladder. Tiny instruments can be inserted through the cystoscope so your doctor can take samples (biopsy) of tissue or urine.
Bone scan: Bone scans use a special type of camera and a tracer or radioactive chemical that goes into your bones. The tracer liquid is put into a vein in your arm. The camera records where it goes and turns the recording into pictures on a computer.
Intravenous pyelogram: The IVP uses a dye that is placed in your veins. Through X-rays, your doctor can see where the dye goes. This helps the doctor see your urinary tract and kidneys.
Surgery: Sometimes surgery is needed to diagnose kidney cancer.
Kidney Cancer Treatment
Surgery is usually required to treat kidney cancer. Our surgeons are experts in a range of minimally invasive techniques to remove all or part of the organ. We perform kidney sparing procedures (partial nephrectomy) even for difficult cases as well as advanced kidney cancer. These complex procedures may require multidisciplinary teams including cardiothoracic surgeons, orthopedic surgeons and liver transplant surgeons.
When possible, we perform laparoscopic and robot-assisted laparoscopic kidney removal. These newer approaches are done through several small incisions instead of one large opening. This type of surgery typically results in a shorter hospital stay and faster recovery.
Some kidney tumors may be treated with cryotherapy or freezing, which does not require removal of any portion of the kidney.
We also offer advanced interventional radiology treatments for kidney cancer. IR involves the use of a catheter, a small flexible tube inserted into an artery, usually in the thigh. With IR, we can provide minimally invasive therapies such as microwave ablation tissue removal. Interventional radiologists use advanced imaging, such as X-ray, CT-MRI and ultrasound, to guide the catheter to the affected area of the body.

NCI Designation
Our cancer center is 1 of fewer than 60 National Cancer Institute-designated comprehensive cancer centers nationwide.

Clinical Trials
We are a pioneer in new clinical trial research that leads to innovative treatments.

Still the Best
Our hospital continues to rank as the best in Kansas City and in Kansas according to U.S. News & World Report.
Your kidney cancer care team
Our multidisciplinary kidney cancer care team includes:
Medical oncologists
Radiation oncologists
Surgical oncologists
Cytopathologists
Urologists
Radiologists
Anesthesiologists
Nurses
Mid-level providers
These specialists work together to ensure you receive highly personalized care and treatment.
Kidney Cancer resources and support
We offer all cancer patients numerous support services during your treatment and recovery:
These resources can help you learn more about potential signs of kidney cancer, symptoms, treatment and support:
The University of Kansas Cancer Center does not assume responsibility for any of the information posted on these sites.