August 13, 2019
For Shalena Prude, life is not something to face sitting down.
Grounded in strong friendships and family ties, Shalena has built a successful career and kept a close watch on her health. But a breast cancer diagnosis 2 years ago showed her just how strong she needed to be to stay standing.
An unexpected breast cancer diagnosis
Health has always been at the forefront for Shalena. She earned degrees in public health and nutrition, and currently works for a healthcare technology company.
Because she lost her father to colon cancer when she was 34, she has been vigilant about routine checkups and screenings. She maintains a healthy diet, works out and has undergone genetic testing for cancer, receiving clear results for all cancer markers.
She planned to schedule a mammogram at the recommended age of 40. In October 2013, at age 38, plans changed when her fiancé noticed a lump in 1 breast. Her primary care physician referred her to Jamie Wagner, DO, a breast surgeon with The University of Kansas Cancer Center.
Dr. Wagner noticed some irregularity in the mass and ordered additional tests.
"At that point, I began to worry pretty severely," Shalena says. "Her suspicion was based on very good experience. Time just sort of stood still. This was not something I felt like I would be facing at my age."
The diagnosis was stage 2A metaplastic triple-negative breast cancer, a very rare and aggressive form of cancer. About 10%-20% of breast cancers are triple negative, and fewer than 2% are metaplastic. These cancers are more difficult to treat and have a poorer prognosis.
Heart of a breast cancer survivor
Dr. Wagner recommended chemotherapy, followed by surgery.
"There is a lot of fear surrounding metaplastic cancer, because it grows rapidly," says Dr. Wagner. "Rather than jump to surgery, however, I felt like we had a window of opportunity to treat with chemotherapy to see if the cancer would respond."
Shalena traveled to another cancer center for a second opinion. Oncologists at the center confirmed the same treatment therapy – 6 months of chemotherapy. She returned to The University of Kansas Cancer Center, happy to be receiving treatment close to home but overwhelmed at the duration.
"Initially, I thought I would probably be getting 6 weeks of treatment," Shalena recalls. "I was floored by the fact I was getting 6 months."
It would take a lot of fight for Shalena to stand strong during the intense chemo regimen that followed. In February 2014, Shalena began the first of 18 prescribed cycles of chemo treatments. In June, her treatment concluded after 15 rounds, when her white blood cell count failed to climb back up.
During treatment, her resolve was incredible. Shalena searched out support groups online. She continued to exercise as frequently as she could, sometimes slowly walking around the block just to keep moving. She lived alone and monitored her health. She continued to work, pushing through sickness, hair loss and other physical changes.
"It was really a significant blessing that I could keep working and doing everyday things," she says. "I couldn't afford not to work, in many ways. To be able to laugh, to talk and just keep busy and be around people was a big help."
Shalena was determined to stay strong on the outside. She did not even tell her coworkers about the cancer.
"This was not going to be the thing that defined me."
Instead, she embraced the role of survivor from the start, Dr. Wagner notes.
"Her attitude was, 'OK, this is bad but tell me what I have to do to beat it,'" Dr. Wagner says. "The point of going through treatment is to become a survivor. My message to her was to start acting like a survivor from the start, and she fit into that role perfectly."
The chemotherapy did not shrink Shalena's tumor, but it prevented it from growing. Next, Dr. Wagner performed a unilateral skin-sparing mastectomy, followed by reconstructive breast surgery with Julie Holding, MD.
A new chapter
Time has healed Shalena in many ways. She is ready to share her story and to let others see her cancer not as a weakness but as a brave chapter in her journey.
She has been cancer-free for 6 years. At 2 years, the probability of her developing cancer drops significantly.
She appreciates each day and takes nothing for granted. And she has learned the art of advocacy, sharing her story in hopes that it may help others.
"I learned that one story can be powerful. If I can convince others to go get a mammogram or talk to their physician and really take charge of their health, I can make a difference," says Shalena, who turned 44 in September.
Building self-awareness
Dr. Wagner's message for other women: Know your body. Breast self-exams are 1 tool, but also watch for any changes to your body.
"The key is to know what is normal for you and be aware of any changes to the way your breasts look or feel," advises Dr. Wagner. "Be your own advocate, and do not stop until you find answers.'
The key is to know what is normal for you and be aware of any changes to the way your breasts look or feel. Be your own advocate, and do not stop until you find answers. –Jamie Wagner, DO

Breast surgeon
Your best option for beating cancer
The Women's Cancer Center at The University of Kansas Cancer Center focuses on breast and gynecologic cancers, providing specialized care to women.
Our difference
Cancer survivor overcomes depression
Five years after her breast cancer diagnosis, Shalena Prude, now 44, is surviving and thriving. The passage of time has given Shalena a chance to reflect on the complexity of her cancer journey. She remembers there were days when she fought the disease with all her might. But she also remembers days when cancer left her feeling vulnerable, depressed and anxious.
In fact, more than halfway through her intensive regimen of chemotherapy, Shalena hit an extremely low point.
"I not only wanted to quit treatment, I remember telling my aunt that I wanted to take my own life," she revealed. "It was a very dark moment."
Meagan Dwyer, PhD, is director of the onco-psychology program at The University of Kansas Cancer Center.
"Shalena is not alone. We know 30%-40% of cancer patients will experience significant anxiety and depression at some point during treatment," says Dr. Dwyer.
Many of the risk factors that can lead to suicidal thoughts are common for cancer patients. Chronic pain. Exhaustion. Hopelessness. Loneliness. Seeing oneself as a burden to others.
"Chemo affects more than your outward appearance. It affects you mentally. I was ready to throw it all away," added Shalena.
Today, our cancer center is better prepared than ever to provide comprehensive psychological support for cancer patients and their family members. The onco-psychology program integrates mental health services with cancer care.
"We have a team of 6 psychologists, 4 of whom are devoted full-time to cancer patients, working alongside physicians to guide patients from diagnosis through survivorship. We are dedicated to the highest standards of care for the whole patient," Dr. Dwyer says.
When Shalena felt she couldn't go on, she turned to her family, faith and friends. They saved her from suicide.
"I owe my mother and aunt a debt of gratitude for where I am today. Family members were a godsend. I also joined a cancer support group of amazing women who helped me get over the hurdle," she says.
If cancer has changed your outlook on life, The University of Kansas Cancer Center is one local resource for psychological care. Another option is Turning Point, a service of The University of Kansas Health System that offers classes and counseling to individuals with a chronic illness and their family members at no charge.
"Anxiety and low mood are normal from time to time during treatment, but if you can't shake it, you need to reach out for help," says Dr. Dwyer.
If you are thinking about suicide or worried about someone who is, call the Suicide Prevention Lifeline at 1-800-273-8255 or text HOME to 741741.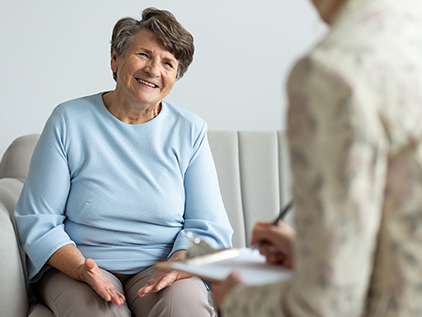 Treating cancer with more than medicine
Our approach to cancer care includes support services for the mind, body and spirit. Research shows this approach provides better outcomes.
Whole person care
As with all treatments, individual patient results vary. It is important to discuss your treatment options with your healthcare provider.