October 23, 2019
At age 40, Wendy Denham began annual breast cancer screenings. She had 2 important reasons: a family history of breast cancer and a personal history of dense breast tissue.
Dense breast tissue not only increases a woman's risk of breast cancer, it also makes tumors hard to find using conventional mammography. Wendy was called back for a 2nd or even 3rd mammogram or ultrasound every year. Each time, the repeat tests showed no cancer.
Maybe that's why Wendy let her guard down. At age 46, she decided to skip the follow-up exam recommended by a radiologist. Five months later she discovered a small lump in her right breast.
A difficult breast cancer diagnosis
Wendy, who lives in Lawrence, Kansas, immediately contacted her primary care physician at KU MedWest who ordered a diagnostic mammogram followed by an ultrasound at The University of Kansas Cancer Center. The results of the mammogram were negative.
"They could feel the tumor, but they couldn't see it," says Wendy, adding that the ultrasound immediately identified the tumor.
Cancer experts often combine breast ultrasound with mammography when screening patients for cancer with dense breasts.
"As soon as the technician put the wand on my chest, the tumor popped up," she says. "It was grape-sized with jagged edges."
Trusting the breast cancer experts
The cancer center team scheduled an appointment for Wendy with breast medical oncologist Qamar Khan, MD, at the Richard and Annette Bloch Cancer Care Pavilion.
"I wouldn't have entertained going anywhere else," says Wendy. "I knew they had National Cancer Institute designation. To me, that meant quite a bit. They have a special team dedicated to breast cancer."
During the meeting with Dr. Khan, Wendy learned about the types of cancer she didn't have. Most breast cancer cells test positive for estrogen, progesterone or HER2 protein receptors.
"Wendy's tumor tested negative for all the usual suspects," explains Dr. Khan. "That's why her disease is called triple-negative breast cancer."
Only 10%-20% of all breast cancers are triple-negative. It can be more aggressive and harder to treat because there's no clinically proven, targeted treatment.
"We're still trying to determine what makes this cancer tick," says Dr. Khan.
Staying positive during breast cancer treatment
Because triple-negative is more common in women with the BRCA1 gene mutation, Dr. Khan sent Wendy for genetic testing. If positive, she would need a double mastectomy and oophorectomy (ovary removal).
But Wendy tested negative for BRCA1. So, Dr. Khan mapped out a care plan that included chemotherapy, lumpectomy surgery and radiation.
Wendy remembers Dr. Khan telling her they were going to "hit the cancer hard" with chemotherapy.
"That's when I broke down and cried. I didn't want to lose my hair," admits Wendy. "My husband couldn't understand why that would bother me more than the surgery or radiation, but it did."
Wendy's husband, Steve, asked Dr. Khan about Wendy's odds of beating the cancer. Because the tumor was found early and the cancer cells had not spread to any lymph nodes, Dr. Khan said her chances were good ̶ better than 90%.
"From that point on, I saw this as a challenge, not a death sentence," says Wendy.
Contributing to breast cancer research
One of Dr. Khan's colleagues, breast medical oncologist Priyanka Sharma, MD, has spent the last 6 years gathering clinical information, tissue and blood samples from 900 triple-negative breast cancer patients, including Wendy.
After studying the women in her registry, Dr. Sharma began 3 clinical trials at The University of Kansas Cancer Center. Each trial evaluates a different type of treatment for triple-negative breast cancer.
One of the current trials involves a platinum-based chemotherapy called carboplatin, the same drug Wendy received.
Wendy had 16 weekly rounds of carboplatin and Taxol®, followed by 4 biweekly rounds of Cytoxan and Adriamycin, an even stronger chemotherapy drug. When her hair began to fall out, she asked a neighbor to shave it off.
"I didn't even cry," remembers Wendy with a smile. "I wore my head wraps and hats with pride."
As luck would have it, Wendy tolerated her treatment extremely well. "I didn't have any nausea," she says. "My bones ached like I had a bad flu just 1 or 2 days a week."
Wendy continued to work full-time as board clerk and executive assistant to the superintendent in De Soto School District 232. She received support from the administration and students. One of the high schools donated money to breast cancer research in her honor. An elementary class made her a special blanket.
No cancer found at surgery
When it was time for her lumpectomy, Wendy's tumor was no longer visible on a MRI scan. The surgical team placed a radioactive seed where the tumor had been so the surgeon would know where to make the incisions.
"My mom had her lumpectomy at another area medical facility. They did not get all the cancer during her first surgery and she had to go back a second time," Wendy shares. "I was glad my surgeon got everything the first time around."
When the lumpectomy specimen was carefully evaluated by pathology, not a single cancer cell was found, says Dr. Khan. All the cancer had been eliminated by chemotherapy. This means that she has an excellent chance of survival despite the aggressive nature of her cancer.
After her successful lumpectomy, Wendy began 33 rounds of daily radiation with one of the cancer center's radiation oncologists.
"For me, radiation was a breeze. I did it on my lunch hour," Wendy says.
It keeps getting better
Wendy has been cancer-free since late 2015. Today, her life is back to normal with one fabulous addition – a granddaughter named Emery.
"I don't have any lasting issues related to my treatment," she says. "When anybody asks me for a recommendation, I always refer them to The University of Kansas Cancer Center."
Wendy's mom is also cancer-free 10 years after her triple-negative diagnosis.
"Chances are, there is a specific gene mutation or a group of genetic alterations that Wendy and her mom share that caused their cancers," says Dr. Khan. "We just haven't found it yet."
Wendy hopes researchers at The University of Kansas Cancer Center find a genetic marker for triple-negative breast cancer soon. She's worried about her 2 grown daughters.
"It's hard to hear the triple-negative diagnosis," says Wendy. "But don't give up. There's life after chemo."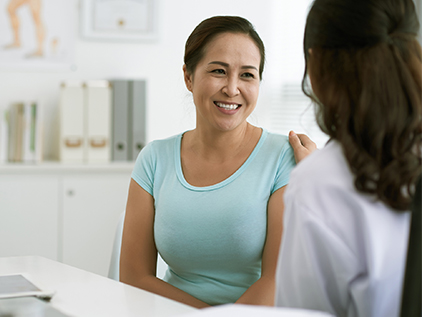 New clinical trials offer hope
Our researchers evaluate new treatments for triple-negative breast cancer, like immunotherapy, DNA-damaging chemotherapy and PARP inhibitors.
Search trials
This individual participated in a clinical trial of an investigational treatment. Clinical trials are different from standard medical care. As with all research studies, clinical trial participant outcomes vary. Before participating in a clinical trial, it is important to discuss the risks and benefits with your healthcare provider.