Skip Navigation
Breast Cancer Screening and Diagnosis
Our team of breast radiologists and breast pathologists specializes in diagnosing breast cancer. Their proficiency enables them to define the precise features of your tumor so that our breast cancer care team can create a personalized treatment plan for you.
Together, breast radiologists, breast pathologists, breast surgical oncologists, breast medical oncologists and breast radiation oncologists determine which tests are needed for a definitive diagnosis. This multidisciplinary team develops the best breast cancer treatment options based on your tumor and your needs.
We also offer high-risk breast cancer care that includes a full range of breast cancer screening services, including risk assessments, BRCA testing and random periareolar fine-needle aspiration.
How is breast cancer diagnosed?
Our breast cancer specialists are dedicated to providing comprehensive diagnostic services for patients with breast cancer.
Experienced
We have the experience and expertise to provide the highest quality care. Our breast cancer specialists evaluate thousands of patients for breast cancer each year.
Specialized
Our team of radiologists and pathologists specializes in diagnosing breast cancer. Their proficiency enables them to define the precise features of a patient's tumor so that our cancer care teams can create a personalized treatment plan for each patient.
Board-certified and fellowship-trained
Our board-certified, fellowship-trained radiologists specialize in breast disease diagnosis and offer the most advanced technologies and techniques available in the Kansas City region. Our comprehensive breast imaging services combine the latest techniques for noninvasive imaging with compassionate patient care.
Advances in breast imaging
Dr. Onalisa Winblad, breast radiologist, discuss the advances in breast imaging and why it's important to provide the latest comprehensive breast imaging technologies to patients.
Breast cancer screening
Mammograms (X-ray images of the breast) are the most common screening test for breast cancer. 3D mammograms are the most advanced technology available for mammogram screening. We use digital mammograms, which provide a clear 3D image to show any abnormalities that may need further evaluation. Your doctor may suggest a mammogram as a screening test even if you don't have any symptoms of breast cancer. Mammograms can show cysts, lumps or breast cancer even before you can feel them.
There are 2 types of mammograms:
Screening mammograms help identify breast tissue changes in women without any signs of breast cancer. The University of Kansas Cancer Center recommends that annual mammogram screenings start at age 40.
Diagnostic mammograms help your doctor diagnose abnormal changes in breast tissue, such as a lump or a change in breast size or shape. Diagnostic mammograms include more images than screening mammograms. Your doctor may also use a diagnostic mammogram to further enhance images that appeared in a screening mammogram.


Your doctor may include these imaging tests to help diagnose your breast cancer:
3D mammogram uses compression and X-rays to create 3D images of your breast. 3D mammograms, which we recommend to all of our patients, make it possible for radiologists to detect the difference between cancerous and noncancerous breast tissue, especially in dense breast tissue.
Ultrasound helps determine if a suspicious area is fluid-filled (a cyst) or solid (a mass or tumor). If the area is solid, your doctor may follow-up with a biopsy to check for breast cancer cells.
MRI (magnetic resonance imaging) can further clarify other imaging test results to show whether an abnormality found on a 3D mammogram is solid.
Abbreviated breast MRI is a sophisticated, highly sensitive screening exam that is used to detect cancer at a very early stage. It is commonly used in people who are at high risk for breast cancer.
Whole breast screening ultrasound evaluates dense breast tissue and those at higher risk for breast cancer in combination with a 3D mammogram.
If diagnostic imaging tests indicate a breast abnormality, you may require a breast biopsy. Biopsy involves removing a small sample of tissue through one of several techniques. The choice of technique depends on the location and quality of the tissue your doctor needs to examine:
Core needle biopsy: Takes a larger tissue sample for a definitive diagnosis. This procedure requires local anesthesia and involves withdrawing a thin cylinder from the sample area using a hollow needle.
Fine needle aspiration: Your doctor inserts a very thin needle into the sample area of the breast to remove fluid and cells for a pathologist to examine.
Image-guided core needle biopsy: Because it is often impossible to locate a suspicious area through touch, our radiologists use ultrasound, stereotactic (mammographic) imaging or MRI to guide tissue removal using a hollow needle. These are minimally invasive, highly accurate procedures that offer faster healing.
Surgical biopsy: When imaging and biopsy techniques don't provide enough information to diagnose or rule out breast cancer, you may require surgery to remove all or part of a suspicious mass.
Pathologists who specialize exclusively in breast cancer examine the tissue samples after they are collected. The pathologist's findings are critical to determining the best treatment for your cancer. They work closely with your care team, providing consultation to specialists.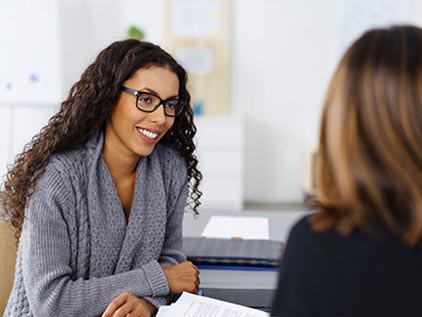 Genetic testing and counseling
Genetic counselors at our nationally recognized cancer center identify and manage cancer risk through genetic testing and risk assessment.
Manage your risk
Related links