Skip Navigation
Breast Cancer Screening and Diagnosis
Our team of breast radiologists and breast pathologists specializes in diagnosing breast cancer. Their proficiency enables them to define the precise features of your tumor so that our breast cancer care team can create a personalized treatment plan for you.
Together, breast radiologists, breast pathologists, breast surgical oncologists, breast medical oncologists and breast radiation oncologists determine which tests are needed for a definitive diagnosis. This multidisciplinary team develops the best breast cancer treatment options based on your tumor and your needs.
We also offer high-risk breast cancer care that includes a full range of breast cancer screening services, including risk assessments, BRCA testing and random periareolar fine-needle aspiration.
How is breast cancer diagnosed?
Our breast cancer specialists are dedicated to providing comprehensive diagnostic services for patients with breast cancer.
Experienced
We have the experience and expertise to provide the highest quality care. Our breast cancer specialists evaluate thousands of patients for breast cancer each year.
Specialized
Our team of radiologists and pathologists specializes in diagnosing breast cancer. Their proficiency enables them to define the precise features of a patient's tumor so that our cancer care teams can create a personalized treatment plan for each patient.
Board-certified and fellowship-trained
Our board-certified, fellowship-trained radiologists specialize in breast disease diagnosis and offer the most advanced technologies and techniques available in the Kansas City region. Our comprehensive breast imaging services combine the latest techniques for noninvasive imaging with compassionate patient care.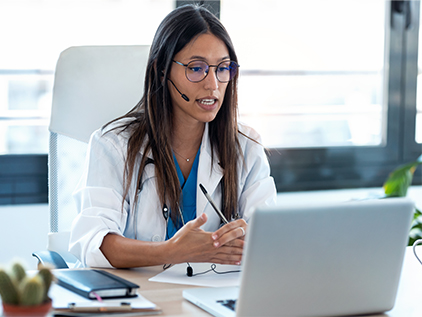 Telehealth cancer second opinion
Telehealth cancer second opinions allow you to meet with a team of multidisciplinary breast cancer specialists from the comfort of your home. During the visit, you can confirm an initial diagnosis, ask questions and explore your treatment options.
Learn more
Advances in breast imaging
Dr. Onalisa Winblad, breast radiologist, discussing the advances in breast imaging and why it's important to provide the latest comprehensive breast imaging technologies to patients.
Announcer: Welcome to Bench To Bedside, a weekly series of live conversations about recent advances in cancer from the research bench to treatment at the patient's bedside and now your host and the director of the University of Kansas Cancer Center, Dr. Roy Jensen.
Roy Jensen: Hi, I'm Dr. Roy Jensen, Director of the University of Kansas Cancer Center. With me today is Dr. Onalisa Winblad, who's a breast radiologist at the KU Cancer Center. Thank you for joining us for another episode of Bench To Bedside. Today we're discussing advances in breast imaging and why it's important to provide the latest comprehensive breast imaging technologies to our patients. Dr. Winblad, could you please talk to us about the benefits of utilizing 3D mammography for breast cancer screening? I know there was a big study that just came out about this topic lately.
Onalisa Winblad: 3D mammograms are the most advanced technology we have available at this time for mammogram screening. A 3D mammogram is performed on the exact same machine that women are used to, but it provides a different type of image for a radiologist. We are able to look at the breast tissue in a more thorough way. Research shows that 3D mammograms allow us to find more breast cancers on screening mammograms. And also very importantly, we call fewer women back for additional imaging when their breast tissue is normal. Because of these two reasons, we actually recommend 3D mammograms for screening for all of our patients.
Roy Jensen: This answer probably differs depending on individual women, but when should a woman start getting screening mammograms?
Onalisa Winblad: I tell all women that I recommend screening mammograms start at age 40 and I recommend that every woman continues screening mammograms every year. Research shows that this screening regimen saves the most lives. I explain to women that breast cancer screening is so important because it's so common. Breast cancer is the most common type of cancer in women, secondary to skin cancer, and it's still the second leading cause of cancer death. We know that one in eight women will develop breast cancer in her lifetime in the United States. One in six of those will be a woman in her 40s. And the important thing is that early detection is key. Women are less likely to die from breast cancer if we find cancers when they're very small and treatable. Women are also less likely to need extensive surgeries and extensive systemic therapies if we find breast cancer when they're really small. And the only way we're going to find breast cancer when it's very small, is if we screen appropriately and screen very often. This is why I recommend the screening regimen to our patients
Roy Jensen: What have we done at the KU Cancer Center to make it easier for women to schedule their mammograms?
Onalisa Winblad: We believe that screening is extremely important for our patients and we want to make sure that every woman in Kansas city has great access to screening. We offer three screening mammogram locations spread throughout the Kansas City area. We provide 3D mammograms at all of those facilities. We also offer evening and weekend screening appointments at our Overland Park and Westwood locations for those women who cannot come and get screening mammograms during the normal working hours. Beginning in October of 2018, this last year, we started offering online scheduling for screening mammograms, which is fabulous. You can schedule at your own convenience. You don't have to call someone on the phone and wait to get scheduled. We've made it as easy as possible for women to get this important exam.
Roy Jensen: You are a specialized breast radiologist or mammographer. Could you maybe explain to our audience why it is so important for someone like yourself to be reading those mammograms.
Onalisa Winblad: With anything in life, I think we perform better if we have extra training and practice a lot. That's what you're going to get at the University of Kansas Cancer Center. All of our breast radiologists are board certified fellowship trained radiologist who are focused on breast imaging. We're reading mammograms day in and day out. That's all that we do. We read over 14,000 screening mammograms a year. Because of this expertise and breast specialization, we find more cancers than the national benchmark. We give more accurate results to our patients. We're asked all the time to provide expert opinions. I always tell women, why would you want anyone other than a breast cancer expert looking for breast cancer on your mammogram?
Roy Jensen: Right. If you're just joining us, we're here with Dr. Onalisa Winblad and we're discussing advances in breast imaging. Pauline Horton is here in the studio to take your questions. Please remember to share this link with people you think might benefit from our discussion. Use the hashtag BenchToBedside. Dr. Winblad, what are some of the other advanced breast imaging techniques that we employ in particular cases?
Onalisa Winblad: Well, so we've talked about the important advances in mammography with 3D imaging. We also provide advanced breast ultrasound and breast MRI exams at the KU Cancer Center. These are used not only for women who have breast cancer, but they're also used for women who desire or require additional screening because they either have dense breast tissue or they have a high lifetime risk for developing breast cancer and require a more rigorous annual screening.
Roy Jensen: What does it mean if a woman is told that she has dense breast tissue? Why is this particularly important?
Onalisa Winblad: Breast density or dense breast tissue is something a radiologist is able to determine on a mammogram. About 40% of women have dense breast tissue, so it's very common. It's a normal finding. But there's two major problems with breast density. When a woman has increased breast density, or dense breast tissue, sometimes that dense breast tissue can obscure a cancer on mammogram. Breast tissue is white on a mammogram and cancer is white on a mammogram, so if a woman has a lot of white dense breast tissue, it can hide a cancer and make it very difficult to detect on a mammogram. In those patients, a mammogram can be less sensitive. The second problem is that women who have dense breast tissue, they have a higher lifetime risk of developing breast cancer than women without dense breast tissue. That's why supplemental screening tests such as ultrasound or breast MRI are used and we do find additional cancers in these women that were not found on mammogram. At KU, we offer both screening ultrasound and we're very excited now to be offering a new test called abbreviated breast MRI that can be used for screening this population as well.
Roy Jensen: What other clinical situations are appropriate for MRI breast screening.
Onalisa Winblad: MRI is our best test for screening and currently it is actually recommended for women who have a high lifetime risk for developing breast cancer. These are typically going to be our patients that have genetic mutations such as a BRCA 1 or 2 genetic mutations. These are patients that may have a very strong family history of breast cancer such as a mother or sister with premenopausal breast cancer. Also women who've had chest radiation at a very young age for cancer treatment. There's multiple groups of women that require annual screening mammograms and breast MRI. Typically these women also start screening at a younger age as well.
Roy Jensen: What would you most like our viewers to take away with them from your presentation today?
Onalisa Winblad: I always tell people the most important thing I want them to take away is that breast cancer is incredibly common. That early detection saves lives. And the best way to find cancer when it's early is by screening. If someone is 40 years or older and they haven't had a screening mammogram in the last year, get online, schedule with us. We have advanced technology, convenient locations, and expertise available to give you the best care.
Roy Jensen: Tell me about the timeframe for when a woman gets a mammogram scheduled, when can she expect a report to come back on a screening mammography?
Onalisa Winblad: Our screening mammograms were typically read by a radiologist. We read them typically the same day, sometimes the next day. If a woman comes to us for the first time and has prior mammograms at an outside facility, we are required to obtain those mammograms before we read that patient's mammogram. So we let those patients know there will be a small delay while we get those images so we can make a comparison and give a proper report. Some of that depends on whether or not patients have MyChart and are able to look at their screening, mammogram reports and when their physicians sign off so they're able to view them. But typically very fast results.
Roy Jensen: I understand we have a question, Pauline. What is the question from the audience?
Pauline Horton: We do have one question. Does insurance cover abbreviated MRI or ultrasounds?
Onalisa Winblad: Insurance does cover breast ultrasound for dense breast screening. Now different women have different deductibles. They may have to pay for certain types of exams. A breast ultrasound does require an order from a physician. Abbreviated breast MRI, this new type of breast MRI, patients do pay for this upfront. We are finding that sometimes this is being covered, very often it's being covered by insurance, but there's no guarantee for that. I encourage women to talk with their providers about what test is right for them. It also requires women to have some knowledge of their insurance. What's covered and what their deductible is. For some women, for some of our high risk patients, they're choosing to undergo this shorter abbreviated breast MRI test because their deductible is more than the cost of the test. So it can vary between patients and what their insurance allows.
Roy Jensen: I think one thing that's not talked about very often is say once you establish getting your screening mammograms done at a high volume center, tell us about the importance of maintaining that relationship and continuing to get your screening done at the same place and why retrospective analysis of the old mammograms may be a critical aspect for an individual patient.
Onalisa Winblad: Yeah, absolutely. Our technology is incredibly great right now and we know that when we're looking for very small changes, we want to find cancers when they're very small. That requires us to have comparisons available. Of course that can't happen on a woman's very first screening mammogram. But from then on forth, not only is it important for us, but we're actually required to obtain outside mammograms and compare because that's our best way for looking for very small subtle changes that can be missed if we don't have a good comparison exam. I think being at a center such as KU Cancer Center that has specialists in everything, it's important to be at a place like this because when we do find a breast cancer or something abnormal, you're in the right place with the right people and you're not having to search around other facilities figuring out what to do next. You're already in the right place.
Roy Jensen: There are different levels of concern for mammograms. Could you tell us the process that you and your team go through? Say when something is not obviously a malignancy but it does raise a level of concern for you?
Onalisa Winblad: There are certain things we look for on a screening mammogram and it's not always an obvious mass. There are other things. We look for more subtle findings, and for these patients we typically have them come back to us for additional images. Sometimes this just needs a few extra mammogram views. Sometimes we need an ultrasound as well to make a formal opinion and we let patients know right then and there what we're seeing. Most of the time it's just normal breast tissue and this is also what I was talking about with 3D mammograms and why they're so important. One of the best benefits of 3D with screening is that we're actually calling back fewer people for additional imaging. Most abnormal findings on a screening mammogram on a 2D screening mammogram, are just overlapping breast tissue. 3D really helps sort that out because we're able to scan through the breast like you would a CT scan and look at the breast tissue in a different way and many times can avoid calling those patients back.
Roy Jensen: Well, thank you so much Dr. Winblad. That's it for today. To learn more, please visit kansashealthsystem.com/breast-imaging. Join us next week at 10:00 AM when we will have yet another presentation of Bench To Bedside. Thank you very much for watching.
Breast Cancer Screening
Mammograms (X-ray images of the breast) are the most common screening test for breast cancer. 3D mammograms are the most advanced technology available for mammogram screening. We use digital mammograms, which provide a clear 3D image to show any abnormalities that may need further evaluation. Your doctor may suggest a mammogram as a screening test even if you don't have any symptoms of breast cancer. Mammograms can show cysts, lumps or breast cancer even before you can feel them.
There are 2 types of mammograms:
Screening mammograms help identify breast tissue changes in women without any signs of breast cancer. The University of Kansas Cancer Center recommends that annual mammogram screenings start at age 40.
Diagnostic mammograms help your doctor diagnose abnormal changes in breast tissue, such as a lump or a change in breast size or shape. Diagnostic mammograms include more images than screening mammograms. Your doctor may also use a diagnostic mammogram to further enhance images that appeared in a screening mammogram.


Your doctor may include these imaging tests to help diagnose your breast cancer:
3D mammogram uses compression and X-rays to create 3D images of your breast. 3D mammograms, which we recommend to all of our patients, make it possible for radiologists to detect the difference between cancerous and noncancerous breast tissue, especially in dense breast tissue.
Ultrasound helps determine if a suspicious area is fluid-filled (a cyst) or solid (a mass or tumor). If the area is solid, your doctor may follow-up with a biopsy to check for breast cancer cells.
MRI (magnetic resonance imaging) can further clarify other imaging test results to show whether an abnormality found on a 3D mammogram is solid.
Abbreviated breast MRI is a sophisticated, highly sensitive screening exam that is used to detect cancer at a very early stage. It is commonly used in people who are at high risk for breast cancer.
Whole breast screening ultrasound evaluates dense breast tissue and those at higher risk for breast cancer in combination with a 3D mammogram.
If diagnostic imaging tests indicate a breast abnormality, you may require a breast biopsy. Biopsy involves removing a small sample of tissue through one of several techniques. The choice of technique depends on the location and quality of the tissue your doctor needs to examine:
Core needle biopsy: Takes a larger tissue sample for a definitive diagnosis. This procedure requires local anesthesia and involves withdrawing a thin cylinder from the sample area using a hollow needle.
Fine needle aspiration: Your doctor inserts a very thin needle into the sample area of the breast to remove fluid and cells for a pathologist to examine.
Image-guided core needle biopsy: Because it is often impossible to locate a suspicious area through touch, our radiologists use ultrasound, stereotactic (mammographic) imaging or MRI to guide tissue removal using a hollow needle. These are minimally invasive, highly accurate procedures that offer faster healing.
Surgical biopsy: When imaging and biopsy techniques don't provide enough information to diagnose or rule out breast cancer, you may require surgery to remove all or part of a suspicious mass.
Pathologists who specialize exclusively in breast cancer examine the tissue samples after they are collected. The pathologist's findings are critical to determining the best treatment for your cancer. They work closely with your care team, providing consultation to specialists.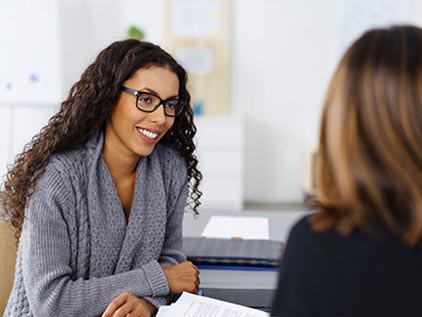 Genetic testing and counseling
Genetic counselors at our nationally recognized cancer center identify and manage cancer risk through genetic testing and risk assessment.
Manage your risk
Related links