Skip Navigation
The Missys' Story
Missys' Boutique® is named in memory of Melissa Malter Newell and Ann Wilcox O'Neill, both affectionately known as Missy. These Kansas wives and mothers did not meet before they lost their lives to breast cancer in their early 30s. Yet their spirits are forever entwined in a legacy to bring hope, dignity and strength to cancer patients and survivors through this appearance center.
Both women elicited promises from family members to "do something to help other cancer patients." Missys' Boutique fulfills those promises, benefiting countless patients for years to come.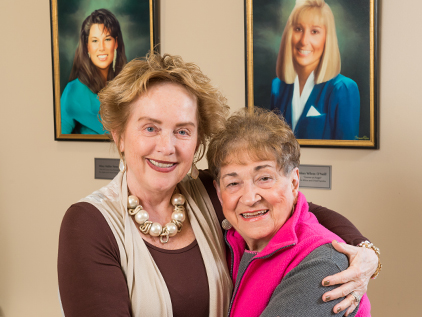 A special bond
From left, Judy Newell, manager of Missys' Boutique, and mother-in-law of Missy Newell, with Linda Wilcox, Missy O'Neill's mother and a Missys' volunteer.
More than a job
For Judy Newell, managing Missys' Boutique is more than a job – it's a mission. A breast cancer survivor, she lost both her mother and her daughter-in-law to breast cancer.
"I know firsthand what having cancer is like," she says. "I've walked in those shoes."
With nearly 40 years of experience in the beauty industry as a licensed cosmetologist, Judy is also trained and certified as a mastectomy prosthesis fitter.
Restoring hope in young children
In addition to helping the many women who visit Missys' Boutique, Judy often sees children grieving from losing someone they love.
But it was the experience of helping her grandson cope with the loss of his mother (Judy's daughter-in-law), Missy, that inspired her to write the book "Twinkle, Twinkle Mommy Star." The story helps children through the grieving process.
"My grandson had so many questions, and I realized other children must have similar ones," she said. "I wanted to help. But grief is hard to revisit. It took me 10 years to write the book."
"Twinkle, Twinkle Mommy Star" is available at the boutique, Barnes & Noble and Amazon. Proceeds from its sales at the boutique go to The University of Kansas Cancer Center's Patients in Need Fund. Judy's grandson and his brother direct those from Amazon and Barnes & Noble to the charity of their choice.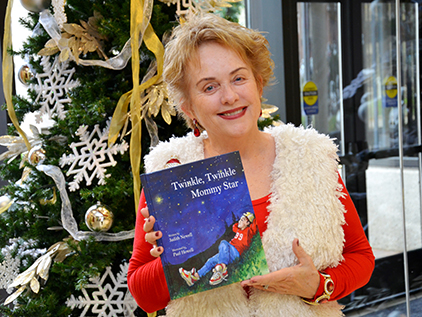 Helping kids cope
Judy Newell wrote "Twinkle Twinkle Mommy Star" to help children cope with feelings of grief and loss.
Testimonials
Comments from patient satisfaction surveys have been overwhelmingly positive about the appearance center's services, staff and atmosphere.
Words cannot express how kind, compassionate and caring the staff has been to me, helping me through fittings for a wig and postmastectomy garments with great patience and humor. I have no idea where I would have gone for these services otherwise.
It's so nice to visit the boutique during a day of chemotherapy. While there, I can forget for a few moments that cancer is the center of my life.
Losing your hair, for a woman, is life-altering. I don't know how I would have gotten through this and dealt with the total loss of my hair without the staff at Missys'.
Thanks to the Missys' Boutique Patients in Need Fund, I feel whole again, like a new woman.
Missys' Boutique is a special place. The volunteers are truly the most special people. They helped me to feel whole again.
Related links