Skip Navigation
Conditions Treated with Proton Therapy
Conditions Treated with Proton Therapy
Proton therapy is considered the most technologically advanced radiation delivery method for cancerous tumors. With this powerful, precise technology, tumors are more accurately targeted so healthy tissues and organs get less unnecessary radiation.
Proton therapy is commonly used to treat tumors in sensitive areas where traditional X-ray or photon radiation may not be the best option. Depending on your particular diagnosis, proton therapy may be a treatment option for cancers of the brain and central nervous system, breast, esophagus, head and neck, liver, lung, lymphatic system, eyes, pancreas, prostate, bone and others. It is particularly beneficial for many pediatric cancers.
Proton therapy for adult cancers
Proton therapy for brain, orbit and head and neck cancers
For cancers of the brain, orbit and head and neck, proton therapy provides effective treatment while minimizing the radiation dose to vital structures. For brain cancer, proton therapy delivers high doses of radiation while protecting normal brain structures and minimizing impact on physical and mental function. For cancers of the head and neck, proton therapy minimizes the radiation dose to vital structures such as the brain, eyes, mouth and throat, which is important in reducing pain when swallowing so that patients can eat. For orbital tumors, proton therapy may significantly lower radiation dose to the ocular structures and optic nerve, improving vision preservation and limiting the impact on healthy tissues, such as the pituitary gland and brain, decreasing the risk of hormone deficiencies and neurocognitive impairment.
Proton therapy for gastrointestinal cancers
For gastrointestinal cancers, proton therapy provides effective treatment while lessening harm to healthy tissues and vital organs such as the liver, small and large bowel, kidneys and stomach. For esophageal cancer, proton therapy reduces radiation exposure to the heart, lung and liver. For liver cancer, proton therapy effectively shrinks or kills cancer cells in the liver while reducing radiation exposure to the healthy liver. Gastrointestinal cancers we treat with proton therapy include:
Colon
Esophageal
Metastatic liver cancer, which results from the spread of cancer from other areas of the body
Primary liver cancer, which originates in the liver
Rectum and anal canal
Recurrent gastrointestinal cancers that have been previously treated with radiation
Proton therapy for lung and thoracic cancers
For lung cancer, proton therapy precisely targets tumors and delivers radiation therapy with optimal accuracy, while sparing critical nearby structures, such as the esophagus, lung, heart and spinal cord.
Lung and thoracic cancers we treat with proton therapy include:
Nonsmall cell lung cancer
Small cell lung cancer
Thymoma
Mesothelioma
Breast cancer
For breast cancer, proton therapy may be especially beneficial as it minimizes damage to nearby tissue and vital organs such as the heart and lungs.
Proton therapy for prostate cancer
Proton therapy precisely targets prostate tumors and reduces unnecessary radiation dose to the surrounding healthy tissue compared to traditional X-ray or photon radiation.
Proton therapy for sarcoma
Proton therapy can be used to treat many kinds of sarcoma, including soft tissue and bone sarcoma in children that is discovered in hard-to-reach spots, such as at the base of the skull and spine.
Sarcomas we treat with proton therapy include:
Alveolar soft part sarcoma
Angiosarcoma
Chondrosarcoma/chondrogenic sarcoma
Chordoma
Clear cell sarcoma
Desmoid tumors/aggressive fibromatosis
Ewing sarcoma
Giant cell tumors
Leiomyosarcomas
Liposarcomas
Malignant fibrous histiocytoma
Malignant peripheral nerve sheath tumors
Osteosarcoma/osteogenic sarcoma
Rhabdomyosarcomas
Synovial cell sarcoma
Lymphoma
Proton therapy may be used in combination with chemotherapy to treat Hodgkin and non-Hodgkin lymphoma. Proton therapy can reduce the body dose of radiation 40%-50% compared with traditional X-ray or photon radiation and significantly lower late effects, such as secondary malignancy and cardiovascular problems, including heart attacks and strokes.
Hodgkin lymphoma
Non-Hodgkin lymphoma
Reirradiation
Reirradiation may be the best treatment approach to control a recurrent tumor and offer select patients with tumor recurrence or new primary tumors a chance of cure. Proton therapy offers significant advantages for reirradiation. By decreasing the dose to adjacent normal tissues, proton therapy more safely delivers a higher dose of radiation compared to traditional X-rays or photon radiation, and provides the patient a better chance for cancer control while reducing the risk for severe side effects.
Proton therapy for pediatric cancers
Proton therapy is particularly beneficial for treating children and adolescents with cancerous and noncancerous tumors. Children are at a significantly higher risk of late effects from cancer treatments compared to adults. Two-thirds of children who survive a cancer diagnosis face at least one chronic health condition. One-fourth of pediatric cancer survivors face a severe or life-threatening side effect from treatment that occurs later in life. These include heart damage, lung damage, infertility, cognitive impairment, growth deficits, hearing loss, vision loss, secondary cancers and more.
Thanks to treatment advances, including radiation, pediatric cancer survival rates have dramatically increased to nearly 85% today from 10% only decades ago. One of these advancements, proton therapy, reduces a child's risk of experiencing harmful long-term side effects. Proton therapy limits and reduces radiation doses to healthy tissues and organs while delivering curative doses to the cancer.
We treat a number of childhood cancers with proton therapy. In certain situations, the cancer center will coordinate with Children's Mercy specialists to develop a care plan suited to the child's individual treatment requirements. Childhood cancers we treat with proton therapy include:
Atypical teratoid rhabdoid tumor
Chordoma chondrosarcoma
Craniopharyngioma
Desmoid tumor
Ependymoma
Ewing's sarcoma
Glioma
Hodgkin lymphoma
Intracranial germ cell tumors
Medulloblastoma
Meningioma
Nasopharyngeal tumors
Neuroblastoma
Osteosarcoma
Parotid tumors
Pineoblastoma
Primitive neuro-ectodermal tumor
Retinoblastoma
Rhabdomyosarcoma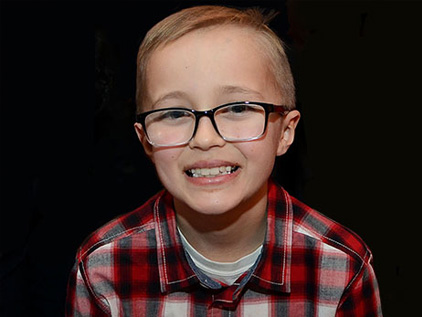 Saved by proton therapy
At just 4 years old, Roman Volkov faced an unimaginable diagnosis of stage IV neuroblastoma of the abdomen. Proton therapy saved his life.
Roman's story
Related links