Skip Navigation
Proton Therapy Center
The Proton Therapy Center at The University of Kansas Cancer Center, 1 of fewer than 60 National Cancer Institute-designated comprehensive cancer centers in the nation, is the only one of its kind in Kansas, Kansas City and the surrounding region. Now, cancer patients and their families no longer need to leave Kansas City to receive this advanced form of targeted radiation treatment using protons – instead of traditional X-rays or photon radiation – to attack cancerous tumors.

Proton therapy is the most advanced form of radiation therapy for cancerous tumors available today. It offers many advantages over traditional tumor treatment and is not currently available elsewhere in the region. There are no other proton therapy centers in Kansas or the surrounding states of Iowa, Nebraska, Colorado and Arkansas.
Proton Therapy Center Virtual Tour
Ronny Rotondo: Welcome to the Proton Therapy Center, Kansas City's first proton center and the 39th proton center in the country. I'm Dr. Ronny Rotondo, medical director of the Proton Therapy Center at The University of Kansas Cancer Center.

Ronald Chen: And I'm Dr. Ronald Chen, chair of radiation oncology. Patients of our Proton Therapy Center receive top of the line care from a team of proton experts unparalleled in their region. This includes nationally and internationally renowned radiation oncologists, medical physicists and dosimetrist.

Ronny Rotondo: These specialists, whom we've recruited from across the country will create a customized treatment plan for each patient. Now, we want to take you inside our NCI comprehensive cancer center's proton therapy center. Here is Jessica Lovell to give you a tour.

Jessica Lovell: Hard at work inside the Proton Therapy Center is a pencil thin beam of light giving new hope to cancer patients across the region and beyond.

Jessica Lovell: Hello, I'm Jessica Lovell and welcome to The University of Kansas Cancer Center. I'm standing in what I like to call, the healing hallway that leads back to the proton treatment room. This is where you'll come after you check in at the front desk.

Jessica Lovell: The dogwoods symbolize rebirth but this wood frame is also symbolic. This curve right here, it's intentional. It represents the Bragg-Peak of the proton beam. The precise point where protons stop on a dime to deliver a prescribed dose of radiation to the tumor but not beyond.

Jessica Lovell: So come along, there's must more to show you.

Jessica Lovell: These are the changing areas where you will wait for treatment. There's an area for men and women. Children wait in here too but don't worry, they have plenty of ways to entertain themselves prior, in a family waiting area with TV, animated games, floor art and interactive programming they can take with them, even into treatment.

Jessica Lovell: Now before I show you the treatment room, I want you to understand the prep work that happens first. All proton therapy patients go through a process called CT simulation and treatment planning in the radiation pavilion just down the hall. The CT scan provides imaging to precisely localize the tumor that will require proton therapy. Here, some patients may have a couple of tattoo dots placed on their body to indicate where the radiation beam will be directed.

Jessica Lovell: No worries about any other medical devices you might have, your medical team knows what to consider and that's all part of your personalized plan.

Jessica Lovell: Are you ready to see the vault? That's what we call the treatment room. Come with me.

Jessica Lovell: One of the first things you'll see is this video projection wall. Patients can select from 14 different scenic lighting and surround themes. There are calming scenes as well as jungles, oceans and even outer space. It's all customizable for children and adults. The room temperature is kept at 70 degrees. That's because the proton equipment produces a lot of heat.

Jessica Lovell: Notice the subdued lighting. There's wifi for music. You may bring your own playlist or podcast too. The cyclotron that delivers the proton therapy is behind that locked door. The nozzle delivers the pencil thin beam of protons to the patient. The patient lays on the table, this is when the mask is positioned, if you have one. Images are taken, rotating 220 degrees as the treatment can be delivered from multiple angles and then the nozzle is set. The therapists then exit the treatment room and go to the console area to deliver the treatment.

Jessica Lovell: No worries, cameras and microphones mean the therapists can still see and hear you. Your tumor type determines the number of beams and the length of treatment.

Jessica Lovell: There is absolutely no pain from proton therapy. In fact, you can't even feel the proton beam at all.

Jessica Lovell: While treatment deliver takes just a few minutes, on average it takes 30 minutes to position patients perfectly. There is anesthesia for children and adults who may need it.

Jessica Lovell: Once your treatment is done, you may leave unless it's an exam day. Exams with your doctor happen every five treatments or more often as needed.

Jessica Lovell: Okay, there's just one more thing I wanna show you and that's the proton therapy bell that sits across from the nursing station. When your treatments are done, you'll get to ring it and we'll be right there celebrating with you.

Jessica Lovell: Remember, our medical team is a combination of highly skilled and nationally renowned proton therapy experts available in the region only at The University of Kansas Cancer Center and we thank you for trusting us with your cancer care.
Highly specialized cancer care
Proton therapy is a highly specialized and exact form of
radiation treatment
. It precisely targets tumors and spares the surrounding tissues by using a pencil-thin beam of protons to deliver radiation directly to the tumor. The innovative treatment is used to treat many types of adult and
childhood cancers
.
Specialists at the Proton Therapy Center provide integrated, multidisciplinary and compassionate care from the moment you walk in. Our team of academic experts comprises numerous cancer specialties, including
breast
,
brain
and
central nervous system
,
esophagus
,
head and neck
,
liver
,
lung
,
prostate
and
spine
.
Our nationally and internationally recognized disease-dedicated cancer specialists will evaluate you and together will develop a comprehensive treatment plan for you based on your individual needs. Here, experts from one of the country's leading NCI-designated cancer centers work in tandem to offer exceptional treatment for adult and pediatric cancers.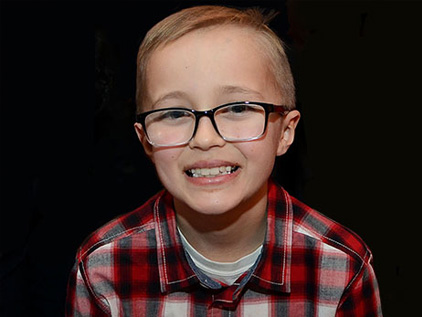 Saved by proton therapy
At just 4 years old, Roman Volkov faced an unimaginable diagnosis of stage IV neuroblastoma of the abdomen. Proton therapy saved his life.
Roman's story
Related links