Skip Navigation
Bone Cancer Survivorship
Today, because of advances in cancer treatments, 80% of childhood cancer patients survive into adulthood. But the treatments that help children survive bone cancer can also cause health problems later in life. These late effects may not occur until years after bone cancer treatment. Follow-up is critical for these patients as they transition back to life, school or work.
Bone Cancer Survivorship Care
The sarcoma survivorship transition team at The University of Kansas Cancer Center, 1 of 53 National Cancer Institute-designated comprehensive cancer centers nationwide, provides comprehensive medical and emotional care for cancer patients 18 and older.
Our multidisciplinary team of experts specializes in the latent effects of childhood cancer treatment. These include growth and development, secondary cancers, infertility, heart disease and endocrine problems, weakened immune systems and genetic issues. In addition, our social workers can help you deal with emotional issues that may arise after your cancer treatment. Our physicians, nurses and social workers are experts in survivorship and will work with you and your primary care physician to create a long-term care plan.
Sarcoma survivorship transition is one of only a few adult-based programs in the nation. Here, we work with you to review the possible long-term side effects of treatments you have received and help you learn how to care for yourself to minimize risk of future complications. With sarcoma survivorship transition care, you will receive:
Personalized care plans
Psycho-social needs assessment
Necessary labs/testing
Referrals to specialists
Follow-up guidelines based on your specific diagnosis/treatment
Education to help you maintain and improve your health
Information for your primary care physician about your care needs to ensure you have the necessary screenings
After your visit, you will receive a summary of recommendations to guide you in making healthy choices and improving your quality of life. This may include recommended tests and screenings that are based on your particular cancer diagnosis and treatment regimen.
Surviving cancer is a lifelong process. You will need regular checkups. You also may need help with the side effects of treatment. You may want to learn about lifestyle changes that can speed recovery and improve your quality of life.
Our experienced team of doctors, nurses, counselors, dietitians and research coordinators can help you:
Understand your treatment
Limit and manage complications
Assess and manage side effects
Monitor for cancer recurrence
Give you access to clinical trials
Make diet and exercise recommendations
You also may wish to visit the Brandmeyer Patient Resource Center for more information.
Helpful websites for more information on bone cancer:
The University of Kansas Cancer Center does not assume responsibility for any of the information posted on these sites.
Preserving fertility for family planning
As a sarcoma patient, you may be concerned about fertility. Our fertility preservation service assists patients who want to preserve fertility before beginning cancer treatment. We offer same-day and/or next-day appointments with our fertility preservation specialists. We are the only cancer center in the region with the capability to freeze tissue for fertility preservation.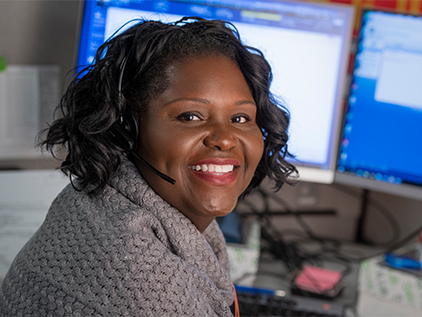 No one should face cancer alone
Our nurse navigators are here to help you navigate your cancer journey. From the first call through follow-ups, they're with you every step of the way.
Learn more
Related links