Skip Navigation
Sarcomas are cancers of the bone, cartilage, fat, muscle, blood vessels or other connective or supportive tissue. Sarcomas make up about 1% of all cancers in adults and 7% of cancers in children. Although fewer than 4,000 cases of bone cancer occur in the United States annually, the cancer can affect any of the human body's 206 bones. There are more than 20 different types of bone cancer, with certain types more likely to affect certain bones, or even certain areas of bones. For example:
Osteogenic sarcoma is most commonly found in the ends of the long bones that form the knee.
Ewing sarcoma commonly impacts the upper thigh or pelvis.
Chondrosarcoma often is seen in the upper arm.
Additional types of bone cancer include chordoma, fibrosarcoma of bone and Paget's sarcoma.
If you have bone cancer, you will find leading specialists at The University of Kansas Cancer Center. Our multidisciplinary team is the only one in the Kansas City region and one of a few in the nation with this focused expertise.
Our sarcoma center in Overland Park, Kansas, is led by the internationally recognized authority on bone cancer, Howard G. Rosenthal, MD. Together with Kyle Sweeney, MD, an orthopedic surgeon specializing in musculoskeletal cancers, Dr. Rosenthal and his team have decades of experience with more than 10,000 sarcoma patients, successfully restoring their health, function and quality of life.
Bone cancer care overview
Bone cancer can take a number of distinct forms when it involves the body's bones and can reveal itself through a variety of symptoms. Sarcoma symptoms vary widely from person to person depending on the location and size of the cancer. Commonly, you may experience no symptoms at all, but may develop a painful, slow-growing mass (bone tumor) in an arm or leg.
Diagnosing bone cancer typically starts with a visit to your primary care physician to address any symptoms you may have noticed. From there, your doctor will order additional tests. A sarcoma team will provide you with an accurate diagnosis, as well as determine the stage and type of cancer.
Begin your cancer journey with a second opinion
We know the value of getting a second opinion on a cancer diagnosis. Let us help you navigate your cancer journey. Connect with one of our nurse navigators at 913-588-1227 or 844-323-1227 to schedule your cancer second opinion.
Learn more
Proton therapy in Kansas City
Receive lifesaving proton therapy treatment at the region's only proton center.
Learn more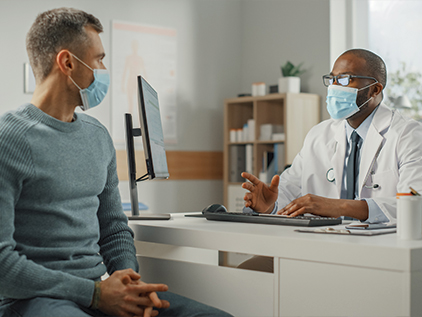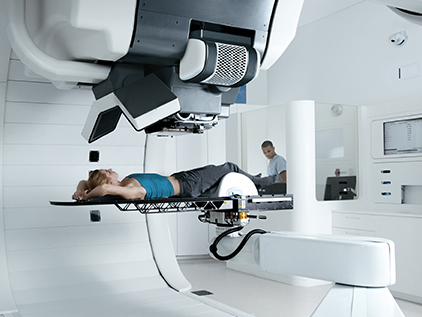 Why choose us for bone cancer care
Our internationally renowned sarcoma specialists provide precision cancer therapies to patients based on their genetic, environmental and lifestyle characteristics. As a National Cancer Institute-designated comprehensive cancer center, we offer access to nationally sponsored and investigator-initiated clinical trials. Our comprehensive sarcoma care includes:
One of the first in the nation – among a select few – to use an expandable prosthesis that "grows" with the patient
Custom 3D-printed reconstruction options for pelvic tumors
Rotationplasty, an alternative surgical procedure that can offer better function than traditional limb salvage
Complex sarcoma vascular resection and reconstruction
Multidisciplinary sarcoma clinic with specialists in medical oncology, orthopedic oncology, surgical oncology, radiation oncology, tumor imaging and pathology
Sarcoma conference, where multidisciplinary specialists create and coordinate treatment strategies for each patient
Access to early phase NCI clinical trials
Learn more about bone cancer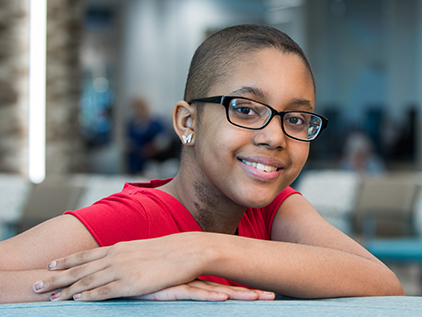 Surviving sarcoma
Kind and generous, but also immeasurably strong – that's Ajiah Robinson, who fought a battle against osteosarcoma when she was just 12 years old.

Ajiah's story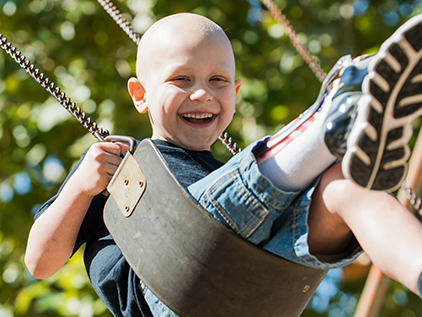 180° from ordinary
Six-year-old Wyatt Oshel was diagnosed with osteosarcoma. But thanks to an innovative procedure, he was able to avoid complete amputation of his leg.
Wyatt's story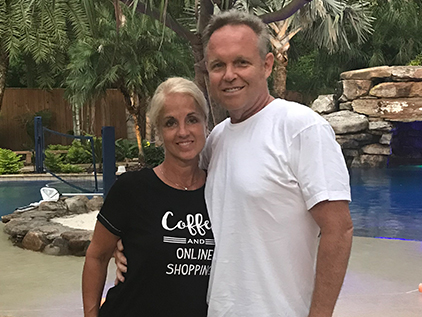 Bionic man
After losing part of his pelvis and hip joint to sarcoma, Curt Melin is walking thanks to a custom 3D-printed titanium pelvis.
Curt's story